When the 2017 NHL Expansion Draft rolls around following the 2016-17 season, the Capitals and 29 other current NHL organizations will lose one player to the new franchise based in Las Vegas, Nevada. For the Capitals, however, their biggest loss may come off of the ice.
On Friday, Sportsnet's Elliotte Friedman shared some news that many Capitals fans should have been fearing.
Both LV/WASH in cone of silence, but word is LV asked for permission to speak to WASH AGM Ross Mahoney. Not certain yet if Caps have agreed.

— Elliotte Friedman (@FriedgeHNIC) July 22, 2016
The obvious connection here was established when former Capitals General Manager George McPhee was hired to fill the same position with the NHL's newest organization in Vegas. For 16 seasons, Ross Mahoney served the Capitals as the director of amateur scouting under McPhee. If you know anything about the Capitals when it came to drafting, it was that Ross Mahoney was running the show.
When current General Manager Brian MacLellan was hired from within following McPhee's firing, it was hoped that Mahoney and the Capitals could work something out to keep him in the organization. As it turned out, he was tabbed as MacLellan's assistant general manager, and he has held that role over the past two seasons, continuing to oversee the draft.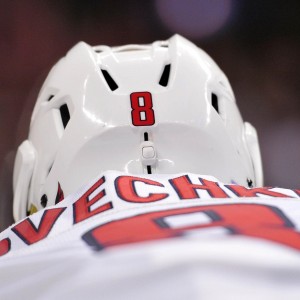 As Friedman pointed out, there is no indication yet as to whether or not the Capitals granted permission to Las Vegas to interview Mahoney, or whether or not he is even interested. However, he and McPhee worked together for a very long time, so it certainly makes sense that he would be a target for a franchise literally building from the ground up.
While it would be a bit surprising for Washington to deny Mahoney the chance to pursue this opportunity, they will regardless do everything they can to keep him right where he is. For much of Mahoney's time in DC, the Capitals have had a very strong drafting record, especially over the past decade. If you look at the team's roster, a good majority of the talent is home-grown, and that doesn't include the prospects that are still coming up through the system.
These selections go beyond the slam-dunk, top-ten picks that the Capitals held during the rebuilding years. Mahoney took a chance on Russian forward Evgeny Kuznetsov late in the first round in 2010, and found a gem in defenseman John Carlson right around the same draft position two years prior. The organization has consistently made the playoffs in recent years, and the late first round selections that the Capitals secure each year are far from a sure bet to reach the NHL. However, Mahoney and the scouting department repeatedly find impact NHL players at those spots.
Though it is important to note that Mahoney and McPhee have a long history together, he and MacLellan have worked together for almost just as long. MacLellan joined the organization in 2000 as a pro scout before working his way up through the ranks, so there are long-standing connections no matter which way you look at it.
While the Capitals are guaranteed to lose a player in the expansion draft next off-season, the potential loss of Assistant General Manager Ross Mahoney could prove to be the more significant one from a long-term perspective for the Washington Capitals organization. With both franchises keeping this matter close to the chest (in typical George McPhee fashion, mind you), this situation could remain up in the air for quite some time.
Brad is a recent graduate of Salisbury University in Maryland and is pursuing a career in sports journalism.