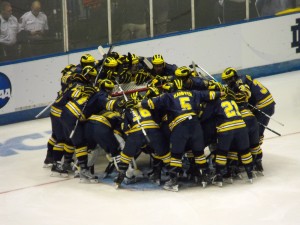 Although many of us are disappointed with the NHL lockout and are awaiting the time everybody gets back to work with hopefully no loss of games, the NCAA should be licking their lips at this potential opportunity!
With the prospect of no hockey to be had in the NHL, the NCAA has to be thinking of ways to capitalize on the opportunity to promote college hockey, a sport that has been largely passed over by the mainstream public in the United States. The reason for this is the incredible lack of television coverage on major sports networks. Sure, states like Minnesota, Michigan, and Massachusetts will have regional coverage of some games, but where is the legitimate attempt to get a national audience?
As of right now, ESPNU may cover a bigger game such as Boston College vs. Boston Univ. in the middle of a season late on a Saturday night, but, unless you're actively looking for a college hockey game, chances are you won't find it. During the NCAA tournament, ESPN channels do have broadcasts of live games on ESPN2 and ESPNU, which is nice! But the NCAA basketball tournament is often taking place at the same time on CBS, which puts an incredible damper on the efforts of the NCAA and ESPN.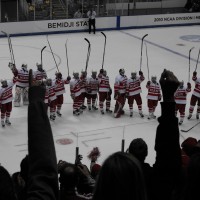 What the NCAA has to do now is promote collegiate hockey and aggressively seek broadcast opportunities with prominent networks that would otherwise broadcast NHL games or a rerun of Forrest Gump on a Sunday afternoon.  It's not only an opportunity to popularize NCAA hockey, but a way to promote the future stars of the NHL.
If a large segment of the public had easy TV access to NCAA hockey in the past, they might have known that Ryan Miller was an incredible goalie for Michigan State before he dominated the Olympics, or that Brian Elliot won a National Championship with the Wisconsin Badgers before he started to shine with the Blues. The possibility that people might become aware of these players before they shine in the NHL provides a whole other level of intrigue for the professional game.
If the NHL loses games this season, it would be the perfect opportunity for the NCAA to get their games out to a national audience. And in turn, this will increase interest in the NHL in the long run.