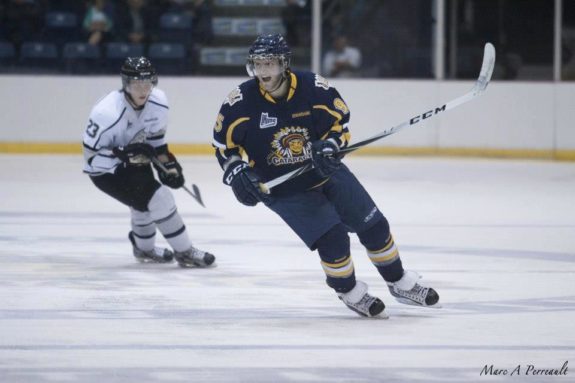 As the hockey pundits always say: "There is always next season."  Those five words have become all too familiar for JC Campagna.  Having switched teams and leagues twice already, he finds himself in the exact same scenario this year, but with much loftier goals with the reigning Memorial Cup Champions, Shawinigan Cataractes.  But prior to the start of the season, he swiped the entire slate clean, by hiring a new agent.
"I have nothing but good things to say about the Bartlett agency," began Campagna, "but unfortunately sometimes it's just not the right fit.  I am pleased to have Mark Toof working for me now, as he has been fantastic since we teamed up over the summer, and I look forward to being together for the rest of my career."
So when the Cataractes came a calling, JC was happy to hop on board with the team and be looked at to provide offense – a role that has eluded him for the past 3 seasons in the CHL.
"When my agent called and said Shawinigan is interested, I was extremely excited considering they just won a Memorial Cup and I'm happy to be apart of a winning franchise," said Campagna.  "In my 4th year of Major Junior I finally think I'm going to be in more of a scoring role and a guy they rely on to put up numbers and score some big goals."
However, coming into a city with such a rich French heritage is intimidating for some players, especially those coming in from the Province of Ontario.  The transition seems to be working quite well for JC.
"It's been great.  I'm learning French and adapting to the cultural change.  This city is crazy about hockey and I thank god for the opportunity to play in a city that is this passionate about the game."
Although the city has accepted him, the move to Shawinigan doesn't come without its hardships.  In fact, having been away from his hometown of Dublin, Ohio, has not been that easy for JC.
"The hardest part will be, being so far away from home.  My family is very important to me and living 13-14 hours away doesn't give me an opportunity to see them as much as I did playing in the OHL."
As for his personal expectations?
"I want to personally have the best season of my career (statistics wise) and as a team goal I would like to make the playoffs as I have yet to play in a playoff game, so I'm looking forward to that."
He's already begun mesh with a few teammates and picked up his first 2 points of the season in his 2nd game against Rimouski Oceanic.
"It's a little early to tell, but I seem to really click with Poudrier our captain.  We have only had a few practices, but for some reason we always seem to know where eachother is going to be in the offensive zone and he makes the game so simple," said Campagna.
When asked about what the team needs to do in order to reclaim a consecutive Memorial Cup JC mentioned, "Well we are a young team and a part of winning the Memorial Cup is the fact a team loses a lot of guys to the pros.  So in a rebuild with a young team, the older guys really have to lead the way and set a good example for the younger kids in the dressing room and on the ice."
After having traveled from Sarnia to Cape Breton, then back to the OHL with Peterborough, Campagna has finally settled into a position he feels comfortable with.  Although the Cataractes are 0-1-1 in the early stages of the season there is still a lot of hockey to be played.  Moving to two teams and hopping between leagues twice, for JC Campagna, the 3rd time's going to be a charm.