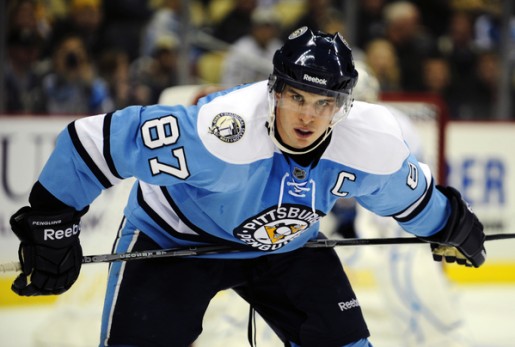 As the NHL lockout enters week two, many big-name stars have already secured jobs overseas and are back on the ice.
Reigning Art Ross Trophy winner Evgeni Malkin has yet to find the back of the net after two games with Metallurg of the Russian-based Kontinental Hockey League, but that isn't the case with Rick Nash and Joe Thornton in Switzerland. Nash notched a hat trick and added an assist in his debut with HC Davos while Thornton stayed true to his career form with 4 assists.
Elsewhere, the Swedish Competition Authority ruled on Friday that the Swedish Elite League must allow clubs to sign locked out NHL players or risk heavy fines:
"The hockey league's decision can be likened to a cartel," Per Karlsson, senior counsel at the Competition Authority, said in a statement on Friday, reported by the Globe and Mail. "The decision means that ice hockey clubs that are affiliated to Swedish Hockey AB (Elitserien) must decide themselves if they want to sign contracts with locked-out NHL players or not."

Previously, the Swedish league wished to only accept NHLers willing to sign long-term deals of at least one full season.
The ruling opens the door for Swedish players such as Nicklas Backstrom, Daniel Sedin, and Henrik Sedin to return to their home country.
But one big name still remains on the sideline: Sidney Crosby.
Crosby has only played 28 games since suffering a concussion in the 2011 Winter Classic and by all accounts finally seems ready to make a healthy return.  However, the financial risks associated with joining a team in the KHL or Europe could mean we don't see Crosby on the ice anywhere until 2013.
How many teams outside of the NHL handle an insurance claim as well as a compensation claim on the world's biggest star?
Crosby was set to earn $7.5 million this year, the final year of his current contract before a new 12-year, $104.4 million deal kicks in next summer.  In Sept. 5 memo titled "How Does a Lockout Affect Me?", obtained by the USA Today, the NHLPA informed players that they could run into problems should they suffer injuries while playing overseas:
"We expect that your NHL club would suspend you without pay until you are fit to play," the NHLPA memo said. "There also is a possibility that the club might take other disciplinary action. The NHLPA may be able to dispute such suspensions and disciplinary actions under the grievance and arbitration procedure.

"If you intend to play for a club in another league during a lockout, we recommend that you ask that club to insure the value of your SPC (standard players' contract) against injury. If the club is unwilling to do so, we recommend that you purchase disability insurance on your own."
Insuring Crosby's future contract value (and business/brand value, should he decide to insure that as well) would not be cheap.  It also wouldn't be a tab he'd be expected to pick up given the competition for his services.  But contrary to many reports, it's not a case of Crosby being uninsurable due to his concussion risks — anything can be insured for the right price — it's that it may not make sense from a business perspective for any team to take on the cost of that insurance.
Despite the large sums of money thrown around by the KHL, the league as a whole stands nowhere close to the NHL from a business perspective.  Many teams are funded by government entities and have lost massive amounts of money with hopes that the league will peak heading into the 2014 Winter Olympics in Sochi, Russia.  Any team that adds Crosby to their roster would certainly receive a generous bump in revenue, but the business infrastructure — television deals, ticket sales, etc — is not in place to fully take advantage of the upside.
Crosby's agent, Pat Brisson, told Sportsnet Fan 590 last week that the price tag of insurance could be hundreds of thousands of dollars a month:
"The cost comes based on games played and so on and so forth and it changes on a week-to-week basis," Brisson said. "All these players that are going to Europe right now, they're covering themselves in the event that there's a short-term injury… So it could vary anywhere between $200,000 to $400,000 a month to cover a certain portion."
In other words, if a team wanted to insure Crosby against serious injury for 50 KHL games, the risk of injury — and the price of insuring that risk — would be much higher than if they only wanted to insure him for 10 or 20 games.
Crosby himself would also be dealing with a dynamic that probably can't be quantified in dollars: the risk of having his career permanantly cut short because he wanted to play for a few months in a substandard league (the KHL is not exactly known for its gentlemanly play).
In the end, it will come down to how badly Crosby wants to get back on the ice in the prime of his career and how much teams are willing to spend for the opportunity to step into the Pittsburgh Penguins' shoes for a few weeks or months.
Until the entire NHL season is in jeopardy or cancelled, it's unlikely we'll see Crosby on the ice anywhere in Europe.