There once was a time in the NHL where the timeout held little weight. Coaches would use them to regroup the team or maybe rejuvenate players after a series of goals.
Those days are a thing of the past, because timeouts are now one of the most important pieces of ammo in a coach's arsenal.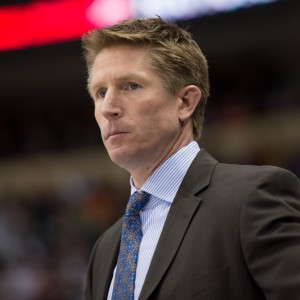 For numerous seasons now, the NHL has restricted line changes for a team that ices the puck. This is the first instance where the timeout started to carry more weight. If the defending team was in the midst of a minute-plus long shift and they iced the puck, they were not allowed to change. The NHL really hammered this home when they also restricted TV timeouts after icing calls. Oh, and don't forget, you can't just flip it over the glass anymore either.
This season? Timeouts just became even more valuable.
For the first time in their history, the NHL is allowing coach's challenges. As I chronicled in my article about rule changes, this is great for possible goalie interference and offside calls, however there is another side to this. A team needs to have their timeout to challenge a play. This has so many implications across the board when it comes to the coaching aspect.
First of all, teams really need to watch how much and how frequently they ice the puck now. A coach is going to be far less likely to waste his timeout early on in the game. If a coach does use his timeout in the first period, and with 10 minutes left in the third, and the linesman misses an obvious offside call that leads to a goal, it cannot be challenged. That could have huge implications, especially if it happens in a Game 7 in the playoffs, or something along those lines.
The only saving grace to this is that in the final minute of play and overtime, the NHL will automatically review this. Outside of that time period, the team who was scored on is out of luck.
The other side of this? If a coach uses his challenge early on, and gets it wrong, his team is now without a timeout for the rest of the game. Not only does that negate using the challenge again, but if his team is pinned, then ices the puck, there's no hope for getting these players a rest. Especially if it is late in a game.
Timeouts have gone from having little importance to being a huge part of the game. Unlike other professional leagues, the NHL allows each team one timeout per game, and that only makes them that much more valuable.
It will be interesting to see how different coaches develop strategies for using their timeouts, because one thing is for sure: they could be a coaches best friend, or worst nightmare.