Will Young Fresh Blood Bring Bounce Back Season?
Last season the San Jose Sharks missed the playoffs for the first time in 10 seasons. This year they will try to bounce back with a new head coach and some (young) fresh blood. This article focuses on the new young players like Nikolai Goldobin, Joonas Donskoi, Chris Tierney, Timo Meier, Rourke Chartier and others. While some of them will not make the team and return to their junior teams/AHL, there are some that have a legit shot to stay with the Sharks like Tierney, Donskoi or Goldobin.
http://t.co/UqHNa7G1oD >> San Jose Sharks Prospect Watch: Nikolay Goldobin is a game-changer http://t.co/LsJdbQbCTh

— San Jose Sharks Buzz (@sharksbuzztap) September 18, 2015
A new arrival that will surely get minutes is Martin Jones, who the club acquired via trade. He will battle it out for the starting position against Alex Stalock and should be replacing veteran Antti Niemi.
It will be an interesting Sharks camp as there are a lot of open roster spots and a couple of young wingers who have a legit shot at making the roster. Therefore: Let the games begin.
Sensational Summer Prospect Happenings
New goalie tandem: The Sharks brought in young goaltender Jones from the Los Angeles Kings to build the goalie tandem with Stalock this season. While both goalies are technically not prospects anymore, they are not NHL-veterans. Both are looking to become the starter for the Sharks but it is believed Jones is the early frontrunner as he is considered the more highly-touted of them. It will be interesting to see how Stalock and Jones will do without an experienced starter on the team and if they can lead San Jose back into the post-season.
Can Mirco Mueller make the team? The first-round pick from 2014 had his first taste of NHL-hockey last season. The Swiss born defender will most likely compete for the last open roster spot against Matt Tennyson, Mark Cundari, Dylan DeMelo and Taylor Doherty. It might be that he will need to start the season in the AHL with the newly formed San Jose Barracuda, where he could play more minutes and make himself a potential call-up later in the season
Goldobin's second attempt: It wasn't Goldobin's time last year as he didn't make the team, but instead was sent to Finnish team Helsinki IFK in order to develop his game in the best possible way. He played a decent season in the Finnish Liiga and proved that he is nearly NHL-ready. Goldobin therefore will try to push for a roster spot with the Sharks in camp but it remains questionable if his defensive game is good enough for playing in the Sharks third or fourth line.
E-Mac's Impact Prospects
The top three players on the Sharks Prospect List have a strong chance of making the NHL and being impactful when they do. In addition, there will likely be some of the others who make the NHL, but they are either less likely to have an impact or less likely to make the NHL. Possessing three impact players is a little less than the average amongst NHL teams, but the Sharks prospect system contains good depth of interesting prospects at nearly each position.
As for the rest of the league, the team with the most impact players is Winnipeg with 9 followed by Arizona and Detroit with 8 apiece. Los Angeles trails with just 1.
Already Arrived
21 and Under Players as of September 15, 2015 in the NHL
(to give one the big picture of young players in the organization)
Drafted: 2013-18
2014-15 Team: San Jose, NHL
D, L, 6'3, 205, 39-1-3-4, (-8)
2. Hertl, Tomas
Drafted: 2012-17
2014-15 Team: San Jose, NHL
LW, L, 6'2, 210, 82-13-18-31, (-5)
Drafted: 2012-55
2014-15 Team: Worcester, AHL
C, L, 6'1, 187, 29-8-21-29, (+8)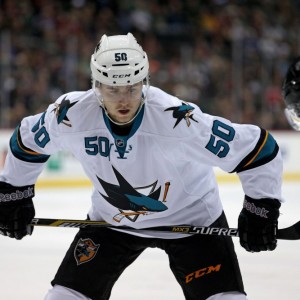 Sharks NHL Prospect Pool Power Ranking: 17th
Editor's Note: The Sharks prospect pool is in the middle of our rankings. For once we were all agreeing and had them more or less on the same position. E-Mac ranked them 19th while three colleagues had them all at 17th. I ranked them the highest, at 16th because I like their depth at nearly each position plus they have some good impact prospects up front.
 (Link to rankings of all teams)
San Jose Sharks Next Ones: Top 10 Prospects Summer of 2015
The Next Ones Summer Prospect List includes the top 10 prospects along with 5 honorable mentions and any other 2015 draft choices not previously listed. rankings are courtesy of Eldon MacDonald ( based in Atlantic Canada, E-Mac has a widespread knowledge of the hockey prospect world with a focus on the QMJHL and the OHL.)
1. Meier, Timo 
Drafted: 2015-9
2014-15 Team: Halifax Mooseheads, QMJHL
RW, R, 6'1, 209, 61-44-46-90 (+20)
I am going to be honest with you, I had some question marks about Meier and might still have, especially about his defensive abilities and if he is able to transfer his game to the next level. However, to be fair, the Swiss-born forward worked very hard and improved many aspects of his game last season. He had a real break out year being the league's 11th best scorer.
.@MeierTimo getting pumped up for #SJSharks rookie game. #SJSharksFest pic.twitter.com/ICmYDJ8wo0

— Eric Lindquist (@VoiceOfPuck) September 12, 2015
His biggest asset is his wicked shot and accuracy. His release is lightning quick and one of the best I saw among the entire 2015-draft class. He has a nose for the net and is a dangerous offensive weapon. He was part of the Mooseheads' most dangerous line with Nikolaj Ehlers. He made a lot of progress in terms of work ethic and he gets involved physically. It's possible that he will play his first couple of NHL games this season before returning to the juniors, although there is not much in the "Q" that would help him develop his game further.
2. Roy, Jeremy 
Drafted: 2015-31
2014-15 Team: Sherbrooke Phoenix, QMJHL
D, R, 6'0 185, 46-5-38-43 (-2)
Jeremy Roy was one of the best Canadian defencemen at the U18 Worlds in Switzerland back in April. He impressed me with a great two-way game and a very active stick in his own zone. He was very good in one-on-one situations and used his stick very well to poke check and put the puck carrier under pressure. I liked his own-zone coverage but he can also play an effective offensive game and join rushes. He is not the most physical defender but all in all he is a great Sharks prospect and deserves to be number two in our ratings. I was surprised he was still available at the beginning of the second round as I had him as a clear first rounder.
Drafted: 2014-27
2014-15 Team: Helsinki IF, Liiga
W, L, 6'0, 185, 38-11-10-21 (-9)
As described earlier in this article, Goldobin didn't make the Sharks roster last year and was sent to Europe in order to develop his game in a pro league. I saw him in the Champions Hockey League and he looked nearly NHL-ready. The only question marks are whether or not he has enough strength to transfer his game successfully to North America. He would also need to simplify his game a bit and work on his defensive coverage. However, Goldobin has tremendous offensive skills and his puckhandling is impressive. He is highly creative and is always looking to create scoring chances. He was a constant offensive weapon whenever I watched him.
Drafted: 2014-149
2014-15 Team: Kelowna Rockets, WHL
C, L, 5'11, 180, 58-48-34-82 (+33)
Chartier is often described as a potential dark horse in the Sharks' prospect organization. The center from Kelowna had a great past season scoring 82 points and 48 goals. Probably one of his biggest assets is his work ethic, but he is also a good overall skater and shows good hockey sense.
"His best attributes are his intelligence and his consistency. He is skilled with a high hockey IQ, he anticipates the play extremely well both offensively and defensively. His consistency from shift to shift and game to game is extremely rare for a player of his age", said Kelowna Director of Player Personnel Lorne Frey.
Drafted: 2010-99
2014-15 Team: Karpat Oulu, FIN 1 – Liiga
RW, R, 6'0, 180, 58-19-30-49 (+13)
I am quite high on Finnish forward Donskoi since I saw him play at the Worlds earlier this year, where he combined for eight points. He was dominant in nearly each shift and impressed me with his high energy level, good puck protection and effective two-way game. He is very strong on his skates and he looks NHL-ready. Plus his dominant play in the Finnish Liiga is another indication of his NHL-readiness.
Sharks' young Fin Donskoi makes good impression on coach DeBoer – Santa Cruz Sentinel http://t.co/FnYd3hNesO

— SJ Sharks show (@SJSharksshow) September 21, 2015
This brings up the question as to where he would fit on the Sharks' opening night roster. He definitely has the upside to become a top-nine forward with the Sharks but whether or not he will make the team will depend on what the Sharks are going to do with young wingers Tomas Hertl and Melker Karlsson.
6. Rod, Noah 
Drafted: 2014-53
2014-15 Team: Servette, SUI – NLA
C, L, 6'1, 192, 38-1-3-4-(-11)
Swiss forward Noah Rod is in his second full season with Servette-Geneve where he plays under Chris McSorley, brother of former NHL tough guy Marty McSorley. Rod plays an aggressive game and is always trying to finish his checks, even against bigger players and grown up men in the Swiss league.
He is a fast skater with good acceleration and mobility. Based on his playing style he would rather fit in a third or fourth line where he could be an effective two-way player with physical upside. Rod is a hard worker on the ice and isn't afraid to get his nose dirty. Our THW draft guru called him a hybrid of Brendan Gallagher, Chris Kelly and Chris Kunitz. However, he is quite injury prone and it is questionable if he has the offensive skills to make it to the big league.
Drafted: 2014-46
2014-15 Team: London Knights, OHL
D, R, 6'1, 194, 60-13-29-42 (-3)
Julius Bergman is a defenceman with impressive physical assets who isn't afraid to throw his body around. However, he isn't limited to only punishing opponents, his offensive skills are decent too. He finished as the most productive blue liner among all London Knights defencemen. Bergman played his first AHL game after his Knights were eliminated from the OHL playoffs. Read more about Bergman's playing style here.
Drafted: 2011-179
2014-15 Team: Worcester Sharks, AHL
D, R, 6'0, 194, 65-5-17-22 (-7)
The 22-year-old puck-moving two-way defenceman has yet to play his first NHL game but according to his coach in Worcester Roy Sommer this could be the year of Dylan DeMelo: "I think he looks really good. This is his year. I think he's going to come to camp and make a big splash… He's a guy that you're not going to fall in love with because he doesn't wow you with anything, but he's as steady as you're going to get."
I liked his skating agility as well as his speed and puck-moving skills when I saw him play last season with the Worcester Sharks, but there are a couple of defenders in the Sharks' organization I still have ahead of him and therefore expect him to start the season with the Barracuda.
Drafted: 2010-115
2014-15 Team: Harvard University, NCAA
D, L, 6'2, 190, 21-6-15-21 (+16)
McNally was originally picked by the Vancouver Canucks but the Sharks signed the Harvard University product this summer. Here is what Sharks General Manager Doug Wilson said about the acquisition: "Patrick is a player we have had our eye on for some time now. He has been a very productive collegiate defenseman and Head Coach Ted Donato and the Harvard staff has done a tremendous job preparing him to take the next step. We're excited for him to continue his development with our organization."
10. Jevpalovs, Nikita

Undrafted
2014-15 Team: Blainville- Boisbriand, QMJHL
RW, R, 6'1, 207, 64-49-51-100 (+37)
Undrafted Nikita Jevpalovs was signed by the Sharks this year and finished as the third best scorer of the QMJHL. The Latvian winger doubled up his point production this season and caught the attention of the Sharks this way. Bill Placzek from draftsite describes Jevpalovs as following: "Attacking Latvian wing with a relentless motor. Makes good puck decisions and never seems to stop moving and working. Is patient and displays good hands, and passes. Good in traffic and in close."
Five Honorable Mentions
Just outside the top 10, you will find in alphabetical order:
HM – Dell, Aaron – (undrafted) – 14-15 – Worcester, AHL, G, L, 6'0, 185, 26-2.06-0.927
HM – Doherty, Taylor – (2009-57) – 14-15 – Worcester, AHL, D, L, 6'8, 229 , 59-2-5-7 (-3)
HM – Emanuelsson, Peter – (undrafted) – 14-15 – Worcester, AHL, RW, R, 6'0, 200, 6-4-0-4 (+1)
HM – Sadowy, Dylan – (2014-81) – 14-15 – Saginaw, OHL, LW, L, 6'1, 181, 65-42-32-74 (+5)
HM – Cukste, Karlis – (2015-130) – 14-15 – HK Riga, MHL, D, L, 6'2, 203, 56-7-8-15 (-3)
Other 2015 Draft Choices Not Listed Above
The other 2015 draft choices not previously listed above:
2015-86 – Robinson, Mike –  14-15 Boston, EHL – G, L, 6'4, 201, 8-2.94-0.937
2015-106 – Helewka, Adam – 14-15 – Spokane, WHL, LW, L, 6'1, 201, 69-44-43-87 (+10)
2015-142 – Balcers, Rudolfs – 14-15 – Stavanger Oilers, NOR1, LW, L, 5'11, 165, 36-8-13-21 (+14)
2015-160 – Parsells, Adam – 14-15 – Wausau HS, HS, D, R, 6'6, 201, 23-7-15-22
2015-190 – Vela, Marcus – 14-15 – Langley, BCHL, C, R, 6'2, 201, 50-20-26-46
2015-193 – Kupsky, Jake – 14-15 – Lone Star Brahmas, NAHL, G, L, 6'5, 209, 30-2.16-0.911
Dare to Compare
Toronto Maple Leafs Next Ones: Top 10 Prospects