Another week has passed and that means the Minnesota Wild have played another three games. They started it out in New York to face both the New York Rangers and the New York Islanders, then came home for a one-game visit to take on the Arizona Coyotes. The Wild fought hard but couldn't make it past the Rangers even with a shootout involved. They did however find a way past the Islanders and Coyotes.
---
---
Despite having a fully healthy roster for the first time in months, the Wild struggled in all three games but while they had some issues they pulled it together to end the week on a high note. Their top line led the way while some players who started out strong this season are starting to have some difficulties as it moves along.
Wild's First Line Leads Way
Typically, Kirill Kaprizov leads the way in the Wild's scoring but this week he wasn't alone, his linemates Mats Zuccarello and Sam Steel were right alongside him. They each recorded four points, Kaprizov and Zuccarello both had two goals and two assists while Steel tallied one goal and three assists. Their line combined for 12 points and led the way for all Wild players.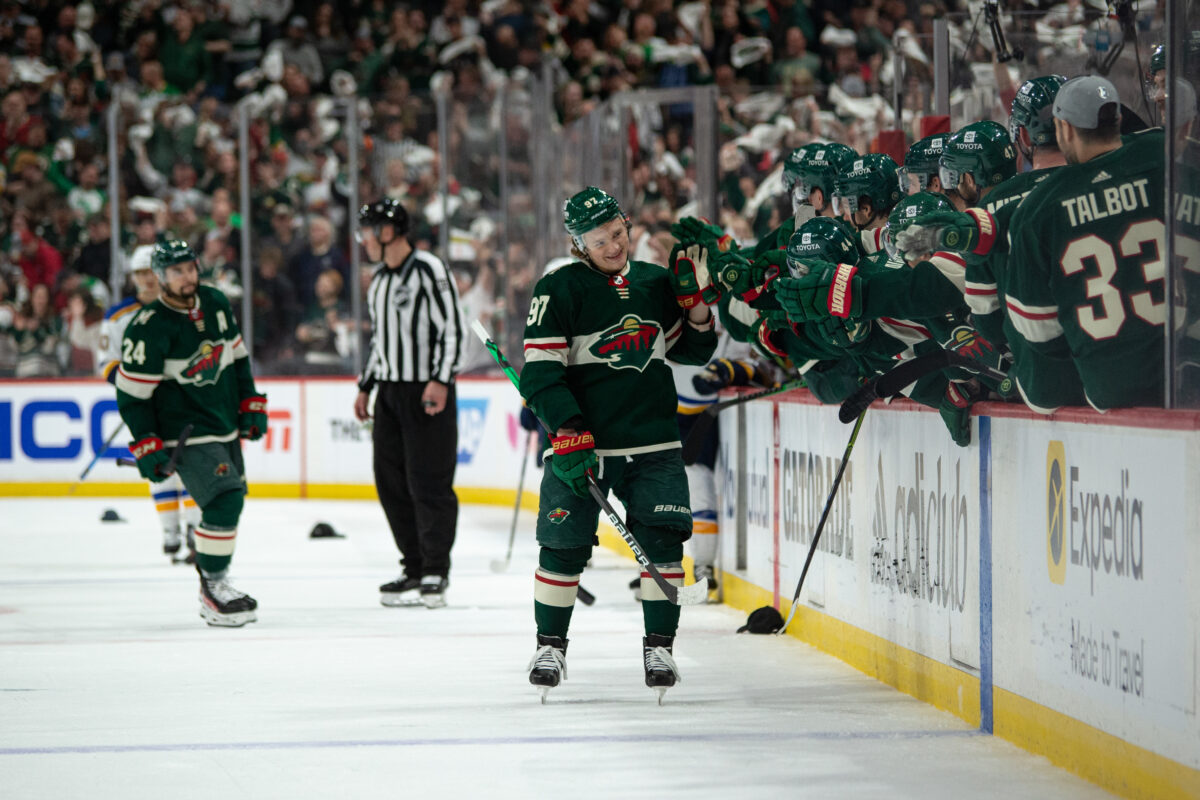 While the scorers were doing their thing, one of the Wild's top defensemen was doing his. Jared Spurgeon led the team with 10 blocked shots in the past three games and did everything he could to throw his body in the way of the puck to help out his goaltenders. He didn't record any points and only had one hit, but his blocked shots helped them secure their two wins.
The final mention in the Wild's success list belongs to their goaltenders, Marc-André Fleury and Filip Gustavsson. Thanks to their strong play and standing on their heads multiple times to make some big saves, the Wild were able to record their two wins. The victories were split evenly with one going to Fleury and the other to Gustavsson and hopefully, they can continue their strong play this upcoming week.
Wild's Fourth Line Struggles
The Wild's fourth line isn't known for its goal-scoring unless it's Connor Dewar on the penalty kill and that didn't change in the past three games. Brandon Duhaime recently came back from injury and scored a goal in his first game back on Jan. 7, but has been pointless since and his ice time has dropped slightly from just over 11 minutes to under nine.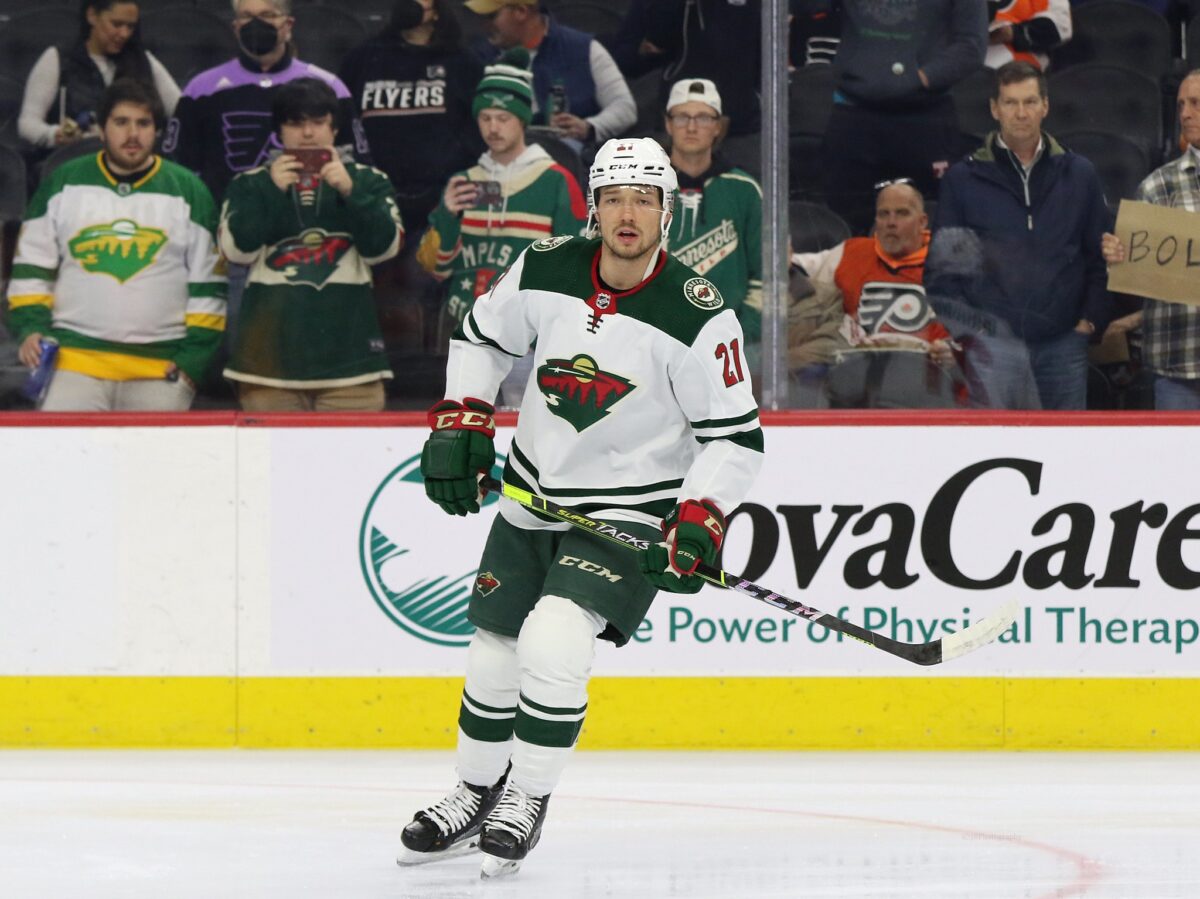 Duhaime isn't the only member of the fourth line to have some struggles, Dewar has also been held pointless. He had some opportunities while on the penalty kill, which has been his strongest area of play this season, but he couldn't find a way to score. While the fourth line has had great chemistry, even with Ryan Reaves and Mason Shaw rotating as the final member of that line, other than some physicality, they were held without a point in the past three games.
Related: Wild Smartly Planning for the Future with Matt Boldy Extension
---
Latest News & Highlights
---
The final mention on the struggling list, who also signed a new contract recently, is Matt Boldy and while he's had a strong season so far, this past week he couldn't find the back of the net. He had plenty of chances with his 13 shots on goal and even with time on the power play, he couldn't make it happen. It's hard to say what has caused his drought in points but hopefully, it ends soon because the Wild could really use his scoring talents.
Wild's Upcoming Week
The Wild will have another three games this week and they'll all be on the road, specifically on the East Coast. They'll be facing the Washington Capitals, Carolina Hurricanes, and Florida Panthers, and all three teams will be difficult to beat. The Wild's defense will have to be playing their best hockey to defend against Alex Ovechkin, Evgeny Kuznetsov, Dylan Strome, Martin Necas, Sebastian Aho, Andrei Svechnikov, Matthew Tkachuk, Brandon Montour, Carter Verhaeghe, and Aleksander Barkov.
However, the Wild's offense will also have to play the best they can to get past the goaltending of Capitals' Darcy Kuemper, Hurricanes' Frederick Andersen, and Panthers' Sergei Bobrovsky. Regardless of how good the other teams are, the Wild will need their fourth line to step up and contribute some points as well as their first line to continue their scoring success to get through this week. It would also help if they could stay out of the penalty box and score some goals on the power play. If they can do those things, they'll get past these teams and record three more wins in the standings.