The Minnesota Wild are hitting tough times as the playoffs open. They've been remarkably healthy all season, but that run of health has come to an end and sees the team entering their first round series against the Dallas Stars with some serious battle wounds.
It was already announced that Thomas Vanek is out with an upper-body injury. He's listed as week-to-week and not expected to be available during the team's opening round.
It was a trying year for the former star, but no one on the Wild has scored more against the Dallas Stars this season. It's a loss that will be felt.
Both he and Zach Parise did not travel with the team to Dallas.
However, for Parise, the news is worse. The Star Tribune reported late Wednesday that Parise may need "microdiscectomy surgery to relieve pressure on [his] spinal nerve column."
As of Wednesday afternoon, the team announced that Parise is out indefinitely. He hasn't practiced in a while and sat out the final game of the season. At a minimum, he'll miss the first two games of the postseason after staying behind in Minnesota to see a specialist when the team left for Texas. At worst, they'll be without him no matter how far they're able to go.
Haula Out Too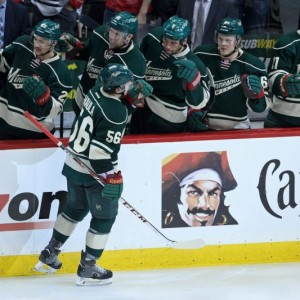 Also likely in the press box for Thursday's postseason opener is center Erik Haula. From the outside, that may seem like a small thing, but Haula has been a major part of any success the Wild have had down the stretch.
In the 27 games since Torchetti took over on the Wild bench, Haula has posted nine goals and 21 points. He's also been excellent defensively with a 4.3% score-adjusted CF%Rel.
He and Nino Niederreiter have been tethered together on the team's third line, pushing play and getting some tough assignments. In 283 minutes together since Torchetti's arrival, they have a 51.5% CF% and a 68% GF%.
Haula has previously been a shut down center for the Wild in the playoffs with some success. Torchetti said he hoped Haula would be ready for Game 1 and that he would be lining up against Jamie Benn's top line, which is likely to include Tyler Seguin, who is expected to return from a cut Achilles.
Haula has joined the team on their trip to Texas. So, there's hope that he'll be on the ice in Game 2, but his absence in Game 1 is significant.
Depth Issues
Zac Dalpe is getting a shot with the big club, taking Haula's spot centering Niederreiter. However, that's in no small part because Tyler Graovac, who was a part of the team's opening night roster and was injured in that game, continues to struggle with injuries and isn't healthy enough to join the team.
Even further down the roster, injuries are impacting their depth. Should something happen to a top defenseman, their depth is a little weaker with Gustav Olofsson on the shelf after having his season ended by a shoulder injury for the second year in a row.
The Wild are not only the bottom ranked team in the West playing the Conference's top team, there are few predicting an upset here. The number of injuries is a big factor, but even at full health the team isn't inspiring many upset predictions after ending the season with five straight losses.
The loss of Parise is devastating. Combined with the loss of Vanek and their offense is limping against the NHL's most dynamic offense. Add in the loss of Haula, and the Wild have lost significant amounts of offense and one of their big tools to halt the Dallas offense. It was never going to be easy for them to advance. Now, the mountain is looking mighty steep.
Dustin Nelson writes about news and the Minnesota Wild for The Hockey Writers.