It's the most, wonderful time, of the yearrrrrrrr! Who doesn't love playoff hockey right? My personal favorite part is the dying minutes of a one-goal game when everything is a scramble, bodies are diving everywhere, pucks are zipping around the zone and the intensity is as high as can be. Until we get to overtime that is, when it become full-on, tighten your butt-cheeks, gasp and cringe with every shot end-to-end action (WITH NO COMMERCIALS!!).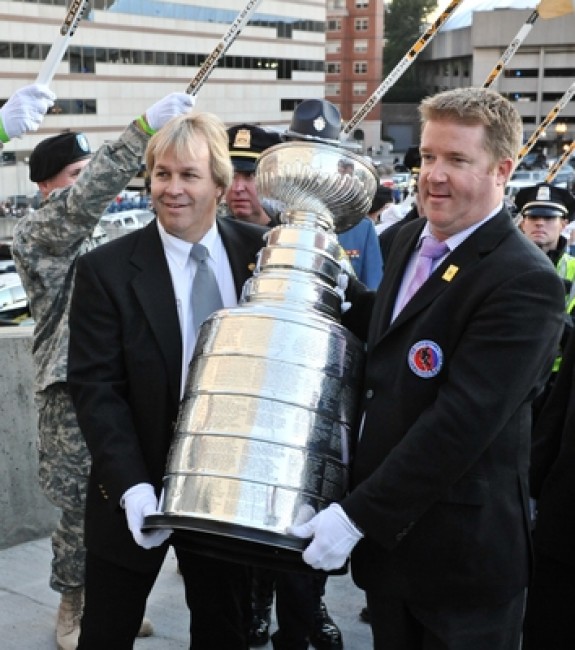 With the team I cover out of the playoffs (again), I relish the opportunity to write a little out of character and enjoy the playoffs as a fan of the game, and pick my three stars of each night like our friends over at Yahoo!/Puck Daddy blog do throughout the season. We'll have player standings at the bottom of each subsequent post with three points for being the no. 1 star, two for no. 2 and one for no. 3 and on most nights in the first round at least we'll likely have an honorable mention.
April 13, 2016
#3) Nikita Kucherov, Tampa Bay: 2 goals, assist
One-third of The Triplets gets this honor, but I really could have picked the whole line which combined for seven points as the Bolts secured the first win in a series with the Red Wings that is a rematch of last postseason's opening round. Detroit didn't have an answer for The Triplets last April, and after Game 1, they still don't — Tyler Johnson had two assists, Alex Killorn had the GWG and an assist. It could get late very early for the Wings if they don't figure something out soon, Stamkos or no Stamkos.
https://twitter.com/HockeyCentraI/status/720440850724077570
#2) Patric Hornqvist, Pittsburgh: 3 goals, assist
No Malkin, no Fleury, no problem for the Penguins in Game 1. Hornqvist led the offensive charge as Pittsburgh ran wild against the Rangers as they look to avenge last year's embarrassing elimination at the hands of their division rivals. He got the scoring started in the first period, and then sealed the deal with an empty netter at the end of the game to complete his first career playoff hatty. Not only did he have a four-point night, he also had four shots on goal, three hits and two blocked shots in the Penguins 5-2 Game 1 victory.
Patric Hornqvist (3-1—4) is first @penguins player to score a playoff hat trick since April 28, 2014 at CBJ (Malkin) pic.twitter.com/VzcRV6a9HG

— NHL Public Relations (@PR_NHL) April 14, 2016
#1) Brian Elliott, St. Louis: 35 saves/35 shots. Win/Shutout
The first career playoff shutout for the man they call 'Moose' is exactly what the Blues needed as their offense was MIA for most of the game. This is likely going to be a long, rugged series and it was good for St. Louis to pick up a win at home, while not playing their best and with Duncan Keith out of the Blackhawks lineup. Elliott has been masterful since the calendar turned to 2016 and he found some magic again while rocking the retro-CuJo-style pads, as the backbone of the Blues 1-0 overtime win.
Still too many passes by #OurBlues, good thing MOOSE is dialed in #STLBlues #MOOSE pic.twitter.com/srcOtMaGJM

— Mike Poepping (@pep30) April 14, 2016
Honorable Mention) Jeff Zatkoff, Pittsburgh: 35 saves/37 shots, Win
Not too shabby for a guy making his playoff debut. He held the Rangers offense in check for the early part of the game and by the end of the game he was dueling Antti Raanta rather than Henrik Lundqvist – who left the game with an eye injury. Despite being the backup to the backup, Zatkoff was calm, steady and looked like a veteran in net during the opening night of the playoffs. We shouldn't be too surprised as he and Matt Murray were among the AHL leaders in fewest goals allowed the past few seasons.
35 saves for Jeff Zatkoff (class of 2009) in his #NHLPlayoffs debut, first Miami goalie since Alain Chevrier (5/4/89) to win a playoff game.

— Miami Hockey (@MiamiOH_Hockey) April 14, 2016
We'll be back tomorrow with five games being played on night two!
Dan Rice is in his 9th year of reporting for THW & has covered NJ Devils home games for 15+ years at various websites. He began his journey working for legendary broadcaster/writer Stan Fischler from 2002-04 & completed an internship at the ECHL; he also has been writing features for the NWHL (nwhl.zone) website since 2016.