It really was no secret that the Minnesota Wild was not going to string their winning streak anywhere close to the Pittsburgh Penguins' 15-gamer of the past month.
Last week, I called into question whether the Wild would necessarily need to make a move at the trade deadline. However, Chuck Fletcher had yet another rabbit to pull out of his managerial hat, dealing prospect goaltender Matt Hackett, developing forward Johan Larsson, as well as a first round pick this year and a second round pick in 2014, to the Buffalo Sabres.
In return, the Wild received Jason Pominville and a fourth round pick next season. Pominville's accolades scream leadership, which explains why Buffalo rode him as a captain the past season and a half.
The Pominville Profile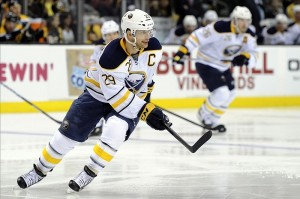 The 30-year old right-winger has recorded five 60+ point seasons and has scored 20 or more goals in every full season he's played since 2006-2007. His +40 career rating and ten shorthanded goals show his two-way abilities, and he has recorded 28 points in 45 career playoff games, despite being a secondary scorer on various teams that included Danny Briere, Chris Drury, and Thomas Vanek.
Slotting Pominville into the Wild forward lines will not be the easiest task for head coach Mike Yeo. In his first game for Minnesota following a long travel process, the former Sabre captain skated with Zach Parise and Mikko Koivu. The right wing role on that line had normally been reserved for big-body rookie Charlie Coyle, who had goals in two of the prior three games heading into Los Angeles last night.
The Wild promptly dropped the choppy game, 3-0, resulting in Minnesota's third straight loss and fourth in the last five contests following the conclusion of a seven-game winning streak.
With only six points separating fifth and 12th places in the West, Minnesota now faces the prospect of needing to find its old rhythm and finding it quickly. However, if the Wild can barge into the playoffs, playoff experience will be scarce, particularly on the young defense corps.
Doubts on Defense?
With the exception of Brett Clark – who played in 18 playoff games and reached Game 7 of the Eastern Conference Finals in 2011 while a member of the Tampa Bay Lightning – and Ryan Suter (39 career playoff games with Nashville), there is a grand total of zero games of NHL playoff experience on the Minnesota blue line.
It was far from surprising to note that heading into the trading deadline that the Wild were hamstrung in what they could do financially because of the contracts of Parise and Suter. However, Fletcher was able to structure Pominville's deal in a way that could keep him in Minnesota next season as well. It is curious, though, that Minnesota went the route of forward when various defensemen were rumored to be available on the market.
Also, only two current Wild defensemen, Jared Spurgeon and Nate Prosser, even participated in the Houston Aeros' run to a Calder Cup Final in the 2011 AHL Playoffs. It is a stretch to consider this blue line experienced at all in crunch time.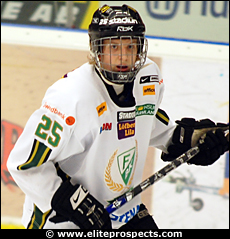 Nevertheless, it should not be a time for panic in Minnesota even if this season does not bring about deep runs. 19-year-old Jonas Brodin has shined in his first 34 games, registering nine points while being a +6. Jared Spurgeon is continuing to show his skill despite a diminutive stature with 13 points in 28 games. Should Minnesota reach the postseason, these two will garner valuable experience in the early stages of their careers.
With Pierre-Marc Bouchard and Matt Cullen's contracts expiring at season's end and an amnesty clause in his back pocket, Fletcher has surprisingly more flexibility in the offseason than one might imagine. The trial-by-fire this blue line may face will tell Fletcher just how dire a need defense will be heading into a full 2013-2014 season.
Ryan Smith is a proud graduate of Penn State University, having attained a degree in broadcast journalism. His experience in hockey is extensive, having covered PSU Men's ice hockey for USCHO.com as an Arena Reporter for its first NCAA season in 2012-2013 while also serving as Penn State Athletics' voice of women's ice hockey home games. He was also the sports director for Penn State's ComRadio, a student based radio station endorsed by the College of Communications. In that position, he broadcasted Penn State hockey since for four years. He can be followed on Twitter @RyanSmithHockey.