News broke last week that the Minnesota Wild will be without one of their top-six forwards for at least the start of the upcoming season. Winger Mats Zuccarello is expected to miss some considerable time due to torn ligament in his arm that recently required surgery. The damage is located in the same arm that Zuccarello broke a couple of seasons ago while playing for the Dallas Stars, but it's unknown if the injuries have any correlation.
What the Wild Will Be Missing
The Wild are about to enter the season without one of their most dynamic forwards. Last season, Zuccarello finished with 37 points in 65 games, about a 47-point pace over 82 games. Those numbers were a little below his production in recent seasons. However, according to Michael Russo of The Athletic, Zuccarello played a large part of last season with discomfort in his arm, meaning he likely wasn't playing at 100%.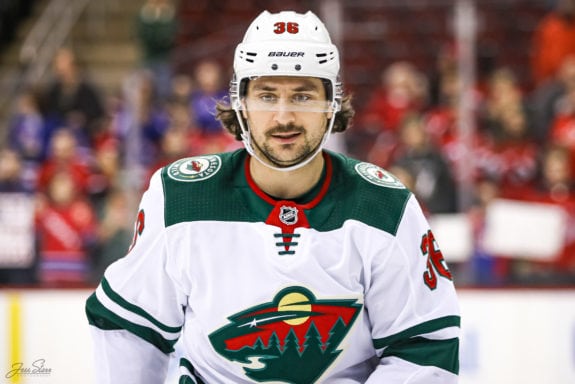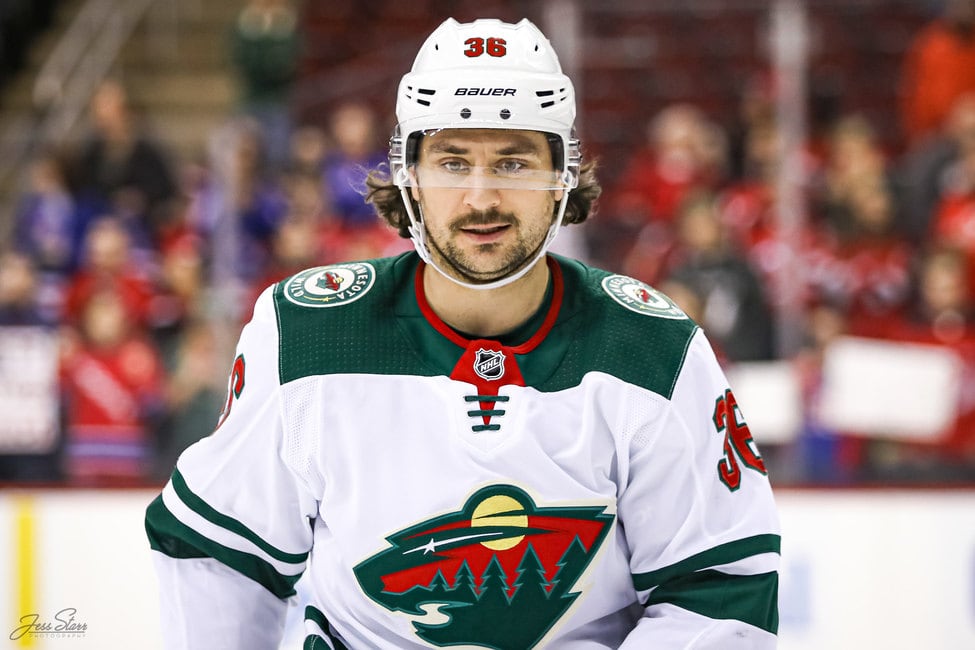 The speedy winger plays a considerable amount of time on the power play and has been known throughout his career for his vision on the ice as an elite playmaker. Also according to Russo, it's currently unknown exactly how long Zuccarello will be out for with this injury.
Players Who Can Help Fill the Void
The most common answer to this question will likely be Kirill Kaprizov, the young Russian who will be making his NHL debut with the Wild this season. Kaprizov showed he has the offensive firepower to produce in the NHL during his time in the KHL, registering 33 goals and 29 assists in 57 games last year with CSKA Moskva.
However, it's easy to forget in all the hype that Kaprizov is still only 23 years old and has yet to play a game in the NHL. He could do it, but it's tough to expect him to jump right in and ultimately makeup all the offence that Wild will be missing from their $6 million forward.
There are also two young forwards coming off career-best seasons in Kevin Fiala and Joel Eriksson Ek. Both players are under 25 and still have lots of room to grow.
Fiala registered 23 goals and 31 assists in just 64 games last season. That's a 0.84 points per game (P/G) pace, easily the highest in his career. Over an 82-game season, that's a 69-point pace. If this upcoming season is 56 games, which is currently the rumoured target, that's about a 47-point pace. If Fiala can continue his upwards trajectory, finishing with 50-plus points this upcoming season isn't out of the question and would certainly help make up for the loss of Zuccarello.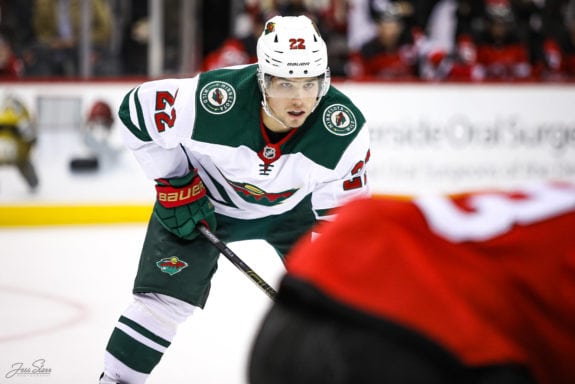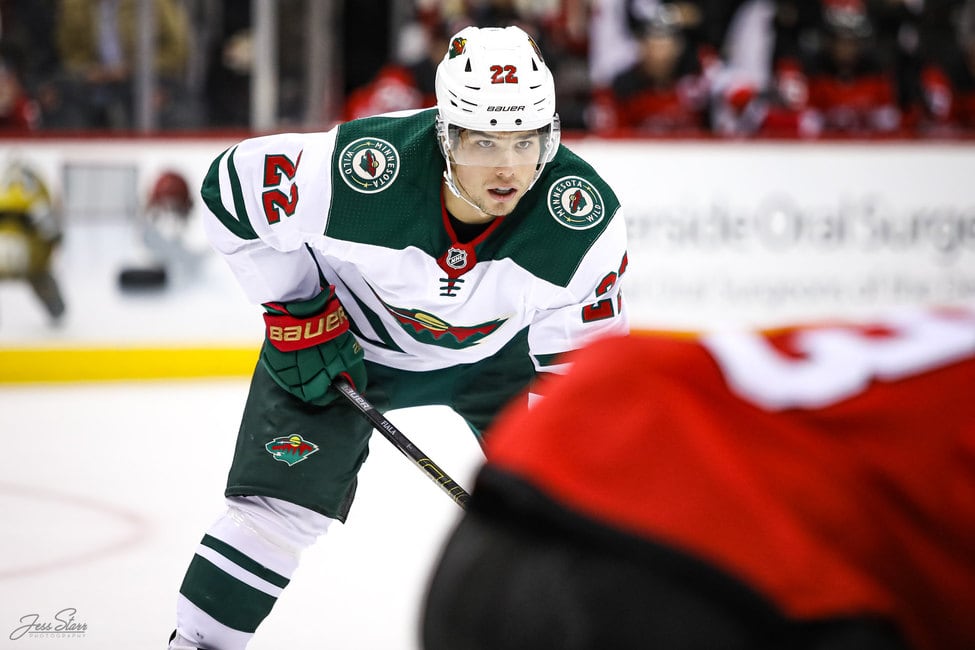 The Wild have been waiting for Eriksson Ek to break out for some time now. It's tough to call 29 points in 62 games a breakout season; however, when you look at his point production through his first two seasons, you will quickly see the improvement in his offensive game.
Through his two seasons prior, Eriksson Ek recorded 30 points in 133 games. Last season, he had 29 points (eight goals, 21 assists) in just 62 games. His P/G last season was 0.47, while in the two seasons prior, it was a combined 0.23. That's a big jump, and if he can get over the 0.50 P/G mark next season, it will also help soften the blow of not having Zuccarello in the lineup.
Possible Roster Additions
As of right now, the Wild have about $2.7 million in available cap space. That likely won't fetch them a player who will replace Zuccarello's production entirely, but there are still some interesting names out there.
Andreas Athanasiou is a player who is only one full season removed from scoring 30 goals and 54 points. The Edmonton Oilers did not extend him a qualifying offer, so he could fit into Zuccarello's spot for the time being and provide some speed and offensive ability. This late into the offseason, there is a decent chance he could sign for less than $2.7 million. He also might be very accepting of a one-year contract in an attempt to rebuild his value and possibly cash in on a multi-year deal next season.
Then there's the fact that the Wild could be without Zuccarello for a significant amount of time, which could lead Bill Guerin to put him on the long-term injury reserve (LTIR).
If that were to happen, the Wild would have around $8.7 million of cap space available. The idea of trying to bring in the top remaining free agent Mike Hoffman could then become a reality.
A little while ago, Hoffman's agent Robert Hooper admitted that his client is not against signing a one-year deal and entering free agency again next season if the fit is right (from 'Agent: Mike Hoffman has 'no issues' with signing one-year deal,' The Athletic, 10/20/2020).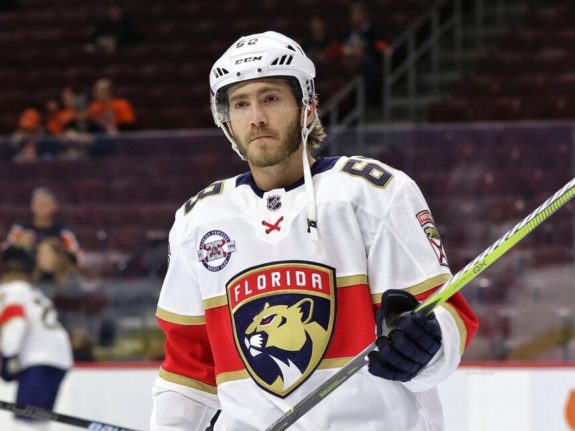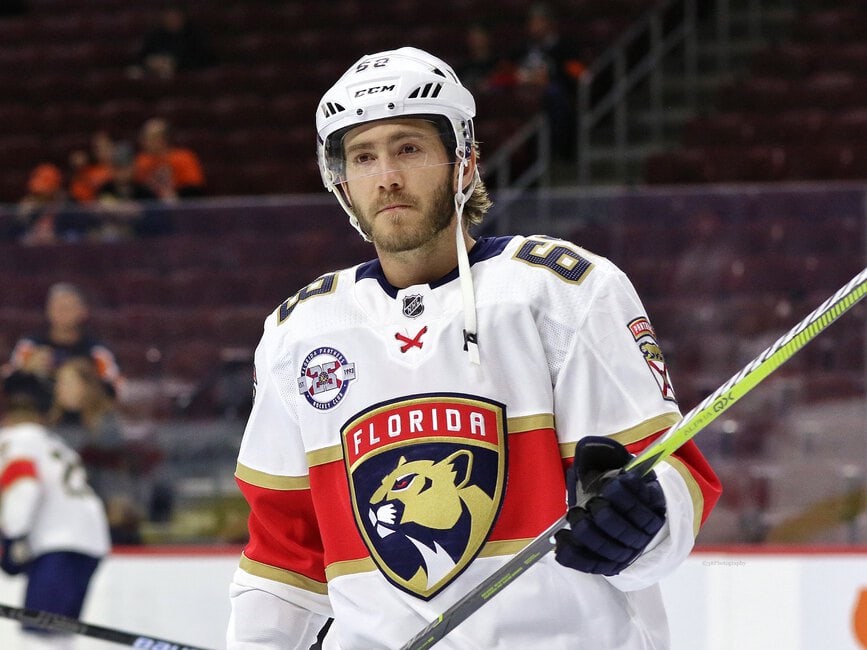 Suppose Zuccarello is out for what looks like the entire season. In that case, the fit could be right for Hoffman in Minnesota, as the Wild would certainly utilize him as one of their most dangerous offensive weapons. Hoffman has been one of the league's most consistent goal scores over the past six seasons, scoring 169 goals in that time.
The Wild will surely miss Zuccarello for however long his absence might be. It could be up to the players already on the roster to collectively make up for the loss, but Guerin might have possibilities still available in the free-agent market to help.
---
---