During the offseason, The Hockey Writers will be doing a ten-part series on the success stories of the 2013-14 New Jersey Devils. Despite missing the postseason for the second consecutive spring, the Devils had a memorable season. The fifth story is about Cory Schneider, who at this point may be wondering if he will ever be a full-time starter with the Devils.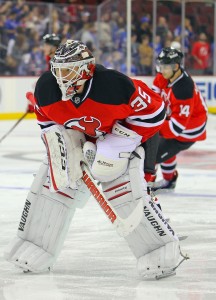 Phenomenal Statistics Blurred by Cory Schneider's Win-Loss Record
There is no question that despite his less than stellar record during the 2013-14 season, Schneider had a successful opening act with the Devils. He finished 16-15-12 in 45 games, 43 of them in which he was the starter. However, his record does not tell the true story of Schneider's season.
His goals against average of 1.97 was his second best in his four NHL seasons (1.96 in 2011-12) and was third best in the NHL during the season. It was the best GAA for a Devils goaltender since the 1997-98 season when Martin Brodeur finished with a GAA of 1.89. Schneider also had a remarkable save percentage of .921, the best by a Devils goaltender since Brodeur had a .922 save percentage when he broke the record for most wins in one season (48) in 2006-07. Although Schneider's statistical performance was on par with some of the best in Devils history, his record was second best on the team as Brodeur finished with 19-14-6.
The reason is simple. The Devils offense went into hibernation when Schneider was between the pipes. When Schneider started in net and allowed two goals or less, he won just 15 times in 29 starts. Schneider won only 11 games as the starter when he allowed just one goal or less. Even in two of Schneider's three shutouts, the Devils scored the bare minimum one goal to win. The Devils offense wasn't able to bail Schneider out of trouble either when he was off his game. He allowed three goals or more on only 14 occasions (remarkable compared to the 29 starts in which he allowed just two or less) and the Devils saved him just once, their 4-3 overtime victory over the Wild.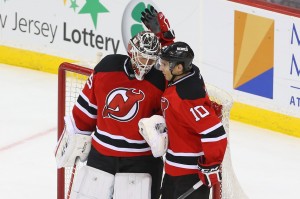 A Look Back on Memorable 2013-14 Games and Streaks
After a rough opening three starts with Jersey's Team, Schneider was able to pick up his first win as a Devil and it could not have come at a better time. In the Devils eighth game of the season, and still searching for their first victory of the campaign, the New York Rangers invaded the Prudential Center. They unleashed 22 shots at Schneider and he stopped every one as the Devils took the first match-up of the Hudson River Rivalry in 2013-14 by a final score of 4-0.
The Marblehead, Massachusetts native wasn't able to pick up a victory in his next five starts but after stopping 34 of 35 shots at the Los Angeles Kings on November 21, he was able to notch his first road win with New Jersey. It was the start of a modest three-game winning streak that included another shutout, a 1-0 overtime blanking of the Buffalo Sabres.  His three-game winning streak would end up being a season-high for Schneider despite a ten-game streak from December 28 through January 30 when he gave up two goals or fewer in each of his starts. He finished 6-2-2 during the streak with a 1-0 shutout over the Dallas Stars at the Prudential Center on January 9. Following the 3-2 overtime loss at the Nashville Predators that ended his streak, Schneider's hot play picked right back up when he allowed two goals or fewer in another four consecutive starts. Once again, the Devils offense failed the 28-year old net minder and Schneider was only able to secure a win in two of those four contests.
In Schneider's final eight appearances, seven of which were starts, of the 2013-14 season, he allowed more than one goal just once (two goals against each time). This includes the craziest night of the Devils season when New Jersey defeated the Florida Panthers 6-3 on March 31. Brodeur started the game for the Devils as they jumped out to a 3-0 lead. Florida fought back to make it a one-goal game but Ryane Clowe scored to put the Devils back ahead by two. After a fluke goal found its way past Brodeur, head coach Peter DeBoer pulled Brodeur in an effort to spark the club. It worked to perfection as Schneider stopped all 13 shots he faced and Travis Zajac scored another goal in the third period for his first career hat trick. Even though Schneider played 33:21 and didn't allow a goal, Brodeur still got credit for the victory.
Another Season, Another Goaltending Controversy?
While Schneider played (45) and started (43) more games than he had in any previous season of his career, he has to wonder if he will ever be the team's bonafide number one starter. He split the crease with Roberto Luongo in Vancouver over the course of his first three seasons, and even though he became the first goaltender other than Brodeur to start the majority of games for the Devils since Chris Terrier started 44 in 1992-93, he may still find himself on the bench more times than he should be in 2014-15.
Here is Peter DeBoer's interview with Hockey Night in Canada Radio courtesy of www.cbc.ca:
On Wednesday, May 28, DeBoer had an interview with Hockey Night in Canada Radio. According to Tom Gulitti of The Record and Rich Chere of The Star-Ledger, DeBoer "would welcome Brodeur back with open arms." He added that "it wasn't the perfect situation with (Brodeur) and Cory" because of Schneider's situation with the Canucks and Brodeur's unquestioned role as the number one starter since the 1994-95 season "but they both handled it professionally and we'll see what happens down the road." Chere went on to ask Devils President and General Manager Lou Lamoriello if Brodeur was a part of the Devils plans for next season but Lamoriello dodged the question and replied "there is no benefit no matter what I say."
The Devils are allowed to talk to Schneider about a contract extension on July 1. With Schneider set to become an unrestricted free agent at the conclusion of the 2014-15 season, the Devils would seemingly want to lock up Schneider for the foreseeable future considering how well Schneider has played thus far in his young career along with the fact that 42-year old Brodeur is headed for free agency this offseason. If the Devils bring Brodeur back and take into account his desire to play in at least 30 games that would leave around 50 starts for Schneider. While that would be the most starts in one season in Schneider's career, at this point it would make sense for the Devils to give him 60 or more starts considering his performance and that he is entering the prime of his career. Despite solid statistics and his ability to be a "team player" through difficult circumstances on both coasts of North America with Vancouver and New Jersey, this begs the question that at this point needs to be asked, will Devils goaltender Cory Schneider ever be a full-time starter?
New Jersey Devils 2013-14 Success Stories: