Bruins general manager Don Sweeney made a quick name for himself earlier this offseason by making some controversial moves in his first few weeks on the job. Many Bruins fans were outraged by several moves, including the sudden (and, as many believe, premature) shipping off of defensive prodigy Dougie Hamilton.
However, as time went on, Don Sweeney and Cam Neely repaired their reputations, as the team went on to make several key moves that have improved the team, at least on paper, until the season begins. Two of Boston's strongest moves came almost simultaneously, when the team acquired right winger Jimmy Hayes from Florida, and signed former Ducks left winger Matt Beleskey.
Each player, while bringing something unique to Boston, will look to close up some of the offensive gaps that opened up when players such as Milan Lucic and Reilly Smith were shipped out.
Take a brief look at each player, and let us know who you're most excited about!
Jimmy Hayes
Jimmy Hayes is coming off of his first full NHL season, in which he saw a fair amount of success with the Florida Panthers. He possesses impressive size, standing at 6-foot 6-inches, and weighing 221 pounds, which will help him fit in with Boston's physical style. On top of his size, Hayes plays a big game, and is a decent threat in the offensive zone.
He tallied 19 goals and 16 assists in 72 games for the Panthers last season, with career totals of 36 goals and 30 assists in 168 games.
Hayes played alongside former Bruins fan-favorite Shawn Thornton last season, who had nothing but kind words or Hayes, a Massachusetts native.
"I love that kid," Thornton said. "He's a hard-working kid, a great team guy, and I'll tell you, he'll be a guy that's proud to pull on that sweater."
He's got the stamp of approval from Shawn Thornton… What do you think?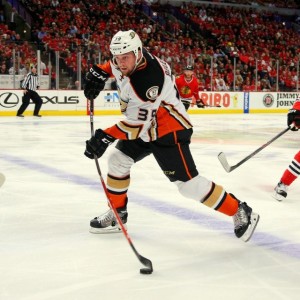 Matt Beleskey
Matt Beleskey has spent parts of six season with the Anaheim Ducks, where he made a name for himself as a offensive threat. The left winger saw career highs last season, when he tallied 22 goals and 10 assists in 65 games with the Ducks. He has career totals of 57 goals and 55 assists in 329 NHL games.
On top of his strong regular season statistics, Beleskey has seen success in the playoffs. In 34 career playoff games, the 27-year-old has scored 13 goals and recorded four assists.
Last season was especially strong for Matt Beleskey, who will look to make an even bigger name for himself with the Bruins.