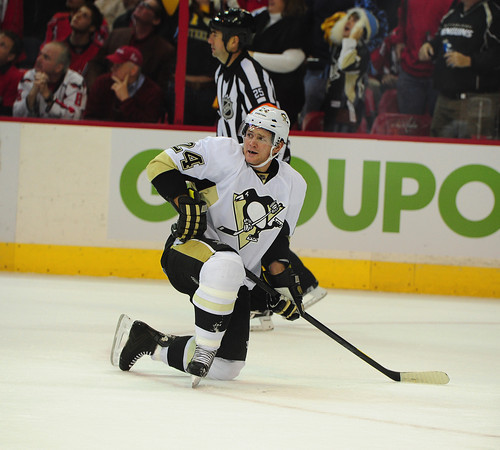 Should Matt Cooke play against the Ottawa Senators Monday night at Scotia Bank Place? The Pittsburgh Penguins will be facing off against the Senators for the first time since Cooke accidentally sliced Erik Karlsson's Achilles tendon on February 13th. Following the unfortunate incident in that game, Sens' enforcer Chris Neil made it a point to target Cooke. All in one sequence, Neil was guilty of three uncalled penalty infractions and two sucker punches to Cooke's face before being interrupted by the linesman.
This sort of behavior isn't going to surprise anyone in the league if similar shenanigans take place Monday night. Senators GM Bryan Murray has a genuine hate for the Penguins' organization and was convinced that Cooke's actions were committed with a purpose. "It's Matt Cooke," said Murray. "What else should I say? Watch the replay." After Karlsson was thought to be done for the season, Murray was visibly distraught at the Consol Energy Center following that game.
Then there is Eugene Melnyk. He was seriously investing money into some ludicrous study in an attempt to prove that Cooke intentionally injured Karlsson. This is no joke, at least not to Melnyk. About a month ago on Bob McCown's PrimeTime Sports show, Melnyk admitted to conducting this study. You can hear Melnyk's interview in an SI.com article written by Allan Muir. The scariest thing taken from this interview is when Melnyk talks about his "ABC" concept. "If you take out one of my "A" players, I don't care if the goon is taken off of the ice. Let me pick off one of your "A" guys and put Sidney Crosby on the bench.
These and prior comments prove that Melnyk is promoting retaliation. If Melnyk and Murray believe Cooke should receive retribution for what he did to Karlsson, why won't Sens' players do something to Cooke or to one of the Pens' better players? The Sens' management thinks Cooke's actions were done intentionally and they want a Pens' superstar injured to equalize the Karlsson injury.
The Pens' have plenty of superstars sidelined with injuries. These injuries just didn't occur against the Sens. Crosby is out with a broken jaw, Evgeni Malkin a shoulder, Paul Martin a broken hand, and James Neal a concussion. Surely Chris Neil and Matt Kassian feel no sympathy. With a team filled with so much talent, there are many other "A" players on the Pens who may be hunted by the Senators.
To settle everything, Cooke needs to dress and face the music. Despite Melnyk's words, if Cooke plays the probability of the Sens' going after another Pens' player is very slim. Cooke's presence will entice all of the Sens' attention. This will protect the last of the Pens' superstars, still healthy, from possibly being targeted if Cooke were scratched from the line-up. Even though Cooke's actions were accidental, he will hold himself accountable.
This isn't the first time Cooke has faced this type of situation. In 2010, Cooke sparred in a fight against Boston Bruins enforcer Shawn Thornton in the game following Cooke's vicious hit on Marc Savard. Cooke did not back away from being hunted by the Bruins. A fight between Cooke and another Bruins' player was bound to happen.
The game Monday night in Ottawa will be nothing new for Cooke. Although there are media members out there who feel Cooke should be benched for Monday night's game, Cooke will be on the ice. If the Pens' do not play Cooke other players will be at risk, and Cooke won't want that on his conscience. Cooke will fight if asked to do so, but more than anything, will protect his teammates from the carryover of an incident that was a complete accident.
Justin Glock has covered the Pittsburgh Penguins for The Hockey Writers since 2011. As a lead writer, his Penguins knowledge traces back over two decades. For any requests, please feel free to contact Justin via email: JGlock10@gmail.com.