As the trade deadline approaches (NHL Trade Deadline Monday, March 2nd @3pm ET) the Stars are looking like sellers.  Dallas is 7 points out of a wildcard spot with only 20 games remaining on the schedule.  The Tyler Seguin injury has essentially knocked the Stars out of orbit while leaving only a telescopic chance of making the playoffs.
In today's NHL, teams fall into 2 categories- buyers or sellers.  Teams that are buyers are looking for 1 or 2 pieces to put them over the top as they head into the playoffs.  The cost is usually draft picks or prospects and the return is usually a veteran player on a one year deal or an overpriced salary.  Meanwhile sellers must accept the reality of missing the playoffs while taking action to improve their team for the future.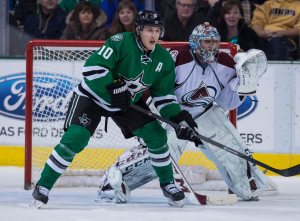 The Obvious Move Candidates
Erik Cole and Shawn Horcoff are the most likely players to be traded.  Both are veteran forwards with expiring contracts. Both are 36 years old and could add depth to a playoff contender.  Cole is 3rd on the team in goals (18), leads the team in hits (116) while also avoiding unnecessary penalties.  Horcoff can fill in as a solid 3rd or 4th line center.  He has a +4 plus/minus rating.
If you are a fan of these players you don't want to lose them.  However, they could walk at the end of 2014-15 and the Stars would get nothing in return.  Therefore, it may be best to move them now for a prospect or pick.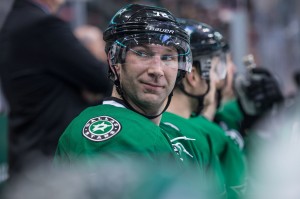 The Not So Obvious Move Candidates
Of the less obvious trade targets let's look at Alex Goligoski and Trevor Daley.  Both play a puck-moving offensive game with average to below average size and defensive ability.  They also are pretty expensive  (Goligoski $4.6M next season; Daley $3.3M next season and $3.3M in '16-17) for what they bring to the table.  However, teams looking to add a veteran defenseman might be willing to absorb a pro-rated cost for the rest of this season, for a shot at a deep playoff run.  Both players also have limited no trade clauses.  Therefore, Goligoski and Daley would have to agree to a potential trade.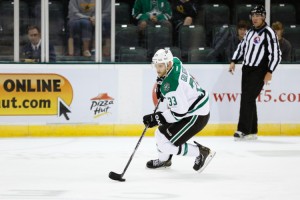 Alex Goligoski has faced an uphill battle since the day he arrived in Dallas.  He was traded to Dallas for scoring forward James Neal and defenseman Matt Niskanen.  Clearly the Stars lost that trade.  However, Goligoski does bring some positives to the table.  He leads the Stars in ice time and leads the defense in assists with 24.
Trevor Daley is in his 11th season with the Stars.  He has spent his entire career with Dallas and is having a career year from a goal scoring standpoint with 16 goals.  The downside is he's also last among Stars defenseman with a -9 plus/minus rating.
Puck Moving Depth Could Help Goaltending Needs
Jason Demers and impressive rookie defenseman John Klingberg are also puck moving defensemen so the Stars already have a bit of a surplus.  Not to mention Jyrki Jokipakka and Patrick Nemeth are knocking on the door.  Also, waiting in the wings is 2014 1st round pick Julius Honka of the Texas Stars.
Who is looking to add a veteran defenseman?  How about one of Jim Nill's former peers, Steve Yzerman?  Currently, Yzerman is the General Manager of the Tampa Bay Lightning.
The Lightning have made it known they seek a veteran defenseman.  They have an exciting young team and could be poised for a deep playoff run.  Perhaps Stevie Y. would entertain the thought of adding Daley or Goligoski for a package that includes American Hockey League goaltending prospect Kristers Gudlevskis.  You might remember the name from the Sochi Olympics.  Gudlevskis, from AIzkraukle, Latvia, is 22 years old and 6'4 190 lbs. While in Sochi, he gave Canada quite a scare making 55 saves against a stacked Canadian lineup before ultimately losing 2-1.  Gudlevskis' path to a full-time NHL job is currently blocked by Lightning starter Ben Bishop and promising backup goalie Andrei Vasilevskiy.
Other teams seeking blue line help include Pittsburgh, Anaheim, Detroit, Montreal and San Jose.
Who would you move if you were Jim Nill?  Who would you target in return?