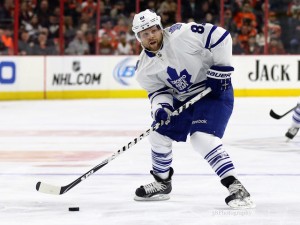 Phil Kessel has all but been traded in the hearts and minds of many Leafs fans.  Signed only recently to an eight year $64 million contract extension, Kessel has – unfairly – taken the brunt of the blame for the Leafs' worst season so far in what appears to be a decade of "worst seasons."
But Phil Kessel didn't mismanage the team's salary cap. He didn't sign unneeded players and let good ones walk. He didn't ice a lineup without any depth at centre or defense.
What Kessel is, is an easy target. He doesn't have that "hard-working, good ol' boy" routine going for him that we seem to love here. This is, after-all, the town that embraced Domi and Tucker, but never really Sundin.  Who cares if the evidence suggests that that cliché is trumped by skill every time, or that Kessel is among the elite of the elite? Who cares if it's impossible to gauge how hard a player competes from your couch?
Nah, just trade him say the sheep and the parrots and the people who don't believe in critical thinking.
Kessel will likely still score 30 goals this season – only seven off of his career high, and his seventh such season in a row (prorating for the lockout, of course).  And he will have done so under the  most ridiculous of circumstances: the salute thing, a coaching change, a historically unlucky month of offensive ineptitude, losing 21 of 25 games etc. Oh, and a staggering amount of media attention questioning things like his fitness, dedication, attitude, leadership and whatever increasingly stupid things people can think of.
There is also the rumored injuries that he has played through. All in all, Phil Kessel, as the Leafs best player, has taken a beating to his reputation and stature as an elite player and he has been all but traded already. Just another Part of the "core" that never did anything.
But hold on a sec.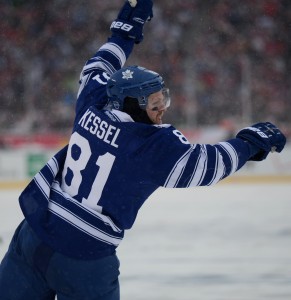 I submit to you that the Leafs never had a "core." They went from being one of the NHLs youngest teams and almost upsetting the top seed in the Playoffs to suddenly being a team that added pieces to put it over the top (everything from Clarkson to Winnik, over two summers) but somewhere along the line, they skipped a big part of the building process – for get re-building. This is a management error made because they thought the team was better than it was. It doesn't conclusively prove  you can't win with Kessel. All it says is actually proves is that you can't build a team around two wingers who don't play defense, a young centre you refuse to employ properly and an entire defense corps playing two spots too high in the lineup.
Basically, the whole thing was flawed from the get go, but that doesn't mean the team doesn't have effective parts.
It's only natural to want to replace the main cog in your machine, but Kessel as a complimentary piece will be so much more effective than Kessel as a central piece.
Why the Leafs should Keep Kessel:
In the last month, I have heard every possible rumour.  Some, such as a Score piece that suggested they trade him to the Sabres for a package of B prospects just to lose the salary, are so ridiculous they make your blood boil in rage and frustration.  Others logically conclude that you might as well get something for him since his prime years are about to be wasted on a rebuild.
That last one may have merit to it, but I don't agree. I don't think you can put a time-frame on a rebuild. I also don' t think you can get fair value for a player like Kessel normally, let alone when you're in the position the Leafs find themselves in and you consider the baggage – fair or not – surrounding the player.
So I think the Leafs should keep him and trade JVR, as I've outlined here. If you want to skip that, it just basically says that based on his contract and youth, JVR could likely bring back more in a trade and so the Leafs should trade him instead.
But here are 5 reasons why the Leafs ought to hang onto Kessel:
1. If traded, the Leafs will no doubt draft a centre and then having Kadri and player X down the middle for the next decade what was once a weakness will now be a strength.  When you can ice two elite centres what do you want most to play with them? Phil Kessel and guys like him.
2. Even though the Leafs have, since Peter Horachek was hired, scored at a ridiculously low rate, Phil kessel has still put up 3.4 shots per game. That is slightly up from his career pace.  Even through all the turmoil, Kessel – who isn't actually scoring goals – is still doing his job at an elite rate. Goals are mostly a function of luck for a player like kessel. As long as he gets his shots, they will eventually come at a rate of roughly 12 goals per 100 shots. During the Horachek era – highly rumored to be fighting injury – he has shot 4% less than his career average, which doesn't sound that bad. But, if you take away the last four games where he has two goals, then his shooting % over the Horachek era is under 5%, meaning that he is scoring seven less goals per 100 shots than he normally does.
As long as he is generating the shots – which he is – the goals will come. You can argue that even though he is in one of the worst slumps of his career, that he isn't really doing anything wrong – that he's playing his game the same always.
Basically, injuries, a new system and bad luck have combined to make Kessel shoot less than half his career average shooting percentage and he is still likely to finish the year with 30 goals.  If you consider the circumstances, that is pretty impressive. Trust me, if anyone says that Kessel needs to "rediscover his scoring touch" you need to roll your eyes and mock that person.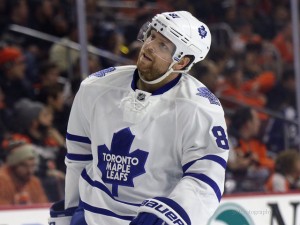 3. Kessel has been one of the NHL's top and most consistent scorers for the last five years. Since he does this with a casualness that is unbecoming to so many judgmental non-professional athletes, since he has never missed a game since playing his first as a Leaf, since he has overcome cancer and also battled hard during one of the worst season in team history, I think his leadership and character needs to be reassessed.
Phil Kessel will be an invaluable presence to the young players the Leafs are about to try and develop over the next several seasons.  He's  now seen the worst the NHL can do to you, and I think his experience will be very helpful going forward.
4. It would be absolutely criminal to move a player who is this good without ever having given him the chance to thrive under ideal conditions. He's never had a legit top line centre to feed him the puck and he's never had a team that could shelter him effectively to exploit his talents.
Look at Kane in Chicago. Prior to his injury, he led the NHL in points. Kane is a highlight player with similar skills, stats and flaws to Kessel. Kane's a year younger, but a career comparison to Kessel just makes you wonder what Kessel could do if he had his own Toews, Seabrook, Hossa and Keith.
If the Leafs could shelter Kessel in the way Chicago shelters Kane – accounting for his lousy defense – and give him an elite centre to feed him the puck, then the sky is the limit.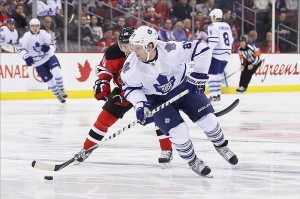 5. His salary. Phil Kessel keeps getting talked about as if his contract makes him unmovable or that he's on some kind of cap killing Clarksonesque contract, but nothing could be further removed from the truth.
For what Kessel does, his contract is fairly cheap. At worst, it's a million or so less than what he'd get on the open market. Starting next season, Kessel makes $2.5 less than Kane – that's incredible value.  By the time Stamkos or Tarasenko sign new deals, Kessel will look like an absolute bargain.
As players sign for more per year and inflation takes its toll, Kessel's contract, assuming he maintains a 30 goal/year pace, will only continue to get more and more value added to it. Hell, given his ability to score and put shots on the board even while injured or out of shape, I doubt he has any problem continuing to put up goals well into his 30s.
In conclusion, when you consider all the factors and look at the situation objectively, the Leafs should not – Cannot – trade Phil Kessel.  To do so would be a knee-jerk, impatient reaction to a tiny bump in the road and would epitomize everything this franchise has done wrong in the last 3o years.
Covering the Leafs for the Hockey Writers.