When Zach Parise arrived in Minnesota, he was viewed as the Wild's best player.
Fresh from a Stanley Cup Final run with the New Jersey Devils in 2012, in which the Devils lost to the LA Kings, Parise announced he would be leaving the team to test free agency. There were rumblings at the time that he wanted to return to his home state of Minnesota and play for his local team, but there was nothing concrete linking the two. The only certainty was that Parise would get a huge pay raise no matter where he went.
Then, on Independence Day that year, the Minnesota Wild made a huge announcement that changed the direction of the franchise.
July 4th 2012, was a historic day for the Wild. The top two available free agents of the offseason, Zach Parise and Ryan Suter, both signed matching 13-year contracts worth $98 million to play in the State of Hockey. Fans rejoiced believing that the Wild could finally bring home the Stanley Cup. They now had one of the best defencemen in the league and an elite scorer capable of carrying the team. Suter and Parise would be the cornerstones that the franchise could build around for years to come.
It's been five years since those signings, and things aren't looking so rosy for the Wild anymore. Since then, they've never made it past the second round of the playoffs.  In fact, they were eliminated in the first round this season by the St. Louis Blues, helmed by former Wild coach Mike Yeo.
Since the signings, Suter has lived up to his billing and become an integral part of the team's backbone. He regularly plays big minutes and is responsible for spearheading a lot of the Wild's defence. He remains one of the best and most consistent defencemen in the league.
It's hard to talk as positively about the play of Parise, however. He was signed with the goal of bringing an elite scorer to the team and to be the Wild's best player night in and night out.
An Alarming Trend
Since joining the Wild, here are Parise's point totals up to last season: 38, 56, 62, 53. This season, he finished with 19 goals and 23 assists, for a total of 42 points. Examining these numbers, the last few seasons demonstrate a worrying trend: Parise's point production is slipping.
This is notable because Parise was a top offensive threat during his time in New Jersey. In his seven seasons with the Devils, Parise failed to post a minimum of 50 points only twice, once during his rookie season (32 points) and in 2010-11, during which he only played 13 games and posted 11 points. He has always been capable of big offensive totals throughout his career.
We can write off his first 38-point season with Minnesota. He just signed a huge contract and was probably under a lot of pressure, plus he was getting used to new surroundings, teammates and systems.
For the next two seasons, Parise played well enough to contribute around 60 points, which are pretty good offensive numbers. But since 2015-16, he's started to decline, and it hasn't been pretty. In every season since he's seen his point totals drop by 10. This season was his worst offensive year since 2012-13 when he posted only 38 points.
Does this mean he'll only get around 33 points next season? Not likely, in my opinion. Looking at Parise's time with the Wild demonstrates that he's faced a lot of adversity since signing with the team. He's had to deal with a number of injuries and very public family situations.
Tough Luck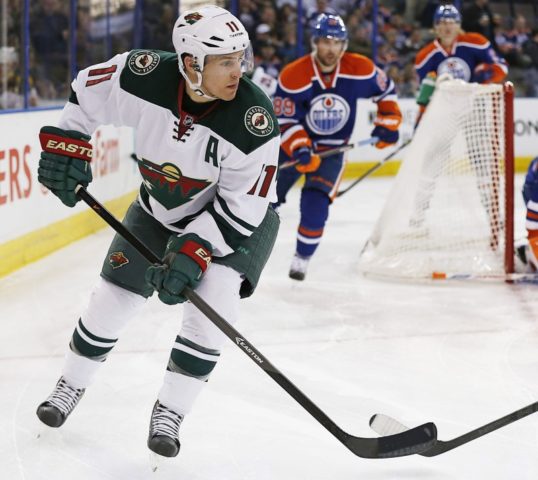 He's been married, become a father to a set of twins and dealt with the passing of his father, who was an important figure in his life. All of these events have undoubtedly had an impact on Parise's on-ice performance. In addition, he's been through a slew of injuries that have cut down his playing time. This season alone forced Parise to contend with multiple bouts of strep throat, a case of the mumps, and two eye injuries caused by errant sticks two weeks in a row at the end of the season.
It's fair to say that Parise's best days are behind him. He will most likely never hit the numbers he did in New Jersey while wearing a Wild sweater. However, he's still a pretty good player capable of contributing offense on a regular basis and making an impact. He's also a leader and a good character guy to have on the team. With a bit of good luck, Parise will be able to avoid any more big injuries in the 2017-18 season. If he can stay healthy, Parise should be due for a bounceback year and will be counted on to put up big numbers.
Maybe he can become the Wild's best player once again.