When it's early in the OHL season, finding consistency can be an issue. The Windsor Spitfires have been back-and-forth throughout October but, despite their struggles, there have been bright spots.
Through 11 games in October, the Spitfires have a 4-6-0-1 record and are ninth in the Western Conference. It's not ideal but they're just four points out of the third spot in the conference. It's a classic Western Conference jam. When things are down, there's always glimmers of hope. A number of players have taken the reins and shown they can help carry the team.
Last season, we did a monthly "three stars" for the Spitfires and it continues this season. Take a look at our first batch for October.
October Three Stars:
#3 – Michael DiPietro – Goalie
Sometimes, all you need is your home.
It's been a mentally tough month for goaltender Michael DiPietro. It's no secret that trade rumours have been swirling around him since the end of last season. The Vancouver Canucks' prospect has always played the game with a smile, though.
While he had not-so-stellar games earlier this season, he's still been the DiPietro the Windsor and Essex County have come to know and love. He won four of his eight games in October, sporting a 2.11 goals-against average and a save percentage of .927. You can't complain about those totals.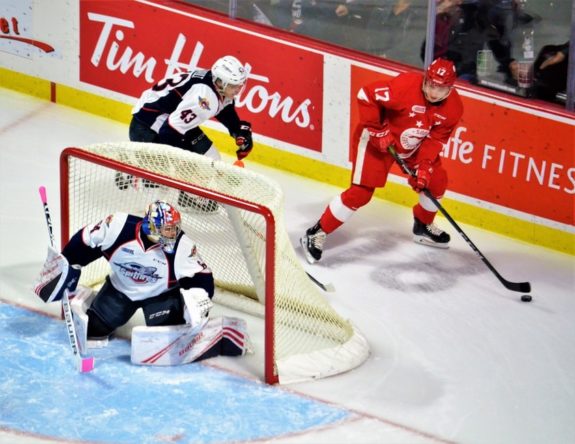 After back-to-back games allowing four goals to start the season, DiPietro settled right in. His team hasn't won every game, but like the playoffs last season against the Sarnia Sting, you can't fault him. He started the month with a shutout at home against the London Knights, which tied him for the all-time OHL lead in shutouts, and he has allowed three or fewer goals in all but one game the rest of the way.
He's human and no doubt he'd like to have a shutout every night. When you're putting up these numbers, though, few can be upset at your play. He's taken the young Spitfires under his wing, including his protege, 17-year-old Finnish goaltender Kari Piiroinen, and run with it. This is the "Mikey DiPietro" fans love. He's earned the Third Star for October.
#2 – Jean-Luc Foudy – Forward
When the Spitfires selected Foudy tenth overall in April's OHL Draft, the focus was for him to make an impact in 2019-20 and beyond. Instead, they got a kid who's shown he's going to fit right in.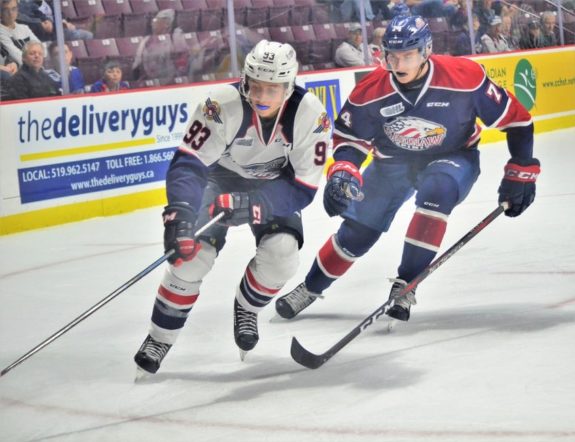 At five-foot-11 and 168-pounds, Foudy's size doesn't make you take a second look. The rest of his game does, though. With great bloodlines (brother, Liam, plays for the London Knights while his Dad played in the CFL and his mother was an Olympic sprinter), Foudy uses his speed and intelligence to literally skate circles around the opposition.
He hasn't put the puck on net much (25 shots in 15 games) but he hasn't needed to. With seven assists in 11 games in October, he's been Mr. Playmaker and fans have loved his willingness to control the puck.
It's far too early to say what Foudy could turn into but nobody is really worried about that. Right now, he's proving that he's ready for the spotlight. Head coach Trevor Letowski has eased him in and Foudy is reaping the benefits. He's earned the Second Star for October.
#1 – Will Cuylle – Forward
Spitfires' general manager Warren Rychel has never been one to shy away from making a splash. When the Peterborough Petes drafted six-foot-two, 200-pound forward Will Cuylle third overall in April, Cuylle said he wasn't going to report to the Petes. He never wavered and Rychel swooped in as Cuylle was sent to the Spitfires for several picks.
Cuylle scored in his first game during the preseason in Buffalo and hasn't looked back. While he doesn't have Foudy's flash-and-dash, that's not his game. Cuylle's the type who will quietly skate around the offensive zone and, before you blink, the Spitfires have a goal. In October, he managed two goals and six assists for eight points in 11 games. Not a bad start. He's also been one of the most consistent Spitfires this month with points in seven of 11 games this month.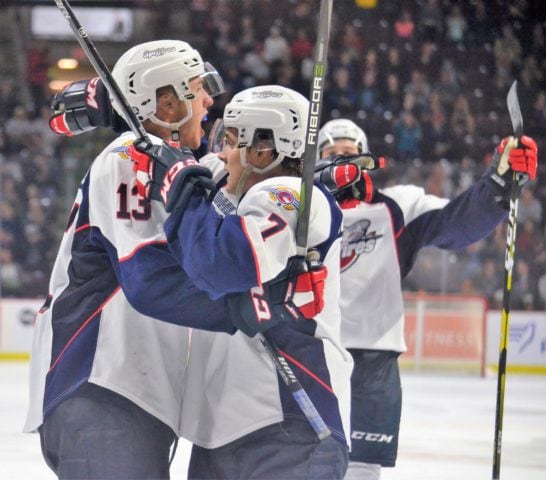 Like Foudy, Cuylle's future is bright and there was a reason Rychel acquired him. Cuylle's also showing why he was chosen third overall. After 62 points in 43 games for the Toronto Marlboros Minor Midget team last season, he's not slowing down. It's still very early in the season but there are no worries with Cuylle at the WFCU Centre. He's earned the First Star for October.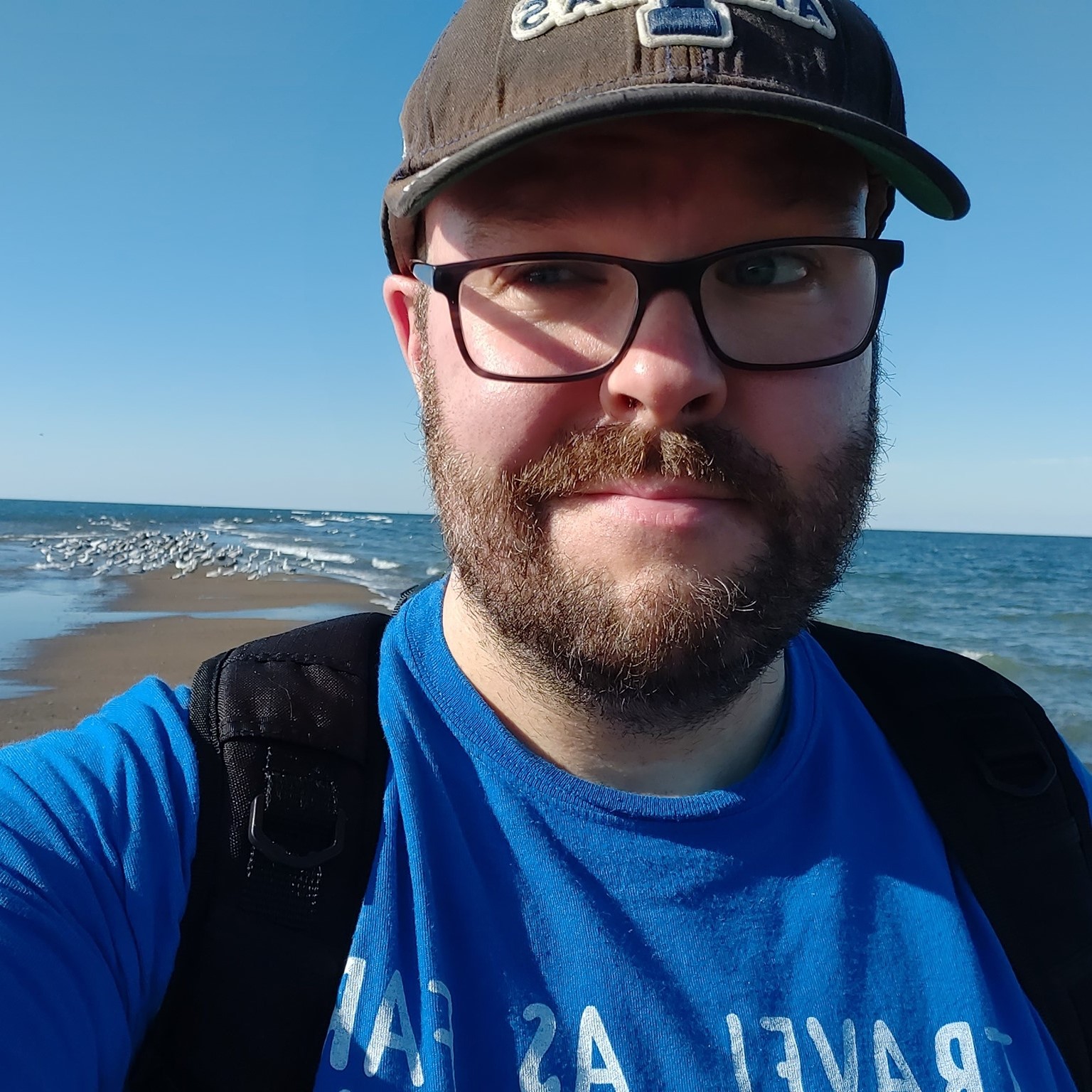 A nearly life-long resident of Windsor, ON, I graduated from St. Clair College (Journalism) and University of Windsor (Communications) and have attended Windsor Spitfires' (and OHL) games for 30-years. My areas include multimedia journalism and photography.