The Windsor Spitfires set out on a mission on Saturday during the OHL Draft – find more power. They did that and added some fuel to a rival fire at the same time.
It was no secret that scoring goals was a challenge for the Spitfires this season. They have some significant young talent but lacked the ability to finish off plays. The result was the fifth-fewest goals (214) in the OHL this season.
When general manager Warren Rychel's turn came up at the draft on Saturday morning, there was little doubt which direction he was going with the tenth overall selection.
Foudy Bros. Rivalry Begins
Rychel went straight to the Toronto Titans, selecting center Jean-Luc Foudy with the club's first-round pick.
The 5-foot-10, 153-pound forward had a productive year for the Titans Minor Midget AAA team, scoring 25 goals and adding 35 assists for 60 points in 52 games.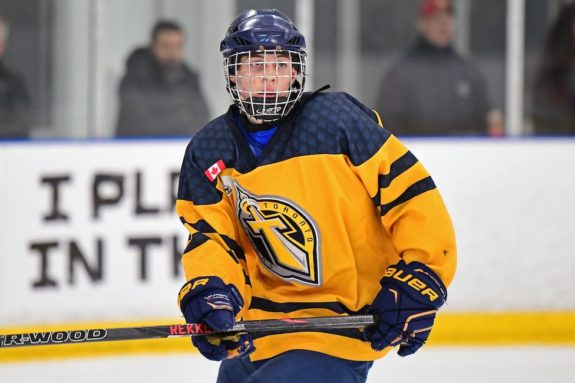 Rychel told the Windsor Spitfires official website that Foudy, an Ontario high school (OFSAA) champion in the 110-meter hurdles, is a "dynamic player" with good bloodlines. His father is a former CFL player while his mother was a sprinter for Canada in the 1984 Summer Olympics in Los Angeles.
"This kid has a good change of gears," Rychel said.
"He's a four-way skater who's smart, intelligent, can shoot it and also pass it. He's right-handed. We wanted to address our forwards because our defence is pretty strong coming back. So, we addressed it with him. A very dynamic player who can play in all situations."
Foudy told the Spitfires that he's very excited to be there.
"It's extremely exciting, kind of overwhelming," Foudy said
"Yesterday you're a just minor hockey player and now you're drafted to an OHL team, one of the better organizations. I'm just extremely happy to hopefully be playing for them next year."
Part of those good bloodlines involves one of the Spitfires' biggest rivals. Jean-Luc is the younger brother of London Knights' forward Liam Foudy, who just finished his second season with the Knights.
Jean-Luc told the Windsor Star's Jim Parker that he plays similar to his brother, but maybe "a little more aggressive."
More Size and DiPietro's Protégé
While getting more offence was a part of Rychel's plan, the Spitfires were also looking to bulk up a bit.
Rychel went to the Ottawa Senators Minor Midgets for the second round pick, 25th overall. He selected 6-foot-3, 175-pound winger Kyle McDonald, who had 25 goals and 21 assists for 46 points in 40 games. He added a physical element with 50 penalty minutes, too.
Rychel told the Spitfires' website that McDonald is the kind of player teams "crave."
"He's a power forward who's right-handed, the kind of player you really crave to have in your lineup," Rychel said.
"He gets better all the time; he works at it. Probably the best prospect in Ottawa this year, we thought."
In the third round, Rychel picked 6-foot-2, 163-pound defenceman Dylan Robinson out of the Brantford 99s Minor Midgets. Robinson had three goals and 19 assists for 22 points in 32 games. Like McDonald, he also added some grit with 50 penalty minutes.
With his second pick of the third round, Rychel selected goaltender Xavier Medina out of Detroit Honeybaked Minor Midgets. The 5-foot-10, 163-pounder was one that Rychel had his eye on.
"He's a real good goalie. We watch him a ton from being in Detroit," Rychel told the Spitfires' website.
"He really handles the puck well. Obviously, he'll come in and be mentored under one of the best goalies and best character kids we have with (Spitfires' goaltender) Mikey (DiPietro). It's good; he can play. If he steps in, that's up to him right away."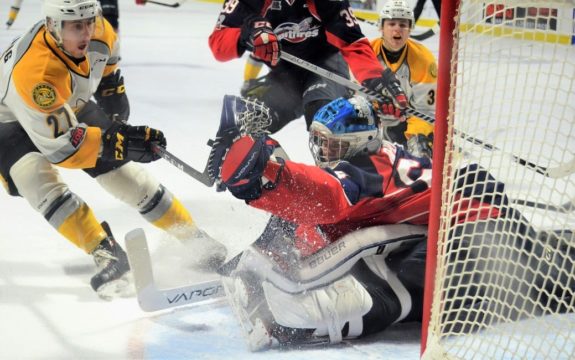 You can view Rychel talking about his first four picks here.
Building Towards Future Memorial Cup
Coming into the draft, there wasn't much doubt as to what Rychel was looking for.
The team has built up a solid defensive core with 16-year-olds Nathan Staios, Louka Henault and Grayson Ladd, plus 17-year-olds Connor Corcoran and Lev Starikov. What they needed was size up front, players who could find the back of the net and a goaltender who had the potential to replace DiPietro when the time comes. This draft looks to have accomplished that.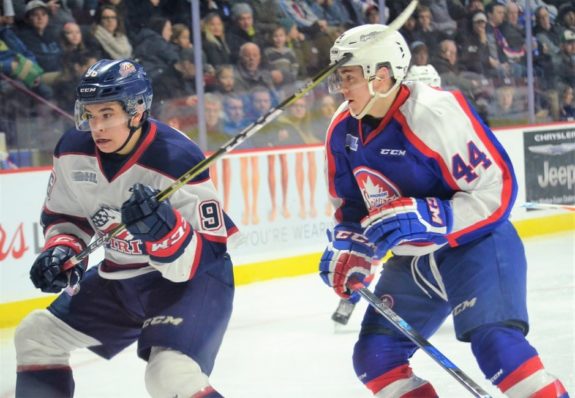 While it's going to take a couple of years to see how the players pan out, this is a solid stepping stone. The players chosen today that make the roster in September will likely be large contributors to any championship run the team makes in a couple of seasons.
You can view the complete draft list by checking out the Spitfires' website. Most of the prospects, along with other rookie hopefuls, will be on the ice Apr. 21 for the Spitfires' mini-camp.