Trading players is never easy. When it's a heart-and-soul team leader, it's that much tougher.
The Ontario Hockey League Trade Freeze lifted on Wednesday morning and the Windsor Spitfires pulled the trigger on a difficult trade. They sent captain and fifth-year defenceman Patrick Sanvido to the Sudbury Wolves in exchange for a 14th round pick in 2017 and a sixth-round pick in 2018.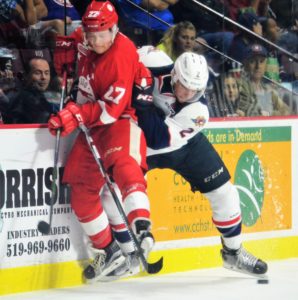 He was one of four 20-year-olds on the Spitfires' roster along with defenceman Jalen Chatfield and forwards Cristiano DiGiacinto and Jeremiah Addison. The OHL "overage rule" only allows three 20-year-olds to dress on any given night. Chatfield has become one of the most reliable defencemen on the team and Addison was acquired from Ottawa over the summer. They weren't going anywhere. DiGiacinto and Sanvido got into a bit of a battle for that third overage spot.
Sanvido got into 18 games for the team at various points during the first half of the season. Unfortunately, he only tallied one assist. DiGiacinto, on the other hand, got into 21 games and had 19 points. While Sanvido was loved by fans and the team, the writing became clearer as the season headed into the Christmas break.
A True Windsor Spitfire
While Sanvido was not offensively gifted, he brought numerous traits to the table. He became a stalwart on defence, shutting down the opposition with his massive reach and large frame. He was also one of the nicest guys a team could ask for. On the ice, he was stone-faced and focused. Off the ice, though, he was gentle and always smiling. Kids loved him because he was the gentle giant and always made time for them. The Dallas Stars liked what they saw and drafted him in the 2014 NHL Entry Draft.
Being the kind of person and player Sanvido is, made the deal that much tougher for the team, especially Spitfires' General Manager Warren Rychel per this Twitter comment:
NEWS: @PatrickSanvido traded to Sudbury. "One of the hardest things I've had to do as GM" – Warren Rychel. Full story to follow. pic.twitter.com/8iJtH5zGGW

— Windsor Spitfires (@SpitsHockey) December 28, 2016
Good Company and New Company
Being the captain of the Spitfires is something extra special for a player. In February 2008, then-Spitfires' captain Mickey Renaud passed away after collapsing. Since then, being made captain of the franchise has become bigger. Renaud was followed by long-time Spitfire Harry Young from 2008-2010, Ryan Ellis in 2010-11, Adrien Robertson in 2011-12, Saverio Posa in 2012-13, Kerby Rachel, Slater Koekkoek in 2013-14 and now Sanvido from 2014-2016.
Here is a video of Sanvido in 2014 talking about the Dallas Stars' camp as well as being given the captaincy:
Sanvido will now pass the torch to an undetermined player. It's clear that whoever is next to dawn the captaincy will have giant shoes to fill, and not just because Sanvido was 6'6".
While Sanvido is from the Guelph region, he has family up in Northern Ontario, making the transition a bit easier. He also played under now-Sudbury coach Dave Matsos, while Matsos was an assistant in Windsor. Despite just 32 points in 35 games, the Wolves are in the division title hunt, just a point behind North Bay for first place in the Central Division.
Choices like this are often difficult for a team to make, though still necessary. Sanvido gave five great seasons to the Spitfires. While he will be with the Wolves for the rest of the season, he will always be a Windsor Spitfire.