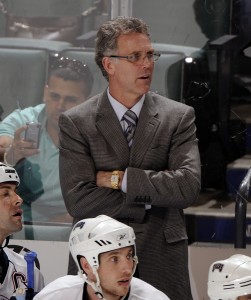 "We're getting better."
That comment was made by an unnamed Edmonton player after the Oilers gave up only one goal in the second period of what was ultimately an 8-3 bitch slapping by the Detroit Red Wings on Saturday afternoon.
That one goal, incidentally, was scored by Nicklas Lidstrom with only 7 seconds to play in the 2nd and came after a first period that saw Detroit score three goals within the first six minutes (5:44 to be exact) and head into intermission with a season best 5-0 lead. Last time they did that was way back in 1993 against Tampa Bay. Said Wings coach Mike Babcock:
"We wanted to emphasize the start. Edmonton is in the eighth playoff spot. That means it's a playoff game for them."
Emphasis indeed. From the outset Detroit plastered Edmonton goalie Dwayne Roloson with shots, five of which found the back of the net.
He should have been yanked after the third.
Rafalski scored. Then Lebda (yes, Lebda). Cleary then made it 3-0 after shaking off a sneaky nut shot by Roloson, and at this point Oilers head coach Craig MacTavish should have had his starting goalie's padded ass planted firmly on the bench. It wasn't.
Cue Marian Hossa and then, with just under two minutes to play in the opening period, Zetterberg and Datsyuk hooked up for a bit of Euro-goodness. Salt, meet wound.
When the horn sounded to end the 1st I expected Roloson to pull a Patrick Roy and demand to be traded. Raise your hand if you remember that hot mess?
"I thought that was our best period of the year," said Cleary. "All four lines were effective. We out-shot them, the power play was good. Sometimes early we're on our heels, but we were pressuring them the whole period."
The Oilers did try to make a game of it in the third period with Zack Stortini, Marc Pouliot and Dustin Penner picking up a goal each, but Mikael Samuelsson and Ville Leino put the kibosh on Edmonton's hopes of a miracle comeback with goals of their own.
"They picked us apart with point shots and deflections," MacTavish said after the game.