Guest post by Eldon MacDonald (edited by @ChrisRalphTHW)
Potential Winnipeg Draft Picks
Behold: The 2013 #NHLJets interactive Draft Board. It's time for our community to help us play armchair GM! http://t.co/1bcJ909iBj

— Arctic Ice Hockey (@arcticicehockey) June 3, 2013
The purpose of this article is to shed some light on what the Winnipeg Jets might be looking for in the upcoming 2013 NHL Draft in New Jersey and to provide some idea as to who may be available and picked with each draft selection. Even if you don't agree with all of my suggestions, this article should be able to provide you with most of the information needed to make your own list of hopeful selections. To give the reader a fairly wide range of information, we have provided the following:
Major Needs
Likely Draft Positions and Potential Picks
The Major Team Decision Makers
The Big Club – Current Roster
Top 10 Prospects
The Last Three Drafts
The reader should be aware that the suggested picks may or may not be available at the team's slotted picks at the draft. They are indicative, however, of the types of players that will be available and the types of choices that Kevin Cheveldayoff will have to make come June 30th in New Jersey.
The NHL Draft is now only 16 days away, watch prospect videos and interviews on our 2013 Draft Central page!
>> http://t.co/AsPcBTSJsz

— Winnipeg Jets (@NHLJets) June 14, 2013
Other Posts in This Series (War Room Final Rankings – Top 120)
You can use these posts to get more information on players ranked 1 through 120 including the following on most prospects:
Unique Nicknames
Audio
Video
Quotes
Twitter
Stats
Major Needs
1 – Number one centre – The Winnipeg Jets may still be in search of a number one centre. Mark Scheifele looks promising but may be better suited to the number two position or even on the wing. With Winnipeg looking like they will continue to get better, this may be a last realistic chance to nab a player through the draft with the potential to be a number one centre.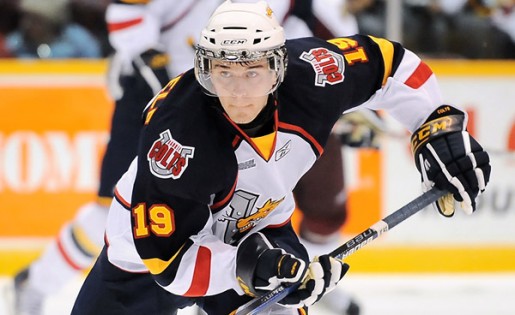 2 – Shutdown defenseman  – Yes, Jacob Trouba will be there in the fall and will likely grow into one half of that shutdown pairing but a big hard to play against guy from the left side, with or without offense, would make him that much more effective.
3 – Gritty forward – A little more sandpaper up front would help to make the top forwards even more effective.
4 – Best player available (BPA) – Best player available is always a good draft strategy. However, when there are many players of similar value, it is usually the one who has the qualities your team values the most that comes out on top.
#hockey Winnipeg Jets 2013 Draft Needs http://t.co/WwIeNTfxhw

— The Hockey Writers (@TheHockeyWriter) June 23, 2013
Likely Draft Positions and Potential Picks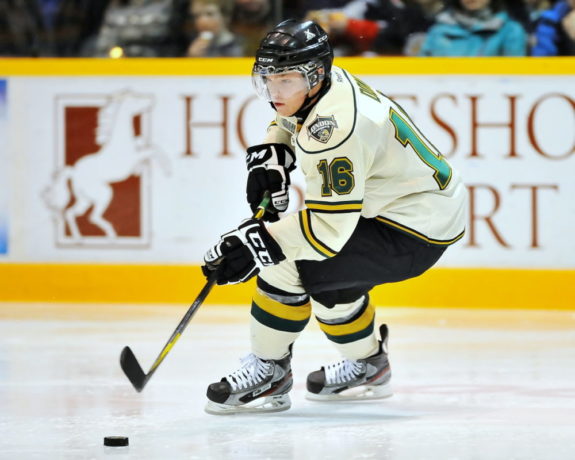 Round 1; pick 13 (The numbers in brackets are my rankings)
Preference 1 – Max Domi (#11)
Preference 2 – Bo Horvat (#12)
Preference 3 –Alexander Wennberg (#13)
Preference 4 – Frederik Gauthier (#14)
Preference 5 – Curtis Lazar (#19)
DRAFT CLASS PROFILE: Get to know Max Domi, the draft-eligible centreman from the London Knights-OHL. Read more >> http://t.co/4imwvtNAed

— Winnipeg Jets (@NHLJets) June 19, 2013
Potentially available at 9 ending at 19 are: Nikita Zadorov, Darnell Nurse, Max Domi, Bo Horvat, Alexander Wennberg, Frederik Gauthier, Hunter Shinkaruk, Josh Morrissey, Samuel Morin, Ryan Pulock and Curtis Lazar.
Winnipeg is getting better; Mark Scheifele and Jacob Trouba likely will be on the big club come fall. Maybe the problem that has plagued Winnipeg/Atlanta for some time (lack of a big time go to centre) has been solved. However, there are some interesting centres who may be still available when Winnipeg picks at number thirteen who can be argued to be the best player available as well.
Max Domi has potential as a number one centre and Bo Horvat is just as good as a winger as well. Alexander Wennberg can also play wing but it is Frederick Gauthier who is the most interesting story of the lot. Written off as a big, defense at all costs, no offense centre a la Radek Bonk by some, he is a potential Jordan Staal by others. He was instrumental in helping Canada win the gold medal at the U18's – their best player when it counted, the semis and the gold medal game. Curtis Lazar, the right handed and western version of Bo Horvat, may also be available – he is ranked very high by some clubs.
Winnipeg Jets 2013 Draft Targets: Round 1 http://t.co/AbxLuWQQrw

— Arctic Ice Hockey (@arcticicehockey) June 25, 2013
Round 2: Pick 43 – Historical success rate = 33%
Preference 1 – Dillon Heatherington (#43)
Preference 2 – William Carrier (#39)
Preference 3 – Michael McCarron (#41)
Preference 4 – Marko Dano (#50)
Potential picks in the 39 to 49 range are: William Carrier, Artturi Lehkonen, Michael McCarron, Jimmy Lodge, Dillon Heatherington, Anthony Duclair, Eric Comrie, Nic Petan, Nick Baptiste, Tristan Jarry, and Tommy Vanelli. Also potentially available is Marko Dano, definitely a BPA type (best pest available).
There will be some good players still available at 43 who could potentially play top four D, top six forward or be a difference maker type on line three. My favourite in the group would be Dillon Heatherington, a large (6'4) difficult to play against defenseman who skates well and still needs to fill out. Also, another favourite of mine is William Carrier, a player destined to be picked in round one until he was injured and missed half the season. Micheal McCarronis listed, but most seem to think he will go much higher than my rating. An interesting choice also would be Mark Dano, a BPA (best pest available) type playing in the KHL who wowed everyone with his play at the U20's. He could also be available at 59 but most likely he will be gone by then.
Round 2: Pick 59 – Historical success rate = 24%
Round 2: Pick 61 – Historical success rate = 24%
Preference 1 – John Hayden (#56)
Preference 2 – Connor Hurley (#57)
Preference 3 – Brent Pesce (#60)
Preference 4 – Linus Arnesson (#62)
Potentially available starting at 55 and ending at 67 are: Jordan Subban, John Hayden, Hudson Fasching, Connor Hurley, Spencer Martin, Brent Pesce, Philip Desrosiers, Eric Roy, Linus Arnesson, Nick Sorensen, Oliver Bjorkstand, Michael Downing, LucasWallmark. The second ranked goalie, Eric Comrie is also a possibility.
Here, I eliminated the goalies and smallish players and went with the BPA left. I did not choose Hudson Fasching who may have the biggest upside of the group because of his inconsistency, but teams may fall in love with his potential and character.
Round 3: Pick 74 – Historical success rate = 24%
Preference 1 – Gustav Olofsson (#70)
Preference 2 –Myles Bell (#74)
Preference 3 – Matt Buckles (#75)
Potentially available starting at 70 and ending at 80 are: Gustav Olofsson, Yan Pavel Laplante, Mitchell Wheaton, Emile Poirier, Myles Bell, Matt Buckles, Marc-Olivier Roy, Ryan Fitzgerald, BogdanYakimov, Keaton Thompson and MacKenzie Weegar.
The surest and best bet in this group is Gustav Olofsson, a smooth skating 6'2 defender out of Sweden who plays in the USHL. He is not a hitter but provides a calm reassuring presence on the backend. After Gustav, it gets more interesting but much less predictable. Myles Bell put up some big numbers for the Kamloops Blazers after being converted to forward from defense this year.  You may recall he was supposed to be drafted in the second round in 2011 until he was involved in a car accident which had a fatality. Then there is Matt Buckles, a 6'2, 210 lb. centre, who loves to play the big man game and drives to the net. If you think that you can improve this guy's skating just a little, you could hit a home run. Lastly, you may wish to think about Keaton Thompson, a player many had in the first round (including me) for much of the season. However, towards the end of the season, Keaton lost his composure and confidence and was just abysmal at the U18's. If you can help him find his mojo, maybe you still have that first round talent – just a consideration. By the way, I have not included Emile Poirier as most have him ranked to go much earlier than I do.
Round 3: Pick 91 – Historical success rate = 24%
Preference 1 – Peter Cehlárik(#91)
Preference 2 –Gabryel Paquin Boudreau (#87)
Preference 3 – Carl Dahlström(#92)
Potentially available starting at 87 and ending at 97 are: Gabryel Paquin-Boudreau, Vincent Dunn, Juuso Ikonen, Matt Murphy, Peter Cehlárik, Carl Dahlström, Teemu Kivilhalme, Juuse Saros, Jackson Houck, Niklas Hansson and Peter Trainor.
You got to love a draft when you still can get excited over the player you could select at 91. This is such a draft. Peter Cehlárik, Gabryel Paquin-Boudreau and Carl Dahlström are all players who could have top six forward or top four D futures.
Round 4: Pick 104 – Historical success rate = 19%
Preference 1 – Remi Elie(#110)
Preference 2 – Mason Geertsen (#102)
Preference 3 – Gage Ausmus (#104)
Potentially available starting at 100 and ending at 110 are:Will Butcher,Mason Geertsen, Emile Djuse, Anthony Florentino, Gage Ausmus, Viktor ArvidssonGreg Chase, Dylan Labbé, Jérémy Grégoire, Jesse Lees and RemiElie.
Remi Elie may have only third or fourth line potential but he provides that big-time spark that all clubs love and winning clubs usually have. Mason Geertsen is a longshot but he provides some of the best truculence and big-man belligerence in this draft. Also there is Gage Ausmus, a stay at home defenseman for the USA U18 team, who has good size and provides enough physicality to make him a consideration.
Round 5: Pick 134 – Historical success rate = 11%
Potentially available starting at 130 and ending at 140 are: Jarred Hauf, Jeff Corbett, Connor Rankin, Cole Cassels, Connor Rankin, Stephen Harper, Luke Johnson, Dakota Mermis, Evan Allen, JooseAntonen, Zach Glienke, Evan Cowley, Antoine Bibeau or Scott Oke.
OK, there are no superstars or potential superstars in this group but there is enough promise that you can at least hope that one turns into an NHL player. Heading the list would be a 6'5 hard to play against defenseman from Seattle named Jarred Hauf. Connor Rankin who also plays in the US portion of the WHL had a reasonable season with 58 points in 72 games. Finally, there is another personal favourite of mine in Scott Oke, a 6'3 right winger who skates well and can put up a few points.
The Winnipeg prospect goalie ranks are an intriguing group; a goalie may still garner consideration at this point. Brendan Burke, Marcus Högberg, Evan Cowley and Antoine Bibeau could be available and also have potential. Fifth round picks generally are only about 11% successful, so good luck.
Round 6: Pick 164 – Historical success rate = 9%
Round 7: Pick 190 – Historical success rate = 10%
It is virtually impossible to tell who might be available from 164 on  so what I did was list those personnel who I have ranked in the 3rd and 4th rounds and the 5th round up to 145 which the NHL has ranked 164 or greater that still have a decent chance of still being available. As this is as good time as any to make sure you take the best player available, I have listed the prospects in ranking order. I have also added Albert Yarullin who has a big shot on the power play, Mitchell Theoret (6'2, 212) who looked very good for Barrie in the OHL playoffs and Brenden Kichton, a power-play quarterback with Spokane.
The Major Team Decision Makers
1 – Executive VP &General Manager: Kevin Cheveldayoff
If you missed Jets GM Kevin Cheveldayoff he spoke with Winnipeg media today at the MTS Centre. http://t.co/Dqu4WeeeuK

— Illegal Curve Hockey (@IllegalCurve) June 25, 2013
2 – Senior VP & Director Hockey Operations/Assistant General Manager – Craig Heisinger
3 – Assistant General Manager – Larry Simmons
4 – Manager Hockey Operations and Team Services – Ryan Bowness
5 – Coach: Claude Noel
The Big Club – Current Roster
(As Found On The Team's Website)
| | | | |
| --- | --- | --- | --- |
| No. | Left Wing | Centre | Right Wing |
| 1 | Evander Kane | Bryan Little | Blake Wheeler |
| 2 | Andrew Ladd | Olli Jokinen | Antti Miettinen |
| 3 | Eric Tangradi | Alexander Burmistrov | Nik Antropov |
| 4 |   | Kyle Wellwood | Chris Thorburn |
| 5 |   | Jim Slater | Anthony Peluso |
| 6 |   | Mike Santorelli |   |
| 7 |   | James Wright |   |
| 8 |   | Aaron Gagnon |   |
|   | Prospect | Prospect | Prospect |
| 1 | Adam Lowry | Mark Scheifele | Scott Kosmachuk |
| 2 | Carl Klingberg | Eric O'Dell |   |
| 3 | J Samuels-Thomas | Ivan Telegin |   |
| 4 |   | Patrice Cormier |   |
| | | | |
| --- | --- | --- | --- |
| No. | Defense | Defense | Goal |
| 1 | Tobias Enstrom | Dustin Byfuglien | Ondrej Pavelec |
| 2 | Mark Stuart | Zack Bogosian | Al Montoya |
| 3 | Grant Clitsome | Ron Hainsey | Juho Olkinuora |
| 4 | Derek Meech | Paul Postma |   |
| 5 | Arturs Kulda | Zach Redmond |   |
|   | Prospect | Prospect | Prospect |
| 1 |   | Jacob Trouba | Connor Hellebuyck |
| 2 |   | Brennan Serville | Ed Pasquale/Jason Kasdorf |
*Take one last look at the above roster before the craziness of summer begins – Snapshot from June 25, 2013. Note: I have left Jacob Trouba as a prospect since he didn't play any games for the Jets in 12-13. I am sure he will be in the line-up for 13-14.
Top 10 Prospects – Draft War Room Edition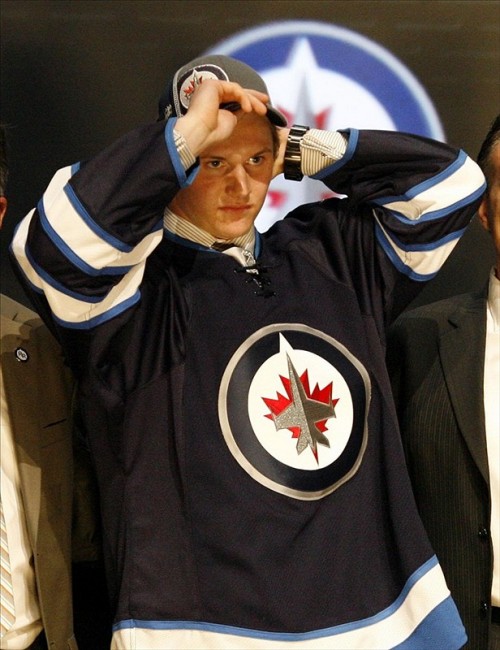 1 – 2012 – 009 – Jacob Trouba
2 –2011 – 007 – Mark Scheifele
3 – 2011 – 067 – Adam Lowry
4 – 2011 – 157 – Jason Kasdorf
5– 2008 – 039 – Eric O'Dell (From Anaheim Ducks)
6 – 2010 – 101 – Ivan Telegin
7 – 2011 – 078 – Brennan Serville
8 – 2009 – 034 – Carl Klingberg
9 – 2008 –054 – Patrice Cormier (From New Jersey Devils)
10– 2009 – 203 – Jordan Samuels-Thomas
Editor's Commentary (Chris): RW Scott Kosmachuk, the Jets 3rd round steal from 2012) would have my top 10 prospects for the Jets, possibly even top 5. Eddie Pasquale shold probably be in the mix as well. Goalie Connor Hellebuyck has also raised his stock.
Jets' prospect Brennan Serville had an injury-filled sophomore year with the U of Michigan Wolverines.
READ MORE >> http://t.co/4F0bxNsDyb

— Winnipeg Jets (@NHLJets) June 12, 2013
The Last Three Drafts
(As Per 2013 NHL Official Guide and Record Book)
https://twitter.com/WHLFromAbove/status/340945142963920896
| | | | |
| --- | --- | --- | --- |
| No | 2012 | 2011 | 2010 |
| 1 | 009 Jacob Trouba | 007 Mark Scheifele | 008 Alexander Burmistrov |
| 2 | 039  Lukas Sutter | 067 Adam Lowry | 087 Julian Melchiori |
| 3 | 070 Scott Kosmachuk | 078 Brennan Serville | 101 Ivan Telegin |
| 4 | 130 Connor Hellebuyck | 119 Zachary Yuen | 128 F. Petterson-Wentzel |
| 5 | 160 Ryan Olsen | 149 Austen Brassard | 150 Yasin Casse |
| 6 | 190 Jamie Philips | 157 Jason Kasdorf | 155 Kendall McFaull |
| 7 |   | 187 Aaron Harstad | 160 Tanner Lane |
| 8 |   |   | 169 Sebastian Owuya |
| 9 |   |   | 199 Peter Stoykewych |
***
[NHL 2013 Draft Guide – The Next Ones Draft Headquarters: 
Your quintessential draft resource]
***
[THW The Next Ones Rankings – Final Top 210]
Chris is THW's senior draft/prospect analyst and a Managing Editor. Watch for "The Next Ones" Prospect Profile series, exclusive rankings, mock drafts, as well as the annual THW NHL Entry Draft Guide. Follow @ChrisRalphYQ on Twitter as he infiltrates, dissects and analyzes all happenings of hockey prospects and the NHL entry draft. Email: cralph[at]thehockeywriters[dot]com