At The Hockey Writers, we recently took a look at the Winnipeg Jets' Top 10 prospects for 2020-21, and we will now delve into prospects 11 through 20.
Related: Winnipeg Jets Top 10 Prospects for 2020-21
It time to take a look at this tier of lower-profile or yet-to-be-realized but still potentially impactful prospects. As you can see, the Jets have a lot of defensemen and centres in this batch.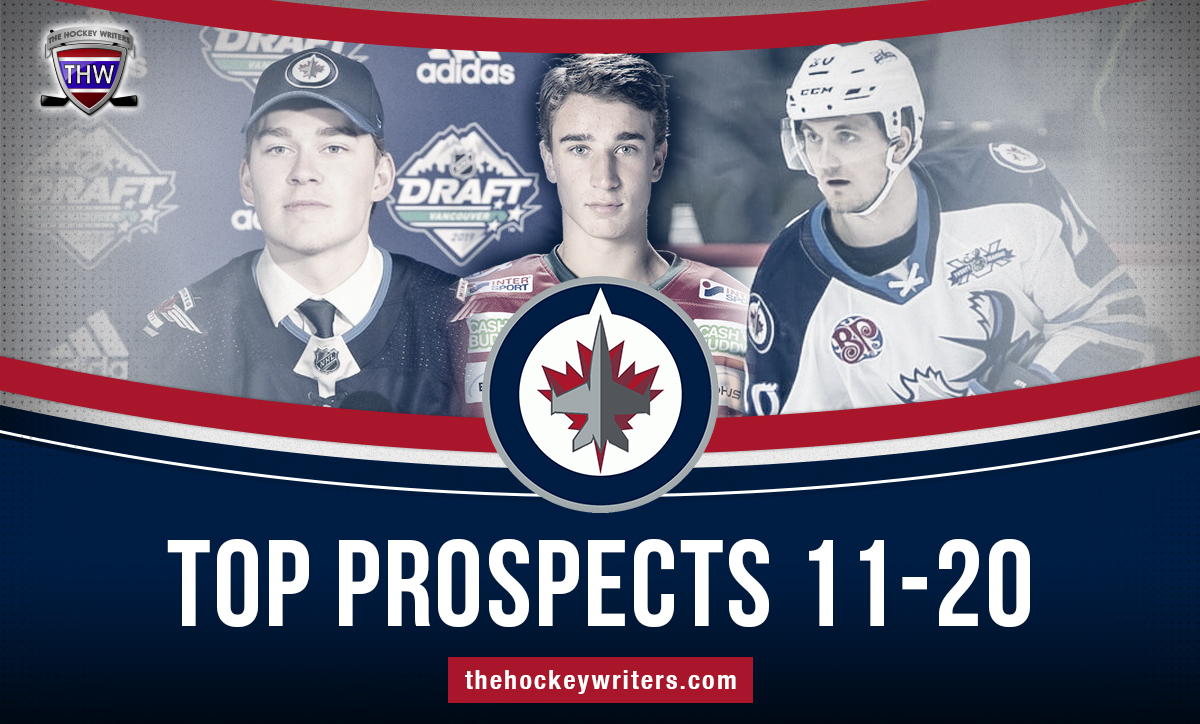 To reiterate the criterium for this list, players must have appeared in fewer than 30 games at the NHL level, or be under the age of 26.
20 — Luke Green (D)
2019-20 Team: Manitoba Moose (AHL)
Luke Green's career has been characterized by an utter lack of ability to stay healthy.
The right-handed defenceman, drafted in the third round of the 2016 NHL Entry Draft (79th overall,) is a smooth skater and reliable puck mover when in the lineup.
Unfortunately, he's had three straight seasons lost to injury: his 2017-18 with the QMJHL's Sherbrooke Phoenix due to a shoulder injury suffered in Jets' training camp, his 2018-19 Moose season due to a concussion, and his 2019-20 Moose season due to an upper body injury suffered in December.
Green has played only 24 games in the past two seasons and as a result, he has remained out-of-sight, out-of-mind. His future with the Jets — and as a pro hockey player in general — is questionable given his lack of durability.
He has one year left on his entry-level contract.
19 — Joona Luoto (LW/RW)
2019-20 Team: Winnipeg Jets (NHL) / Manitoba Moose (AHL)
2020-21 Team: HIFK Helsinki (SM-liiga, loan until the 2020-21 NHL season begins)
Like Green's, Luoto's 2019-20 campaign was shortened by injury.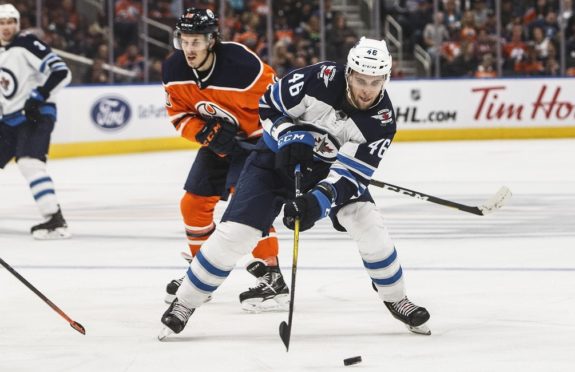 The responsible depth winger made the Jets out of training camp after signing a three-year contract out of Tappara in the SM-liiga.
He was held pointless in 16 NHL games to begin the season and logged an average of 6:35 per game. He was then reassigned to the Manitoba Moose and recorded four assists in 18 games before suffering an upper-body injury that required surgery.
Currently on loan to HIFK Helsinki until the 2020-21 NHL season gets underway, the 23-year-old will be a contender for a bottom-six role with the Jets.
18 — Santeri Virtanen (C)
2019-20 Team: SaiPa Lappeenranta (SM-liiga)
2020-21 Team: SaiPa Lappeenranta (SM-liiga)
What keeps Virtanen lower on this list than some of the players to come is that three years after being selected, he still hasn't signed a contract.
Whether the Finnish power forward, selected 105th overall in 2017, ever comes to North America is becoming a bigger question mark.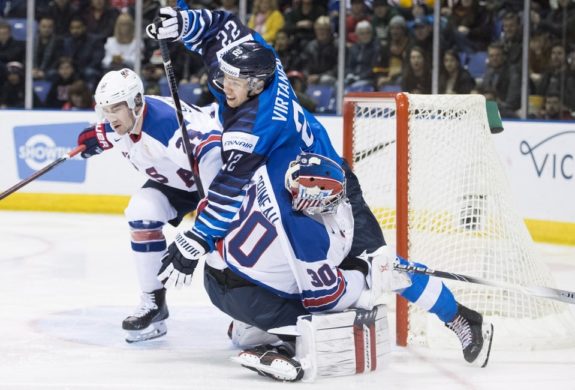 Part of the 2019 World Junior Championship-winning Finnish squad, the 6-foot-2, 203-pound Virtanen is in his second season with SaiPa Lappeenranta of the SM-liiga. Last season, he recorded six goals and four assists in 25 games.
Virtanen certainly has the potential to be an Adam-Lowry-esque face-off and penalty kill specialist with some offensive upside, but appears to be in no hurry to cross the pond.
17 — Kristian Reichel (C)
2019-20 Team: Manitoba Moose (AHL)
Kristian Reichel is testament that hard work can pay off.
The undrafted winger signed a two-year, two-way deal worth an average annual value of $752,000 in June. He originally signed with the Moose as a free agent prior to the 2018-19 season after a 57-point season with the WHL's Red Deer Rebels.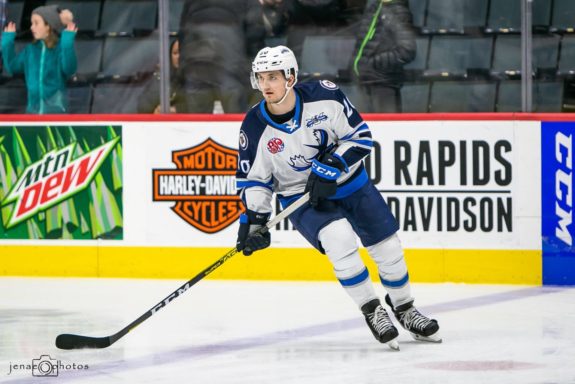 In 2019-20, the 22-year-old began as an extra player for the Moose who jumped in and out of the lineup, but his role and production ramped up as the campaign went along. The Czech Republic native recorded 12 goals — including five goals in his final six games — and five assists for 17 points in 39 games. He was playing on the Moose's top line with fellow Europeans David Gustafsson and Kristian Vesalainen when the AHL season suddenly stopped and was ultimately cancelled due to COVID-19.
The son of long-time NHLer Robert Reichel, Kristian is a consistent player, strong passer, and accurate shooter. His 12 goals came on just 61 shots, a shooting percentage of 19.7.
16 — Harrison Blaisdell (C)
2019-20 Team: University of North Dakota Fighting Hawks (National Collegiate Hockey Conference Division 1)
"What a character," "loves Winnipeg," and "superb talker" are some of the descriptors applied to 2019 134rd-overall selection, Harrison Blaisdell.
Last season, the left-handed centre recorded two goals and 12 assists in 32 games for the UND Fighting Hawks. Prior, he played two seasons with the BCHL's Chilliwack Chiefs. He has the potential to put up eye-popping numbers: in 2018-19 with the Chiefs, he recorded 33 goals and 25 assists in just 51 games as an alternate captain.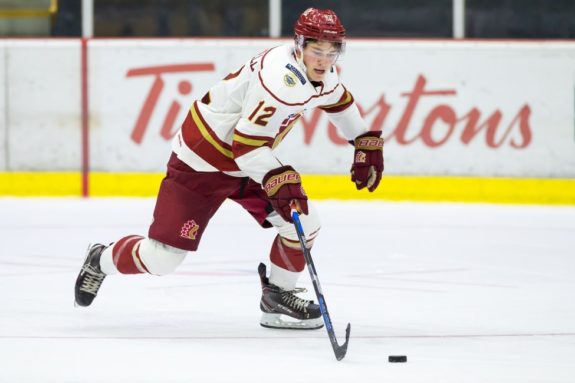 "Blaisdell is a fairly balanced threat offensively, blending goal scoring and vision into a dynamic package," reads a DraftGeek profile. "His shot is high end and he has the release to go along with velocity and pinpoint accuracy… A fantastic skater, the former Pat Canadian plays the game with tremendous pace, flying up and down the ice. His quickness isn't limited to his feet, however, as he possesses hands that are capable of keeping up with his lower body movements, often leaving opposing defenders in the dust or in a pretzel."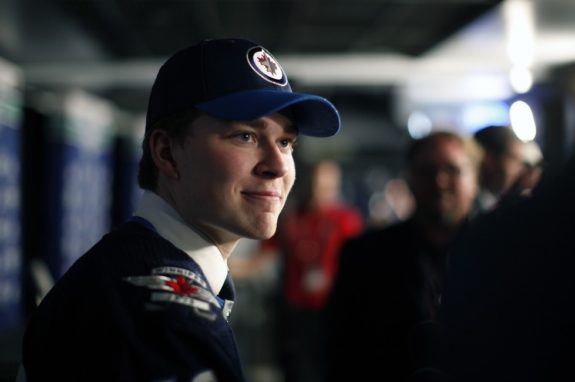 The Jets, lacking in grit nowadays, could use a player such as Blaisdell, who models his game after Boston Bruins' agitator extraordinaire Brad Marchand. "Some of the stuff he does, I don't necessarily agree with, but I respect him as a player," he explained after being drafted. "He's an unbelievable player. He plays that gritty style and has the flash with it. That's always been a guy that I've really looked up to," (from 'Jets cast wide international net on Day 2', Winnipeg Free Press, 06/22/19.)
15 — Nathan Smith (C)
2019-20 Team: Minnesota State University – Mankato Mavericks (Western Collegiate Hockey Association Division 1)
Smith, drafted by the 91st overall in 2018, is a player with superb hands and great stickhandling skills who could be a top-six talent with the Jets in the future.
In 2019-20, Smith enjoyed a successful rookie season with the MSU – Mankato Mavericks in the NCAA, recording nine goals and 18 assists in 35 games.
Prior, he had two excellent seasons with the Cedar Rapids RoughRiders of the United States Hockey League (USHL), putting up a combined 35 goals and 100 points in 110 games played.
The start of the 2020-21 NCAA season has been delayed due to COVID-19, so Smith hasn't played yet this season as of this writing, but there are hopes college hockey could start by mid-November.
14 — Nelson Nogier (D)
2019-20 Team: Manitoba Moose (AHL)
Nelson Nogier, 24, is a depth option for the Jets at this stage of his career.
The physical, stay-at-home defencemen doesn't have much flash or offensive upside and but has become a fixture on the Moose blue line. In 205 games with the Moose over four seasons, he has recorded eight goals and 32 assists for 40 points in a shutdown role.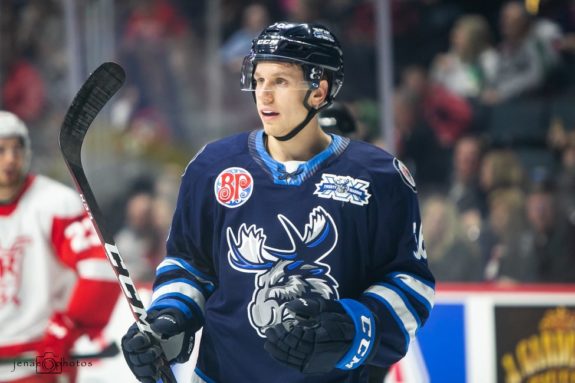 Selected 101st overall in 2014, Nogier has played 11 career games for the Jets: 10 in 2016-17 and one in 2018-19. He signed a two-year, two-way contract in October with a $725,000 AAV.
13 — Logan Stanley (D)
2019-20 Team: Manitoba Moose (AHL)
The opinions of those who have been, for years, calling the selection of Logan Stanley 18th overall in 2016 an overreach are getting more compelling by the day — the towering defenseman remains a long-term project and is nowhere near NHL-ready.
The 6-foot-7, 240-pound Stanley has improved upon the lack of foot speed that was readily apparent in his rookie campaign with the Moose, but he still isn't very physical given his size and his puck-handling skills are still suspect at times.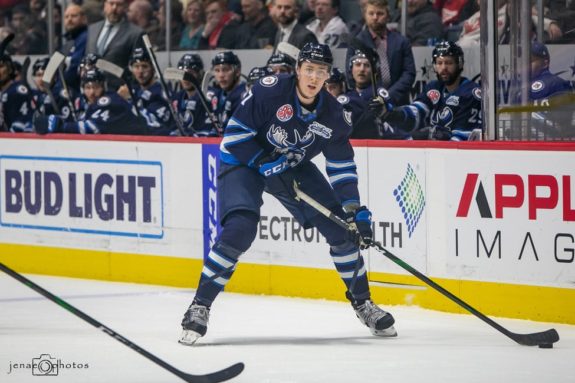 In 2019-20, he was limited to 44 games with the Moose due to injury and recorded 10 points. He has been surpassed by other, more promising prospects, including Ville Heinola, Dylan Samberg, and Leon Gawanke.
Stanley is in the final season of his ELC and it will be interesting to see if the Jets try to deal him while he still has some trade value.
12 — Henri Nikkanen (C)
2019-20 Teams: Mikkelin Jukurit U20 (Jr. A SM-liiga) / Mikkelin Jukurit (SM-liiga)
2020-21 Team: Jukurit (SM-liiga)
One player who may turn out to be a steal and another late-round gem is 113th-overall 2019 pick Henri Nikkanen.
The 6-foot-4, 203-pound Finn tumbled all the way to the fourth round in that draft as he was injured for much of 2018-19 and only played 23 games. He was touted as a potential-first rounder with high-end offensive skill and playmaking abilities heading into his draft year. His size doesn't hurt, either.
In 2019-20, Nikkanen split time between Michelin Jukurit's under-20 and professional squads, recording 31 points in 57 games between the levels.
He'll spend this season with Jukurit and still needs to be signed by the Jets.
11 — Daniel Torgersson (LW)
2019-20 Teams: Frolunda HC J18 (J18 Elit) / Frolunda HC J18 (J18 Allsvenskan) / Frolunda HC J20 (J20 SuperElit) / Frolunda HC (SHL)
2020-21 Team: Frolunda HC J20 (J20 SuperElit) / Frolunda HC (SHL)
The Jets' second-round pick of the 2020 draft is a big-bodied specimen with plenty of potential.
Torgersson, a 6-foot-3, 205-pound Swedish left-winger, has been described by Elite Prospects as "a good skater for his size, with a powerful push to his stride," "well-balanced on his skates, and just incredibly hard to knock off of the puck." With his frame, it's unsurprising that The Athletic's Corey Pronman describes him as a player with a good net-front presence as well.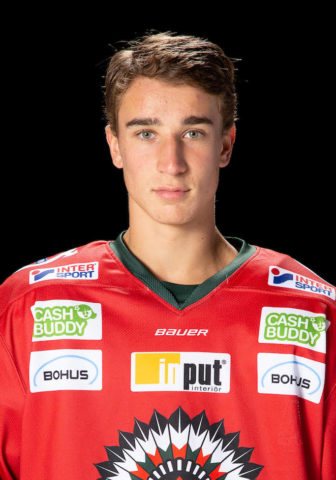 The Jets are sorely lacking in a hard-working net-front presence currently and have not been able to score dirty goals with much regularity.
"Torgersson has great timing in his movements as he adjusts to the defenders and the puck-carrier to open passing lanes. He's excellent at finding open space in or around the slot to give himself enough time to shoot," Elite Prospects also notes.

Elite Prospects on Daniel Torgersson
Torgersson operated at better than a point-per game clip for Frolunda HC's under-20 club in 2019-20 as he posted 26 goals and 18 assists for 42 points in 39 games. He also played six games for Frolunda HC's main club. He will remain in the Frolunda organization for 2020-21.
While he may not be a top-six player in the future, he has all the makings of a highly-effective third-line energy winger. As hockeyprospect.com notes, "His combination of size, length, and speed give him a unique ability to generate constant pressure;" "it's very rare to find a player who can play with the type of energy and pace he brings to the table."
---
---