The 2004 Stanley Cup champion Tampa Bay Lightning had it all. They were stacked on offense with forwards such as Vincent Lecavalier, Martin St. Louis, Brad Richards, and Cory Stillman. They also had a plethora of defensemen in Dan Boyle, Pavel Kubina, and Cory Sarich among others who provided stellar support on the blue line.
Related: The Gordie Howe Hat Trick
In net, the man who carried a significant portion of the workload was Nikolai Khabibulin. Without his contributions during his time there, especially during that 2004 Stanley Cup run, the Bolts may not have that first championship to their name. It was a bit of a journey for him to get to that point in his career.
Establishing Himself in Winnipeg and Phoenix
Khabibulin started his NHL journey being drafted by the Winnipeg Jets in the ninth round (204th overall) in 1992. He was brought into the fold by the Jets during the lockout-shortened 1994-95 season, starting 22 games and posting an 8-9-4 record. His workload increased the following year, putting up a 26-20-3 campaign in 53 starts.
Khabibulin stayed with the organization during their move to the state of Arizona to become the Coyotes. He became a household name with the club in the beginning along with names like Shane Doan, Keith Tkachuk, and Jeremy Roenick.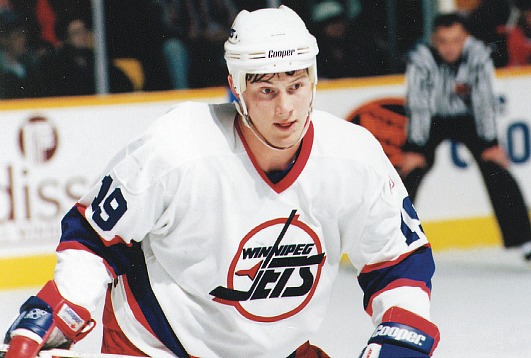 He put up productive numbers for them in Phoenix:
1996-97: 30 wins, 33 losses, 6 ties, 2.83 goals-against average (GAA), .908 save percentage (SV%), and 7 shutouts (SO) in 72 games played (GP)
1997-98: 30-28-10, 2.74 GAA, .900 SV%, and 4 SO in 70 GP
1998-99: 32-23-7, 2.13 GAA, .923 SV%, and 8 SO in 63 GP
The Coyotes made the postseason all three years he was there. In total, his playoff record for them was 8-9. Khabibulin also appeared in back-to-back All-Star Games in 1998 and 1999.
Everything seemed like a perfect match. However, problems arose following the 1998-99 season. Khabibulin's contract was up, and after contract offers from both sides, the goalie held out the entire 1999-00 NHL season. He instead played in the International Hockey League (IHL) with the Long Beach Ice Dogs, chalking up a 21-11-1 record with a 1.83 GAA and a .930 SV%. This led to the end of his stint with the Coyotes.
Khabibulin's rights were traded to the Lightning along with defenseman Stanislav Neckar in exchange for Paul Mara, Mike Johnson, Ruslan Zainullin, and a second-round pick in the 2001 draft. It was a change of scenery for Khabibulin, and the trade became a staple part of Lightning history based on the seasons to come.
Becoming a Tampa Legend
Khabibulin played in two games for the 2000-01 season. The goalies who took the reps for most of that year were Kevin Weekes and Dan Cloutier. 2001-02 was the emergence of the Bulin Wall the Lightning fans know of today (the nickname being a play on the Berlin Wall). He took the reins and gradually became the backbone that bolstered the rest of the roster.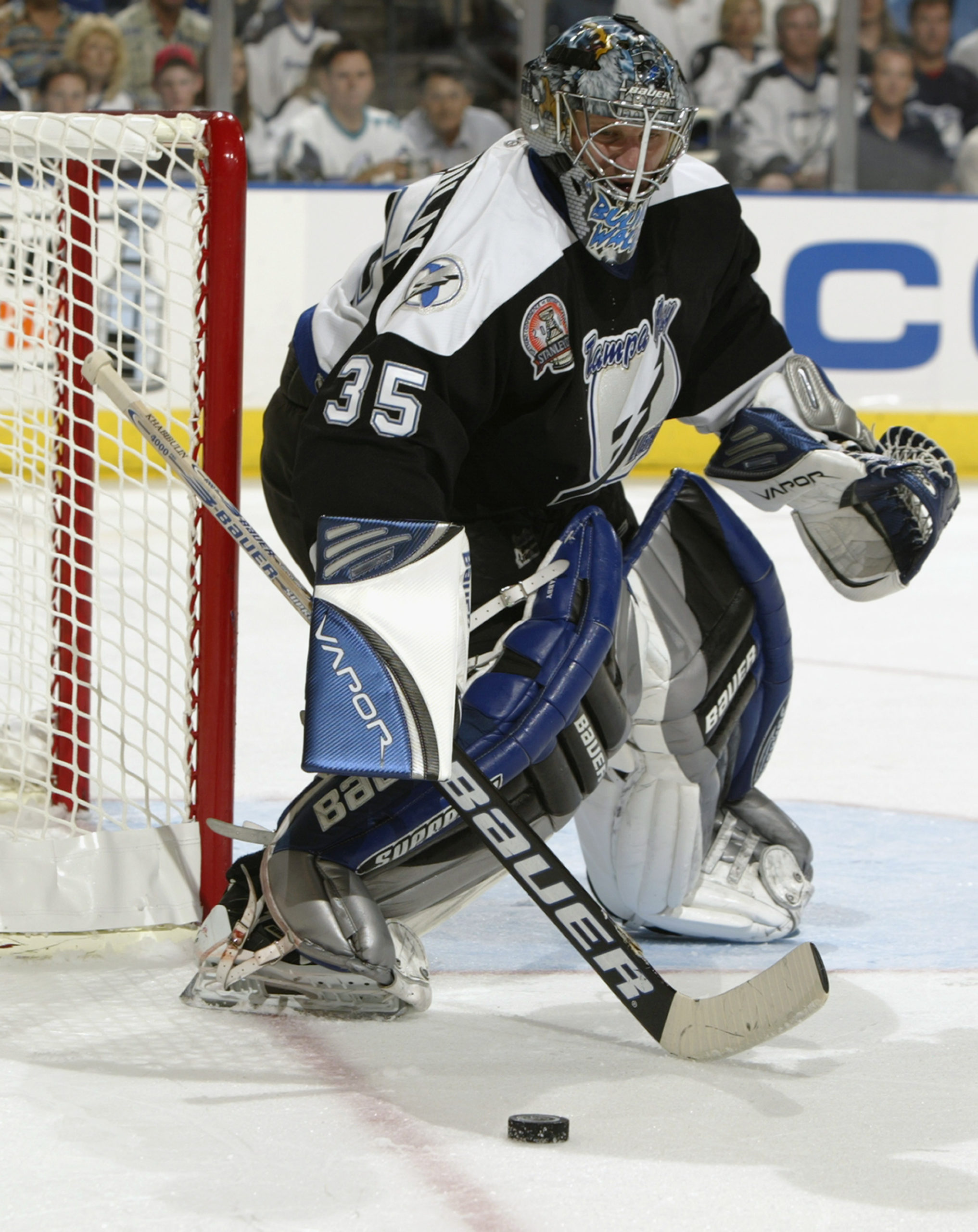 His stats over the seasons in Tampa continually improved:
2000-01: 1-1, 2.92 GAA, and .913 SV% in 2 GP
2001-02: 24-32-10, 2.36 GAA, .920 SV%, and 7 SO in 70 GP
2002-03: 30-22-11, 2.47 GAA, .911 SV%, and 4 SO in 65 GP
2003-04: 28-19-7, 2.33 GAA, .910 SV%, and 3 SO in 55 GP
The pinnacle of Khabibulin's Tampa career came during the 2004 Cup run. Similar to the Lightning roster that won in 2020, everyone on the roster knew their role and stuck to playing it. The offense could roll every forward line and have a chance to score, while Khabibulin kept them in every game as the last resort for the defense.
He did not disappoint when he was called upon. He posted a 16-7 record in 23 postseason contests that year, notching a 1.71 GAA, .933 SV%, and five shutouts. He actually tied the league record for most shutouts in a playoff series (three). This was enough to help capture the Lightning's first Cup in franchise history.
Richards won the Conn Smythe Trophy after that run (given to the MVP of the postseason), and, like Matt Larkin wrote in his piece with The Hockey News, I agree that Khabibulin also had a strong case to win that award. Richards deserves it too, but they had other players who helped him out offensively including Lecavalier, St. Louis, Ruslan Fedotenko, Stillman, Fredrik Modin, and Dave Andreychuk, to name some examples.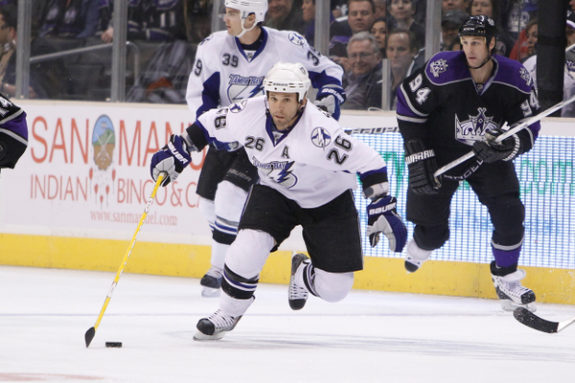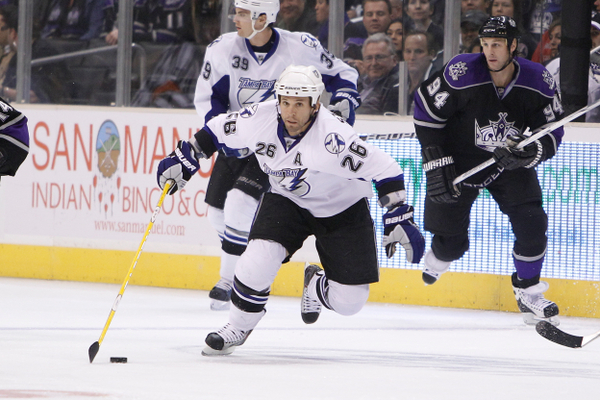 The defense played a huge role in assisting Khabibulin, but The Bulin Wall played spectacular when he needed to. Even with the defense they had, they still needed Nikolai's support, and he came through when he needed him.
Post-Bolt Career
Despite becoming a household name for the club and being a key piece in winning the Cup, the 2004 postseason was the last time Khabibulin played for Tampa.
After the 2004-05 lockout, Khabibulin hit free agency and inked a four-year contract with the Chicago Blackhawks worth $27 million. His tenure with the club did not go well as he had hoped though, and Chicago eventually brought in goalie Christobal Huet, known from his days with the Montreal Canadiens, to compete with him. Khabibulin kept a hold on the starting gig for the Blackhawks though until 2009, when he was a free agent once again.
The Edmonton Oilers were the next organization Khabibulin played for. Their starter Dwayne Roloson left via free agency himself to sign with the New York Islanders, and Khabibulin was brought in to fill that vacancy. He had a difficult time though. Injuries proved to be a huge issue for him, and he missed significant time. Out of 82 games, he played for the following amount per season for the Oilers:
2009-10: 18 GP
2010-11: 47 GP
2011-12: 40 GP
2012-13: 12 GP
Backup Devan Dubnyk emerged as a legitimate goalie himself, and jumped Khabibulin during that time in Edmonton to become the starter.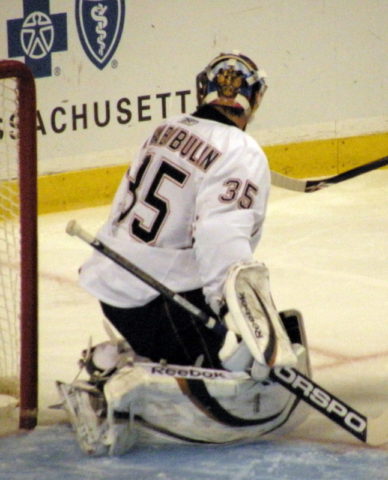 Khabibulin found himself a free agent one more time, and he signed back with the Blackhawks on a one-year contract for $2 million. The plan was to have him back up Corey Crawford. However, injuries once again interfered, putting him on injured reserve and eventually ending his season. Antti Raanta was recalled from the AHL-affiliate Rockford IceHogs to take his place.
One of the Best Bolts
It was unfortunate Khabibulin's NHL run had to end the way it did with injuries, but he is one of the best Tampa players in their history. He and Andrei Vasilevskiy are the two between the pipes to bring the Stanley Cup to the state of Florida. Both goalies had a ton of help in front of them as well which made their job in the crease easier, but when duty called, they answered.
Related: Lightning's Top-10 All-Time Goal Scorers
When discussing some of the best Lightning of all time, names like Lecavalier, St. Louis, Steven Stamkos, Victor Hedman, and Nikita Kucherov will be brought up. In net, besides Vasilevskiy, Khabibulin receives that honor. He had a fantastic career.
---
---