With the Winnipeg Jets on a break until Feb. 11, it's the perfect time to check in to see what their prospects have been up to. Here, we'll visit the seven selections they made at the 2022 NHL Entry Draft in Montreal.
Rutger McGroarty
The Jets' top pick of the 2022 Draft — Rutger McGroarty, 14th overall — is having himself quite the fine season.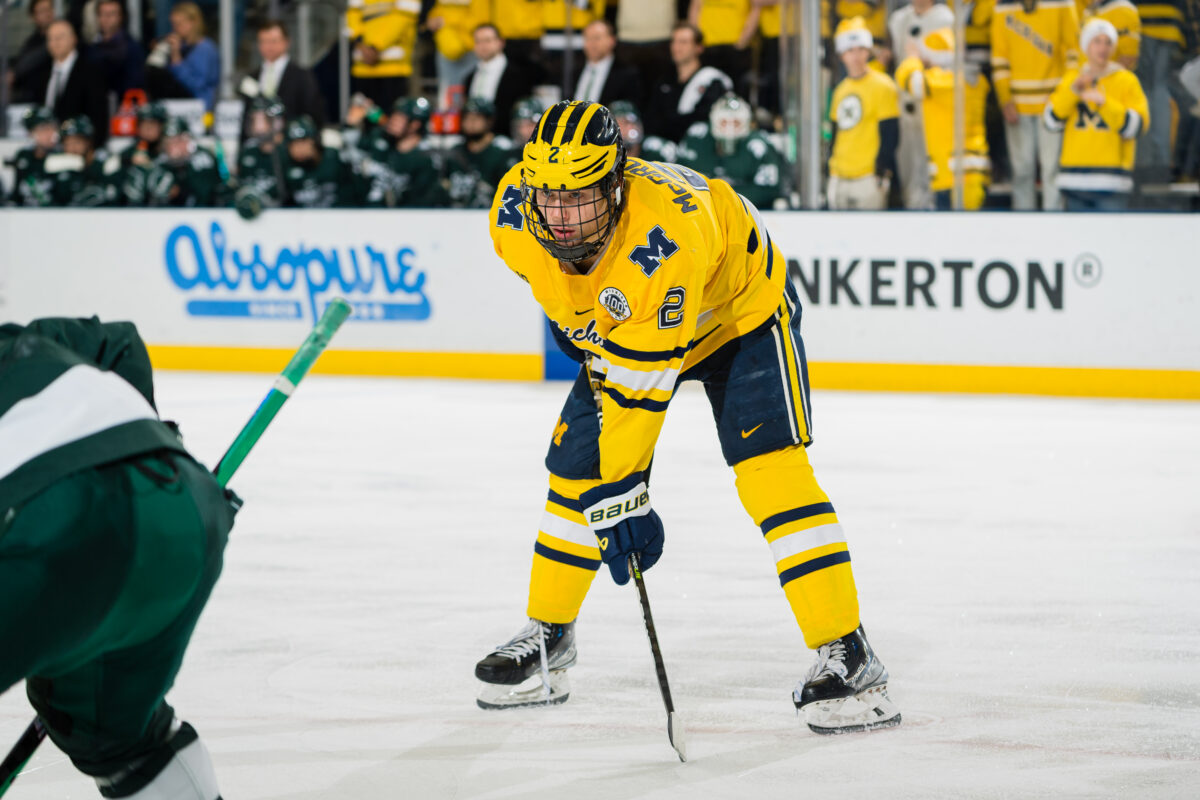 In his first campaign with the University of Michigan Wolverines — after spending two with the U.S. National Development Team with the second being as their captain — the left-shot right winger has 10 goals and 13 assists for 23 points in 28 games. Jets prospects who play at the University of Michigan have a good track record of becoming impactful NHLers — Kyle Connor, Andrew Copp, and Jacob Trouba also spent time there.
The 6-foot-1, 205-pound power forward from Lincoln, Nebraska also suited up for the United States at the 2023 World Juniors in Halifax and Moncton. It was there he put his creativity, hockey IQ, and strong work ethic on display, recording one goal and six assists in seven games and winning a bronze medal. In the bronze-medal game, an 8-7 overtime barn burner, he had three assists, including two in the third period.
Related: Winnipeg Jets Bolster Prospect Pool With Rutger McGroarty
At the World Juniors, McGroarty also got some Twitter recognition for having one of many interesting and either intimidating-sounding — or frankly made-up-sounding — names on the United States roster, along with Cutter Gauthier, Chaz Lucius (a fellow Jets' prospect,) Red Savage, and Jimmy Snuggerud.
Brad Lambert
Brad Lambert is doing well in the WHL after his first stint as a professional.
The Finnish forward, who went much later than expected due to a poor 2021-22 season in Liiga, entered the season with a chip on his shoulder. Once considered a top-10 or even top-five pick, it was quite a shock to see him available to be chosen with the 30th-overall selection the Jets received in the March, 2022 trade that sent Andrew Copp to the New York Rangers. 
The then-18-year-old turned some heads with electrifying play during the Jets' preseason, leading to some speculation he would crack the opening-night roster. He was ultimately assigned to the Manitoba Moose (allowed due to his status as an international prospect.)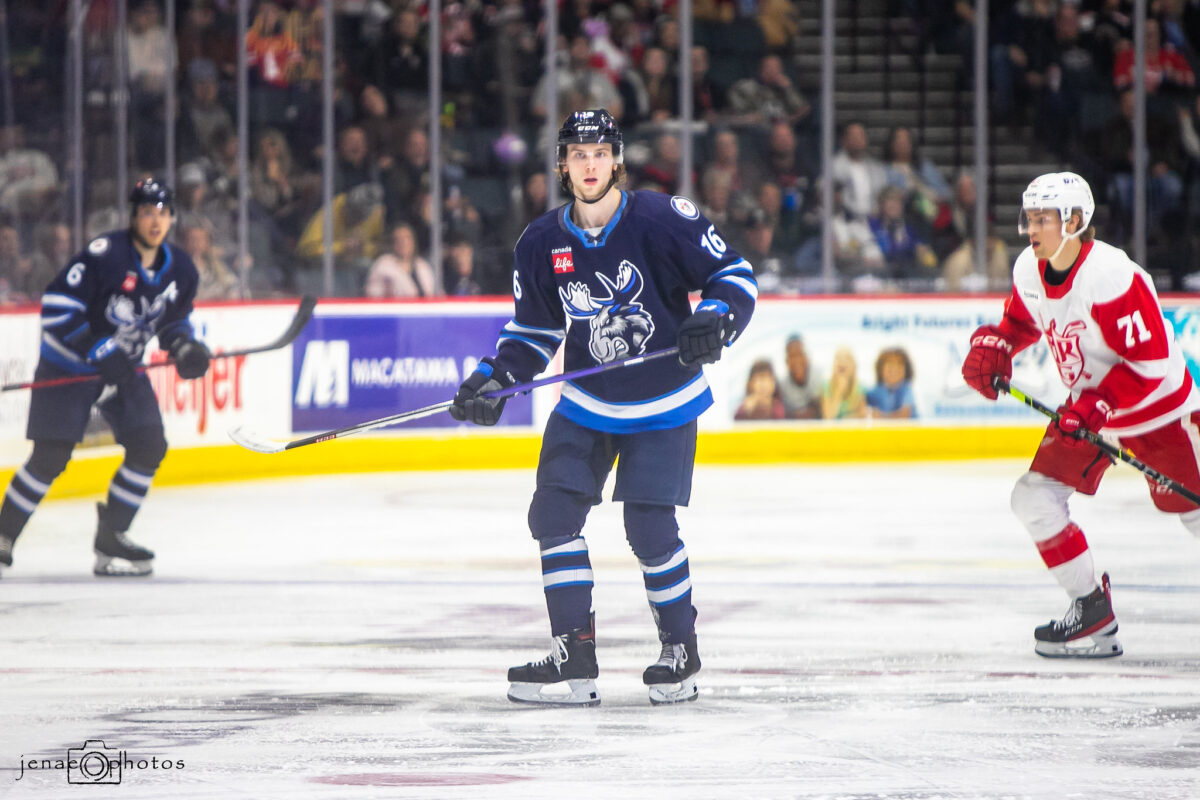 Those hoping Lambert would immediately dominate the AHL with his game-breaking ability were disappointed, however, as he struggled at times to adjust to the stiffer competition and North-American-sized ice. In 14 games, he had two goals and one assist, but was minus-9 and often not an impact player. A sickness he battled in late October and early November also caused him to miss two weeks.
In mid-December, Lambert left the Moose to represent Finland at the World Juniors. At the time, he was riding a 10-game pointless streak and while he wasn't offensively prolific — recording one goal in five games — he turned in an engaged and well-rounded performance. Finland's showing was ultimately a disappointment as they lost to Sweden in the quarterfinals.
After the World Juniors, the Jets reassigned Lambert to the Seattle Thunderbirds, who own his WHL rights, rather than have him return to the Moose. This looks to have been the right move to help him adapt to the North American game and find some consistency; he's struggled with being consistent over the past season-and-a-half and that may be the biggest hurdle for him in becoming a productive NHLer.
Lambert has four goals and three assists in just six games with the Thunderbirds, and recently scored the overtime winner that clinched the team a playoff spot.
Elias Salomonsson
Chosen in the second round 55th overall, Salomonsson is playing with his hometown Skelleftea AIK of the Swedish Hockey League.
The 6-foot-1, 180-pound defenceman has three goals and two assists for five points in 18 games. It is his first season playing full time in the top league as last season, as a 17-year-old, he split time between Skelleftea AIK and Skelleftea AIK Jr (the under 20 squad.) Sadly, he missed his chance to play at the World Juniors due to injury.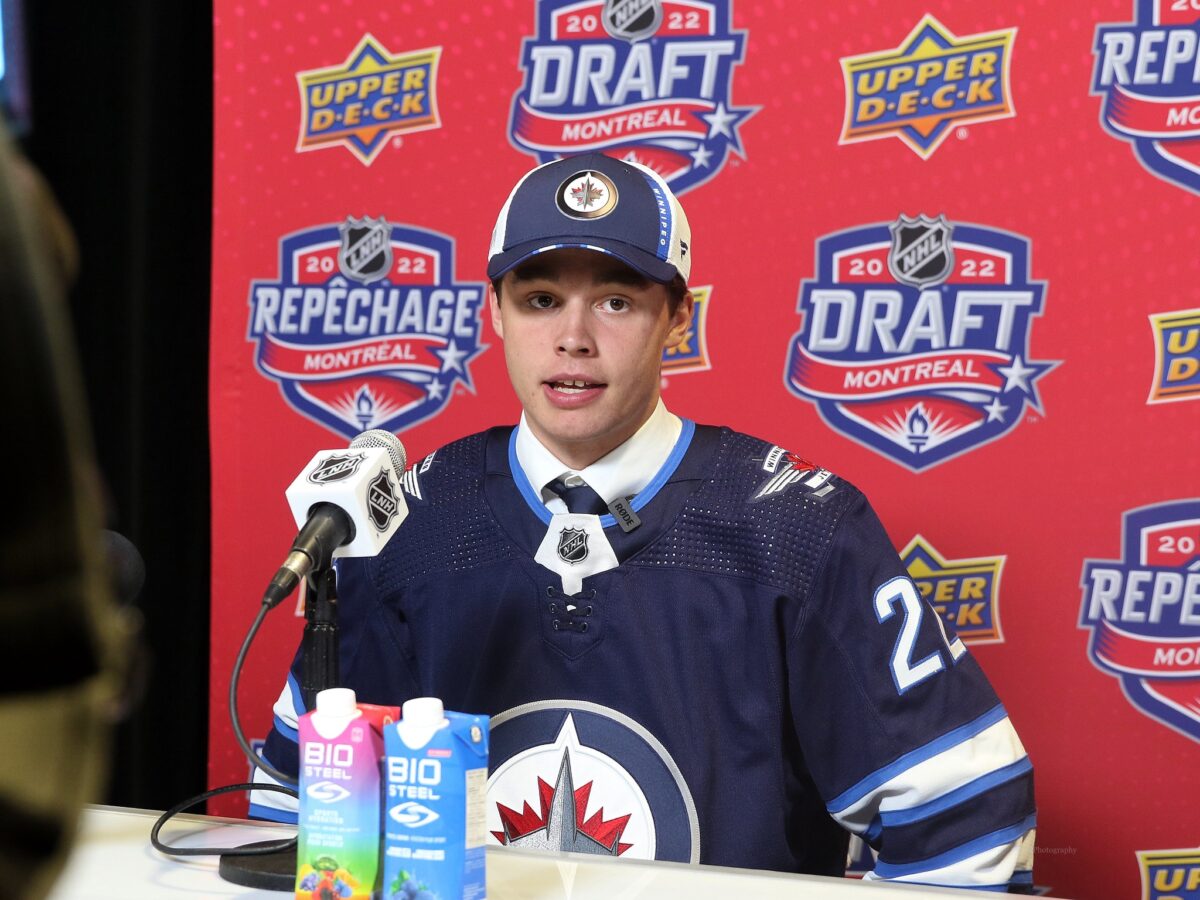 Like Lambert, the pick used to select Salomonsson also came in the Copp trade. The Jets had the choice to take either the Rangers' 2022 first-rounder (which the Rangers received from the St. Louis Blues) or the Rangers' 2023 first-rounder, and the Jets chose the former.
Danny Zhiklin
Zhilkin is having another productive season in the OHL.
The left-shot centre was chosen with the third-round selection that came as part of the return in the blockbuster Jan. 2021 trade with the Columbus Blue Jackets that saw Patrik Laine and Jack Roslovic swapped for Pierre-Luc Dubois. He began the season with the Guelph Storm — his third season with the team and where he recorded 55 points in 66 games in 2021-22 — and put up 26 points (12 goals, 14 assists) in 25 games.
On Jan. 2, the Russian product was dealt to the Kitchener Rangers as a part of a substantial trade that also involved seven draft picks from various teams in various years. "Danny is a player we targeted when we made the decision to add to our team," Kitchener Rangers GM Mike McKenzie said. "His two-way play, speed and skill will be a huge addition to our team in the second half."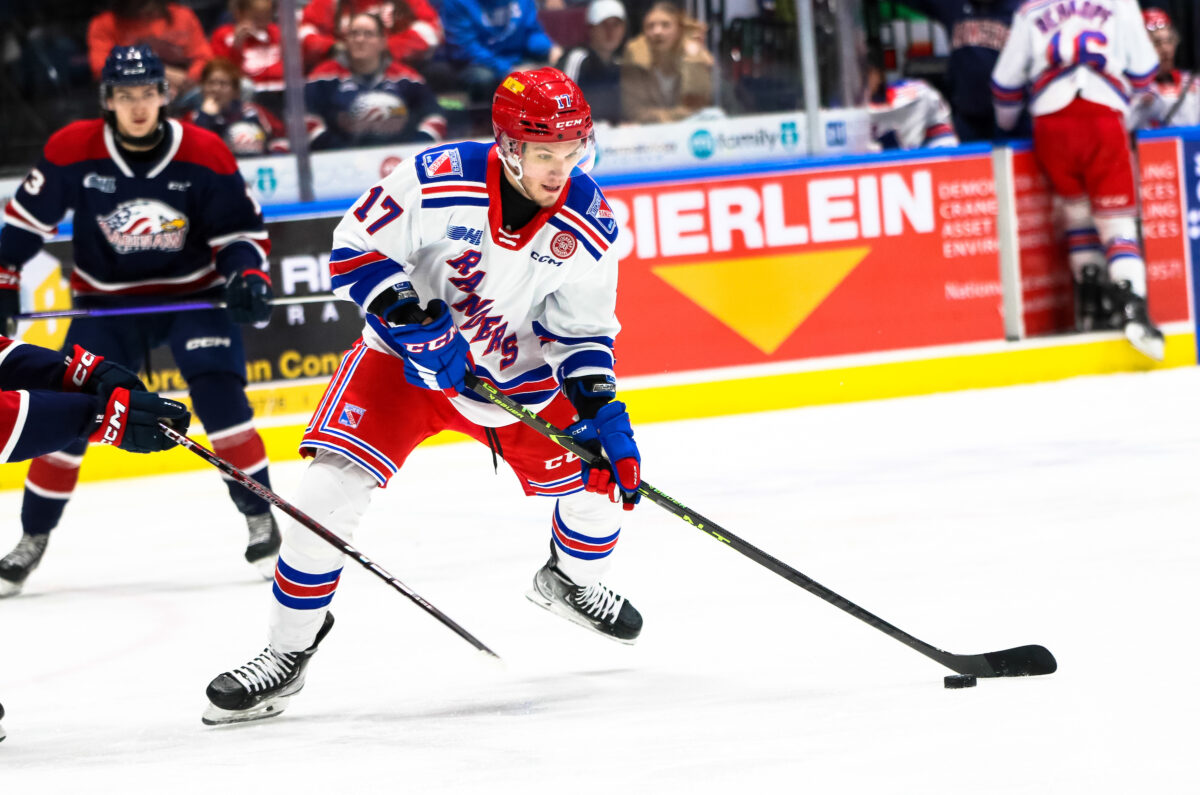 Since joining his new team, he has been productive like McKenzie hoped, recording 12 points (eight goals, four assists) in 15 games.
An off-ice initiative Zhilkin is spearheading — an initiative in the same vein as True North Sports & Entertainment's Project 11 initiatives created in honour of Rick Rypien — speaks to his strong character.
In September, Zhilkin and his girlfriend Lauren Schoss, who attends Boston University's Sports Psychology and Counselling program, launched Zhilkin's Vision. Its mission statement is "striving for the de-stigmatization and prioritization of mental health in sport" and will help raise mental health awareness for athletes and help local mental-health organizations.
Garrett Brown
The 6-foot-2, 195-pound defenseman is in his third season with the USHL's Sioux City Musketeers. In 30 games, he has two goals and 10 assists, a plus-four rating, and 22 penalty minutes.
Last season, the 18-year-old Brown, chosen in the fourth round at 99th overall, recorded four goals and 12 assists in 62 games along with a plus-nine rating and 24 penalty minutes. He also had one assist in 10 playoff games as the Musketeers won the Clark Cup. He is committed to the University of Denver for 2023-24.
Fabian Wagner
For the second-straight season, sixth-round pick Fabian Wagner is splitting time between Linköpings' HC Jr. (under 20) squad and Linköpings' HC, which plays in the Swedish Hockey League.
---
Latest News & Highlights
---
For the Linköpings' HC Jr. club, the left-shooting centre is a near-point-per-game player, recording seven goals and 15 assists in 23 games. He has not been offensively successful against the stiffer competition of the men's pro league so far, going pointless in 20 games.
The 18-year-old also suited up for Sweden at the World Juniors, recording two goals and four assists in seven games. He left without a medal as Sweden fell to the United States in the bronze-medal game.
Dom DiVincentiis
Dom DiVincentiis is dominating.
The seventh-rounder, in his second season with the OHL's North Bay Battalion, was recently bestowed OHL Goaltender of the Month honours for a lights-out January, posting a 7-0-0-1 record, 2.23 Goals Against Average, and .923 SV%.
"It's been so impressive to watch Dom develop into the goalie we are watching today," Adam Dennis, Battalion general manager, told Bay Today recently. "He is a kid that is addicted to the game and always looking for ways to make himself and his teammates better. We are happy that he can be recognized for all of his hard work." (From 'DiVincentiis named OHL goalie of the month,' Bay Today, Feb. 2, 2023.)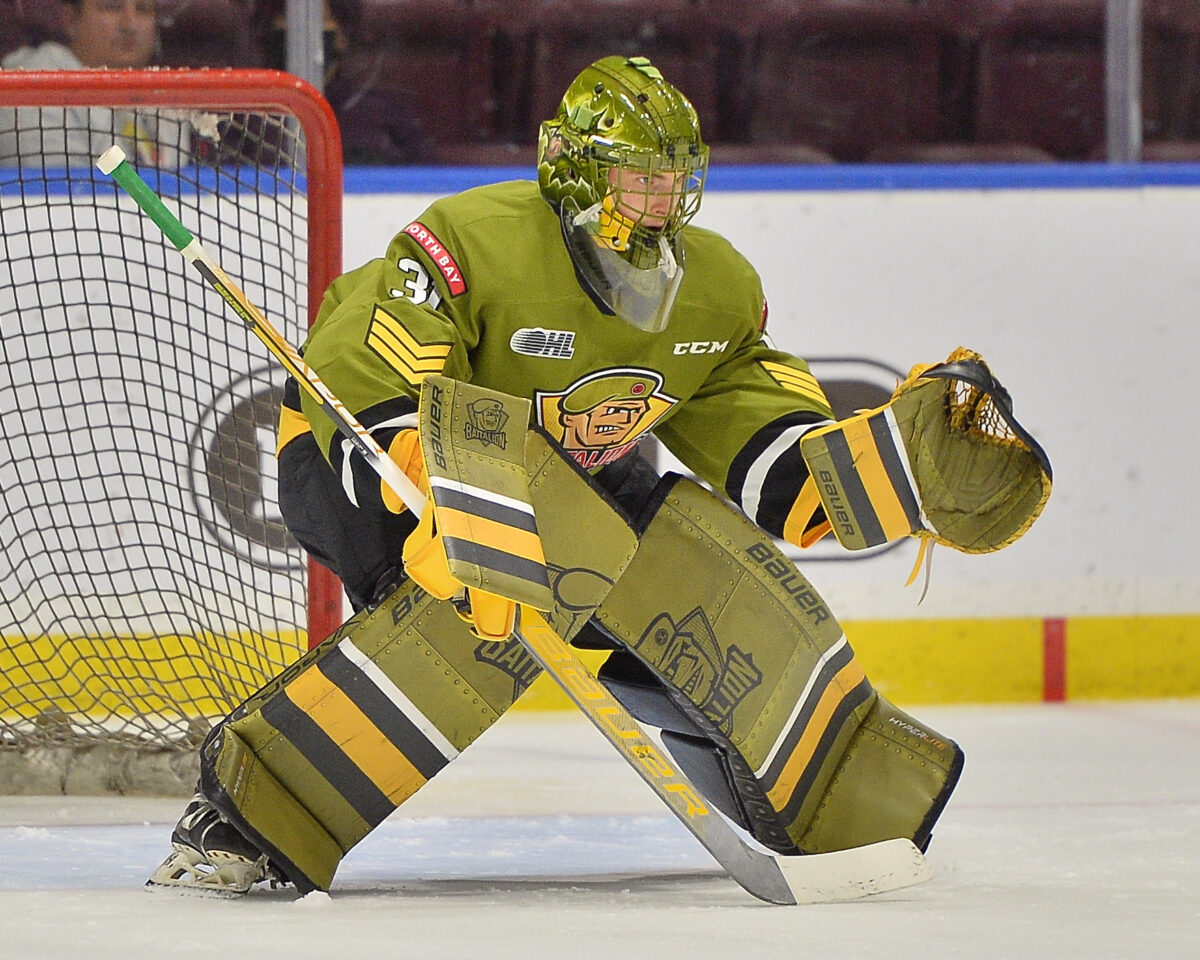 This is the second-straight impressive season for DiVincentiis. In his 2021-22 rookie season, posted a 14-8-1 record, 2.59 GAA, and .907 SV% in 27 regular-season appearances, and recorded two assists for good measure. He also appeared in six playoff matchups as the Battalion advanced to the third round and won the F.W. "Dinty" Moore Trophy as the rookie goaltender with the lowest GAA.