As the NHL regular season comes out of the All-Star Break and heads into its final two months, the San Jose Sharks sit in seventh place in the Pacific Division, their 41 points putting them far closer to the worst record in the league than a playoff spot. While it's clear that the team isn't going to contend for anything other than the first overall pick this season, a closer look at their results reveals a slightly more complex picture. As their season has unfolded, the Sharks have consistently found themselves playing to the level of their competition, occasionally achieving positive results in this manner but usually coming up narrowly and frustratingly short.
Overall Look at the Sharks' Schedule
The Sharks' regular season thus far has displayed a number of odd results. For instance, they've beaten the Western Conference-leading Dallas Stars twice but suffered three losses to the Anaheim Ducks, the Pacific Division's last-place team, with all three coming in either overtime or shootout. In the fourth matchup, the Sharks cruised to a 6-1 victory behind two points each from Timo Meier and Erik Karlsson, essentially confirming their status as a superior team that simply played down to the Ducks' level in the other games.
Related: San Jose Sharks Should Move Core Pieces for Cap Flexibility
---
Latest News & Highlights
---
Two of the three losses to Anaheim came in the midst of a five-game losing streak across October and November. This streak also included losses to the Tampa Bay Lightning, who currently sit comfortably in a playoff position, and the St. Louis Blues, who decidedly do not. San Jose followed these losses up with three straight wins, all over teams currently in line to make the playoffs, a streak that was itself snapped by a loss to the mediocre Detroit Red Wings.
This has been a trend throughout the season. They'll take a hard-fought loss to the Toronto Maple Leafs — then do the same against the Ottawa Senators a few days later. Finally, they'll suffer close losses at the hands of the Los Angeles Kings, New Jersey Devils, and Columbus Blue Jackets, all within a 10-day span.
While obviously not every game will go this way, there's enough of a pattern here to understand what type of team the Sharks are. It almost doesn't matter who their opponent is, they'll play to their competition just about every time.
Last Road Trip Provides Perfect Microcosm
The Sharks' latest road trip, which closed the pre-All-Star Break portion of the season, perfectly encapsulated the team's problem. After opening with the aforementioned loss to Columbus, the Sharks were defeated easily by the league-leading Boston Bruins in the second game of a road back-to-back. This was followed by consecutive overtime losses to one team likely to miss the playoffs — the Red Wings — and one likely to make them, the Carolina Hurricanes, the latter involving a disastrous end to the third period reflective of another unfortunate Sharks trend. They finally picked up a win in a back-and-forth contest with the Pittsburgh Penguins — currently in a playoff position by one point — behind a five-point game from Logan Couture.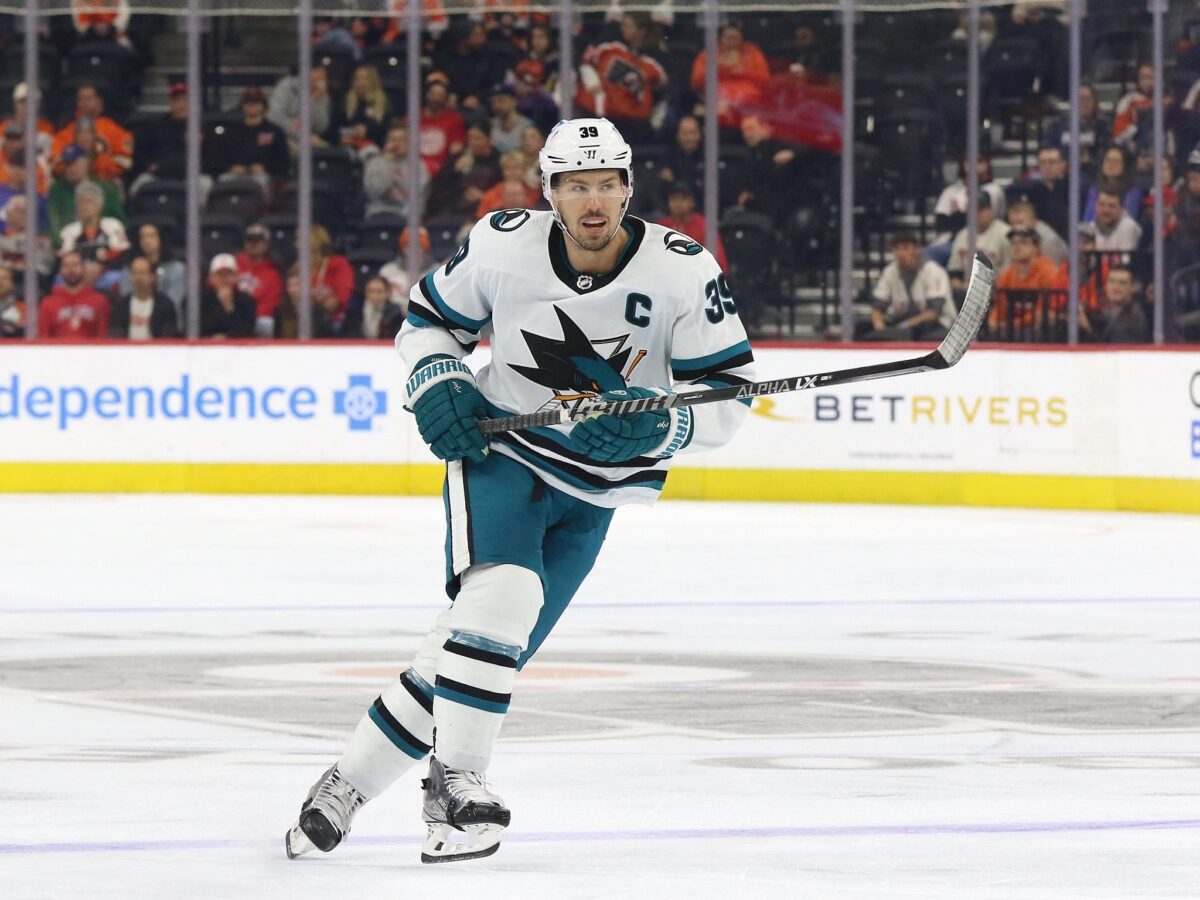 Apart from the loss to the Bruins, all of these games saw the Sharks play their opponent more or less evenly, with the difference coming down to just a few plays. But their tendency to equal their opponents rather than exceed them, along with failures in execution in critical situations, led to just a single victory.
Overtime Losses
Further emphasizing the Sharks' penchant for playing to their competition is the fact that they lead the NHL in shootout losses with five, as well as overtime plus shootout losses with 11. Eight of those losses came to teams currently out of the playoffs. The Sharks spend 60 minutes matching their competition, but in the three-on-three overtime and shootout situations, which are more about individual skill, they don't have the ability to keep up, leading to a 3-11 record in non-regulation games.
And on a somewhat related note, there are currently seven NHL teams with less than 45 points on the season. The Sharks have the second-best goal differential of these teams, partially as a result of all these overtime contests — and it's another indication that they are almost always capable of keeping up with their opponents, but not necessarily beating them.
A Hallmark of Mediocre Teams
Just to be clear, the Sharks' habits in this regard are not really a knock on them in particular. Countless middling-to-bad teams throughout NHL history have more or less matched their opponents rather than eclipse them. But in San Jose's case, it demonstrates why they've faced the challenges they have this season and why they're currently unable to get out of NHL limbo.
When the Sharks play, no matter who they face, you can generally trust that they will usually play a competitive game. What is far less certain is that they'll actually outperform their opponent. Instead, they'll continue to play a lot of close games and come up just short far too often.