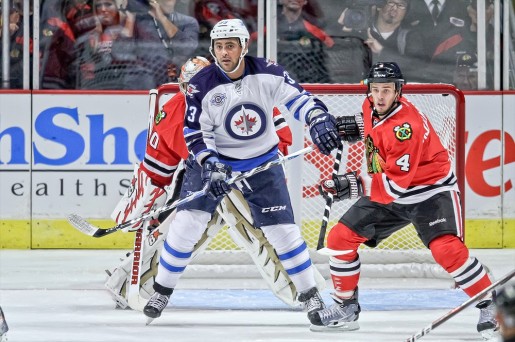 Winnipeg Jets: Afterburn Part II; The Defenders
The Winnipeg Jets finished 26th in the NHL for goals against with a 2.95 average per game and ranked 24th in killing penalties with an 80.1% efficiency rate in 2011-12. The team frequently choked up third period leads and struggled to contain some of the NHL's bigger, more physical star players on a regular basis. With as many as 12 blueliners suiting up for the Jets, injuries could definitely be pointed to as a contributing factor for the unimpressive statistics.
Enigmatic superstar Dustin Byfuglien provides all world skill framed within the physique of a middle linebacker. I blush at what this man could accomplish if he were to perform to the peak of his pure and natural athletic abilities. His decision making skills and reluctance to get back in the play after a turnover will flat out lose Winnipeg games, but his smooth free flowing puckrobatics, powerful shot, big body and undeniable skill will require the opposition be very aware when he is on the ice. Entering the second year of a 5 year pact, Byfuglien is a true superstar with elite ability to build the franchise around. With his personal legal challenges behind him, the proud new father needs to focus on improved fitness levels and emerge as the undisputed MVP of the Winnipeg Jets. Under the guidance of assistant Coach Charlie Huddy, 'Buff' should find a healthy and renewed level of maturity and confidence.
Tobias Enstrom brings an elite ability to quarterback the power play and log up to 25 or more minutes a night. He is adept at carrying the puck out of his own end and making a great first pass while bringing an increased tempo to the game. Possessing a deceptively hard shot while using an oversized stick, the diminutive rearguard perseveres with a Swedish resiliency and above average intelligence. Recently signed to a five year $28.75M dollar deal it appears Enstrom will ride shotgun with Dustin Byfuglien for several years to come.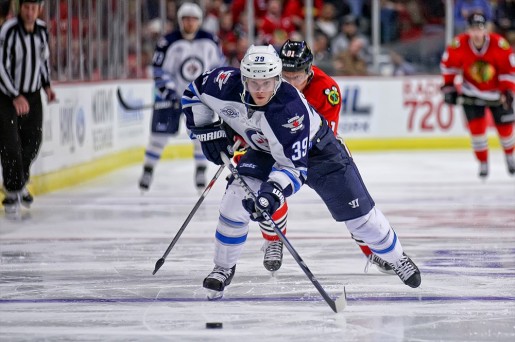 A RFA beyond next season Zach Bogosian goes into 2012 looking for a long term contract extension. His strong defensive awareness, physical presence and heavy shot combined with exceptional skating ability and untapped offensive acumen make Bogosian a very exciting young player within the Jets organization. Drafted third overall in the 2008 NHL entry draft the Massena New York native is entering the final year of a 2 year deal. Quick to profess his comfort in the Winnipeg community his hardnosed style of play and strong work ethic resonate loud with Jets faithful. Unfortunately for Bogosian, during off season workouts a chronic ligament tear in his right wrist became increasingly uncomfortable and team doctors determined the best course of action was surgery. The injury typically requires 4-6 months to fully heal which puts the avid outdoorsman on the shelf until at earliest, the New Year. Look for the Jets to stay within the organization for a short term replacement.
An ever increasing American flavor to the Jets defense corps includes Mark Stuart, who with his blue collar work ethic brings an intense prairie level of truculence to the teams' backend. Revered instantly by Turbo mad Jet fans for his inspired efforts, punishing play and willingness to sacrifice any part of himself. Stuart would likely be more effective in a 5/6 role but can play big minutes if necessary and will certainly be required to short term with the absence of Bogosian from the lineup.
Veteran Ron Hainsey enters the final year of his deal with a cap hit of just over 4M and is unlikely to factor into the Jets long term plans. A strong start for Hainsey could help in maximizing the potential return come deadline day. A strong presence in the ongoing Collective Bargaining Agreement negotiations it remains to be seen how Hainsey's involvement will affect his preparedness for the (hopefully) eventual season.
Versatile Grant Clitsome is a thick bodied strong skater who has proved to be a very decent waiver pick up by GM Cheveldayoff. Clitsome provides affordable depth and may perhaps with a strong season, garner a multiyear contract with the team. This will most likley depend on the progression of several organizational prospects.
Recently signed to a one way contract with the Winnipeg Jets for 2012-13 Paul Postma has finally arrived and will be given every opportunity to secure a full time position amongst the Jets starting lineup. With natural offensive abilities Postma was the St John's Ice Caps MVP in 2011-12 with 44 points in 56 games. He consistently displays all the abilities and intangibles of a full time big leaguer.
With Bogosian out for up to 6 months and presuming a season is in fact had, Zach Redmond, Derek Meech or Will O'Neill could all earn an opportunity to compete at the NHL level. The 6'2″ 210lb, 24 year old Redmond is the most likely to see significant ice time. The potential to add a veteran defenseman via free agency, by trade or off waivers is low.
Derek Meech & Brett Festerling bring some NHL experience to the depth chart and will likely prove to be valuable assets with inevitable man games lost. Julian Melchiori, Ben Chiarot and Zachary Yuen could all play their way into the mix, however should form the core of a very solid blueline in St John's.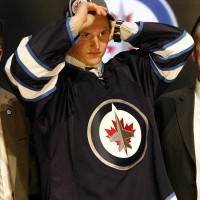 The brightest defensive star in the Jets stables is unequivocally recent 2012 ninth overall draft pick Jacob Trouba. Still growing at 6'3″ and nearly 200lbs The USDL graduate will bask in the tutelage of Red Berenson at Michigan State University of the NCAA. Trouba will surely find himself on the roster of the US world junior team this year and in the relatively near future a spot on the Winnipeg Jets blueline.
Also in the system is Strong skating project Cody Sol,an intriguing prospect with a massive 6'4" 245lb frame, loads of raw potential and a nasty disposition. At 21 Cody is no longer eligible to play in the CHL and I suspect a pro season or two on the rock with the Ice Caps will most certainly be his immediate destination.
With Byfuglien and Enstrom both signed to long term contracts and Zach Bogosian and Mark Stuart likely soon to follow, there appears to be a strong core of young defenders set to enter their prime playing years gathering in Winnipeg. It's clear that True North has a long term plan to build a perennial contender by employing a versatile, strong skating, young, physical defense that is more than capable of contributing heavily to the offense.
This group has no shortage of ability and under the direction of second year assistant coach and defensive specialist Charlie Huddy should prove to be a great strength for the organization going forward.