A modest $1 million investment the Winnipeg Jets made in their blue line this offseason is paying off nicely so far.
That investment was in Derek Forbort, who has been one of the team's strongest defensemen through the first fifth of of the 2020-21 NHL season.
Not Such a Bad Signing After All
The Jets' signing of Forbort to a one-year deal in early October was not well-received. The 6-foot-4, 220-pound UFA defenceman was coming off a season where he played just 20 games due to injury.
Related: Can Derek Forbort Help the Jets' Defence?
Forbort was the first non-internal blue-line signing by general manager Kevin Cheveldayoff. Many expressed belief that he was a small fish in the free-agent pond, and were frustrated Cheveldayoff did not sign someone higher profile; someone who could more substantially improve the patchwork defence they watched struggle through 2019-20.
Forbort is Doing It All, and is Doing It All Well
Through 10 games, the Duluth-born Forbort has five points (all at even strength) and is plus-four. He's using his size to his advantage and is fourth on the team with 18 hits. He has also been willing to sacrifice his body, as he's first on the team with 19 blocked shots.
He is eating up minutes, too, sitting third among Jets' defensemen with 20:28 ATOI per game. That's the highest mark of his career.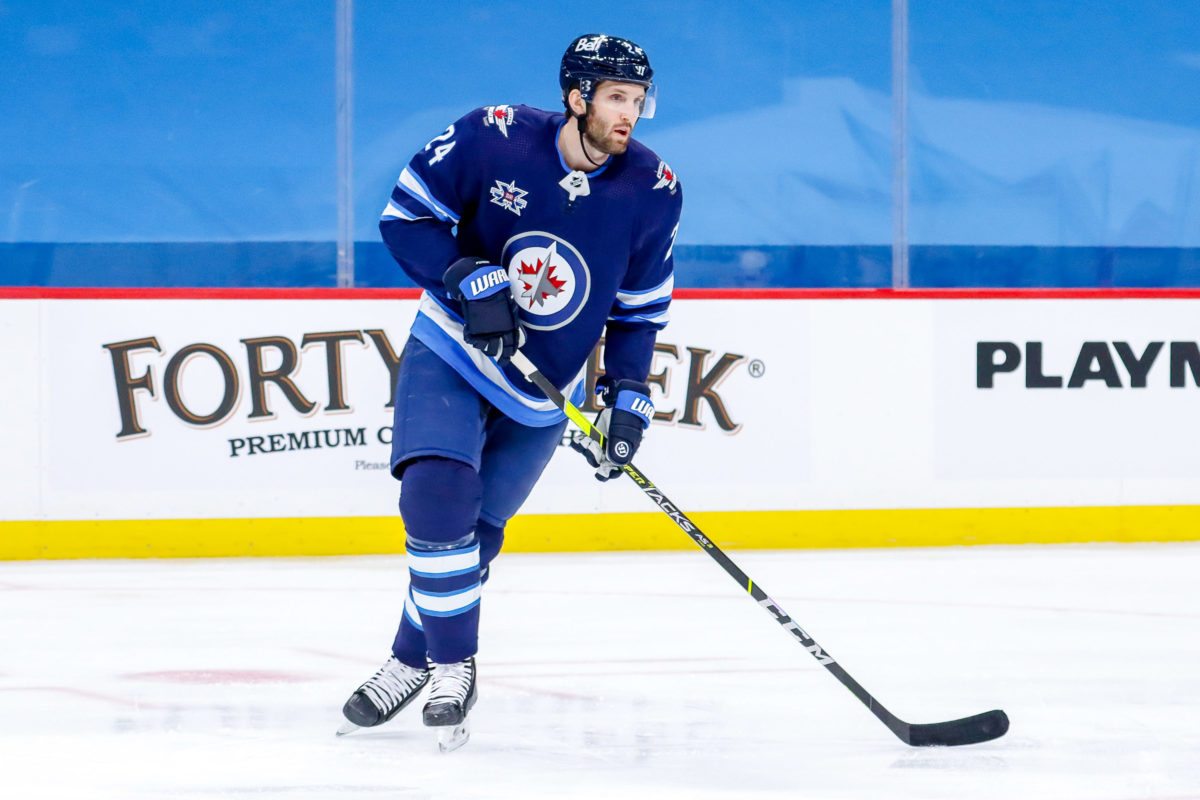 Possession-wise, his CORSI and Fenwick at even strength both sit above 50 per cent. Of the four Jets' d-men who have actually played all 10 games (Nathan Beaulieu, Josh Morrissey, and Neal Pionk in addition to Forbort,) his 41 high-danger chances allowed are the lowest.
Only four of the 41 high-danger chances against Forbort have resulted in goals against. The Jets have scored five goals on high-danger chances when Forbort's been on the ice, so he has a positive ratio in that regard.
Offence has never been a hallmark of his game, but Forbort is the only Jets' defenseman with a goal this season. He scored his first in a Jets' jersey — and just the seventh of his career — on Tuesday against the Calgary Flames.
That goal turned out to be the game-winner. In that game, he also made a superb but unorthodox play that preserved a one-goal lead in the dying minutes, batting a puck with his hand out of mid-air that was behind Laurent Brossoit and destined to drop into the net.
"I just kind of knew it wasn't gonna be in a good spot no matter what," Forbort said of the split second decision after Tuesday's 3-2 victory. "It happens pretty quick and you just kind of swat it to get it out of there. Felt like I was playing volleyball back in California."
Forbort's Proving He's a True Top-Four Defenseman
Chosen 15th overall in the 2010 NHL Entry Draft by the Los Angeles Kings, Forbort had the privilege of playing alongside franchise defenceman Drew Doughty often throughout 268 games over parts of five seasons.
He's now proving his worth as a top-four defenseman even without Doughty.
Forbort has mainly been paired with fellow Minnesotan, friend, and offseason training partner in Neal Pionk. The two have great familiarity with each other and chemistry together.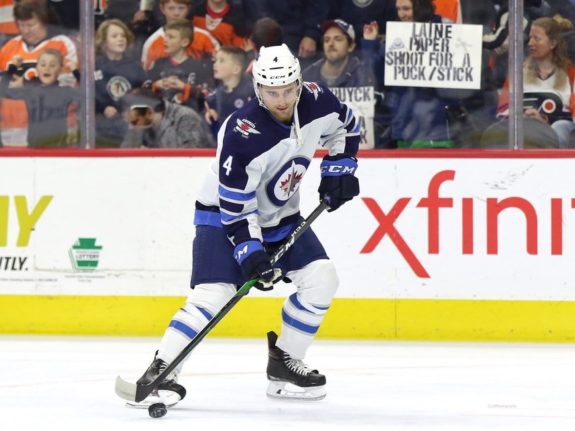 Even though head coach Paul Maurice has constantly altered his d-pairings, the Forbort/Pionk combo has been a near constant since they've been so effective.
"You got a big man and a puck mover," Maurice said of the pairing post-game Tuesday. "Both compete real hard. If you look at — and I don't think this is necessarily part of your analytics — but if you look at kill plays, plays where one team has possession and the play gets stopped and you get possession back, and you measure that, Forbort and Pionk have got really good numbers in that area," Maurice.
They can defend, they both compete really well…" he continued. "They look like they've got something that they're building on."
Forbort's Prowess Helping Penalty Kill Return to Respectability
Forbort has been a fixture on the Jets' penalty kill, a unit that's killed off 17 of it's last 19 over the past seven games and is perfect in six of those seven. The PK is now 12th in the NHL at 82.4 per cent after giving up four goals in its first three games.
Last season, the Jets' PK was 22nd in the league and killed off just 77.6 per cent of their penalties.
Forbort is a big part of that 4.8 per cent jump. He's second among Jets' d-men with 23:13 of shorthanded TOI, and is averaging 2:19 of shorthanded TOI per game. He has been on the ice 49.1 per cent of the time the team's been down a man.
Forbort Appreciated by Maurice, Teammates for Genuine Nature
Forbort is a good player and by all accounts, a good person too. Maurice said Forbort is well-liked in the dressing room as a genuine guy.
"(Forbort is one) of those fun guys, who had to work really really hard to get into the league, really hard to stay in it, but have figured out the most important thing and that is to truly enjoy it: being around the guys, being one of the guys, telling stories, telling jokes. He doesn't have a brand, right? he's not selling anything. He's just a hockey player…" Maurice said.

Paul Maurice on Derek Forbort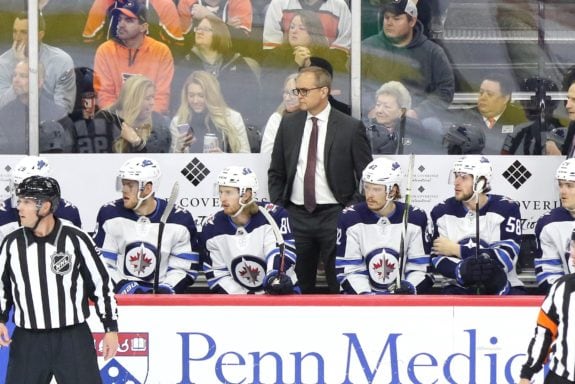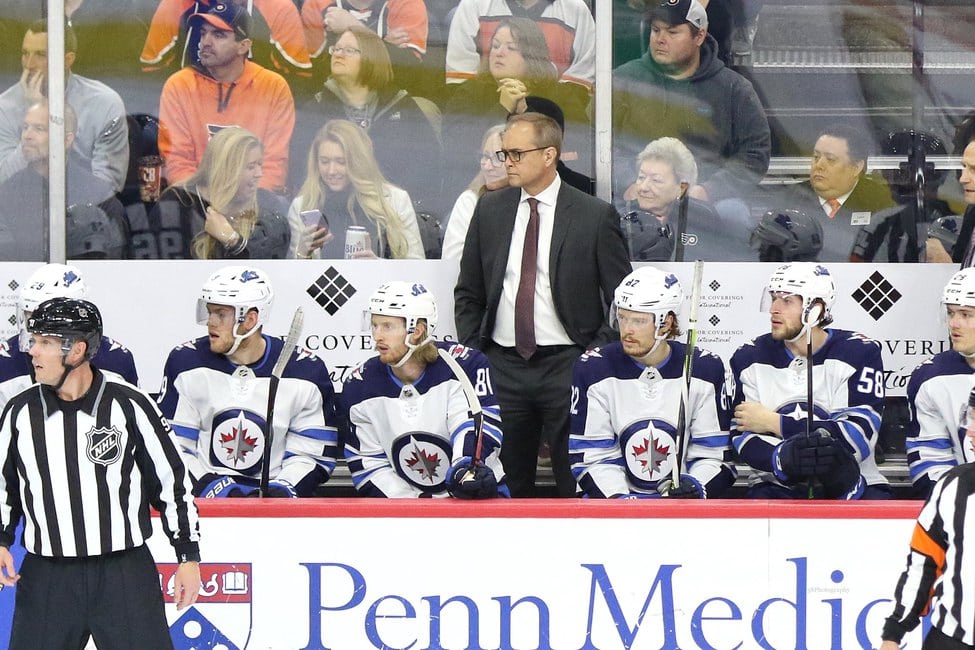 "Those guys in your room get such amount of respect from everybody, right? They're so appreciated. I'm happy for him. He's found a place and what a great mentor for Logan Stanley, another big man… Kevin (Cheveldayoff) picked up a real good one for us there."
The feeling is mutual. Forbort's said he's enjoyed his time in Winnipeg during this one-of-a-kind season.
"(The Jets) are a fun team to play on," he said. "It's a fun group to come to the rink every day with and it's been a blast going out there and competing with them, so it's been good."
Good indeed, for all parties so far.
---
---