The Winnipeg Jets have allowed three or more goals in 15 straight games. While goaltending is responsible for a percentage of those goals, the Jets' blueline needs to bear the burden too. While the Jets are often associated with the "draft and develop" technique of building a team, the statement falls quite short in the defence department.
Since the franchise's relocation to Winnipeg from Atlanta, the Jets have drafted 44 players, 15 of which have been defencemen — three in 2011, one in 2012, five in 2013, two in 2014, one in 2015 and three in 2016. The shocking part is that only two have gone on to play an NHL game: Jacob Trouba (2012) and Josh Morrissey (2013).
While it is too early to tell what a guy like 2016 first round pick Logan Stanley could bring, these results are still extremely concerning.
Can Chevy Get it Done?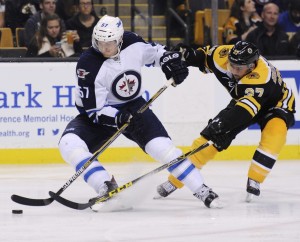 General manager Kevin Cheveldayoff has some major work to do this offseason. Not considered a very active general manager, Cheveldayoff prefers the quiet, effective approach. Since the 2011 draft, he has completed only 22 trades. To put that in perspective, Stan Bowman and the Chicago Blackhawks have made 48 trades in that time.
In Cheveldayoff's 22 deals, he has only acquired three defensemen: Jay Harrison, John Negrin and Tyler Myers. He has only dealt three as well: Harrison, Johnny Oduya and Zach Bogosian.
This year is so unique in that it is the year of the Expansion Draft. The Vegas Golden Knights will have the opportunity to select one player from all 30 clubs to construct their team. Teams have the choice to either protect eight players (forward or defence) and one goaltender or seven forwards, three defencemen and one goaltender.
If the Jets elect to go the eight players and one goalie route, we have nothing to worry about in the top four. They would protect Trouba, Myers, Toby Enstrom and Dustin Byfuglien. This would leave four spots to protect their forwards, which is a completely different conversation for another day.
Cheveldayoff can alternatively go with seven forwards, three defencemen and one goalie instead. The Jets find themselves in a complicated situation with protecting defensemen seeing that both Byfuglien and Enstrom have no move clauses (NMCs) and the Jets are obligated to protect them. This leaves Trouba and Myers with the option to protect only one. Who would you choose?
The Big Decision
The first thing Cheveldayoff should do is ask Trouba, Winnipeg's best defenceman this season, if he wants to be a Jet long-term. Well no — he very first thing he should do is ask Enstrom to waive his NMC, but for argument's sake, we'll say Enstrom does not give permission to waive.
If Trouba wants to stay in Winnipeg long-term he will provide a 22-year-old, right shot defender who can play in all situations. You know, that guy about 30 teams are looking for right now. If Trouba does not want to sign a big deal with Winnipeg, things become very interesting. Cheveldayoff will be faced with the near-impossible task of finding a player with a similar age, price and ceiling as Trouba, only a left shot.
Myers, who will likely miss the rest of the season with a lower-body injury, would perhaps be an easier trade to pull the trigger on. Don't get me wrong, the 6-foot-8 monster has been the Jets' second-best defenceman the last two seasons and has outplayed Trouba much of the time since being acquired (or rather stolen) from the Buffalo Sabres.
Trading Myers would be a hard pill to swallow. His big body and long stick are missed in front of their net even in his short time gone. A required piece in return if the Jets are trading Myers would have to be another defender to solidify a rather weak third pairing.
The Bottom Line
If the Jets can enter next season with the righty-lefty combinations of Byfuglien-Enstrom and Trouba-Morrissey in their top-four, they should be in good shape. It's their third pair that is really below average.
Let's face it, as good of a leader and character guy he is, Mark Stuart isn't an everyday NHL player anymore. His foot-speed is not up to standards and his questionably timed hits leaving his partner and goalie out to dry have grown old.
Paul Postma and Ben Chiarot are serviceable number-seven defencemen capable of jumping in and playing minutes if injuries occur, but should, in no way, be in a team's regular rotation. But what better options does head coach, Paul Maurice, have?
https://twitter.com/ICdrew/status/829169883355176960
If the Jets want a chance to really compete for a playoff spot next season, they are going to have to be at least two defenceman better at the start of training camp. Long-term, the Jets are going to have to take a very long look at their strategies when drafting defencemen.