Although the Winnipeg Jets still have 79 games left to play, there's plenty to glean from their first 180 minutes of regular season hockey. Here are three takeaways from the Jets' first three games.
1: Top Line as Good as Advertised
The trio of Blake Wheeler, Mark Scheifele, and Kyle Connor are off to an excellent start and look every bit like the formidable foes they were in 2017-18, where they accounted for 208 points, nearly 30 per cent of the Jets' total offence. In fact, they look even more fearsome than last season and seem telepathically linked.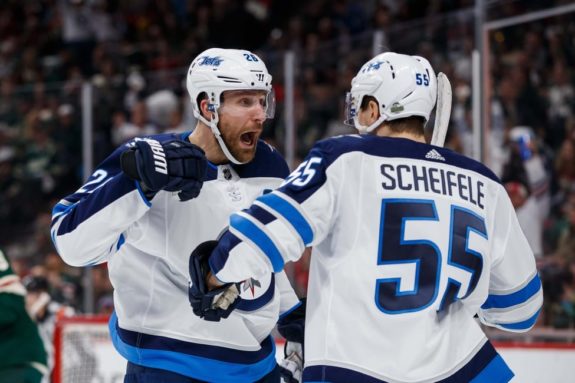 They looked primed in the preseason and through three games, generating five of the Jets' eight goals and 10 of the team's 23 points. They've logged heavy minutes, too, each averaging between 20 and 22 minutes per game.
In their season opener against the St. Louis Blues last Thursday, the line combined for six points in a resounding 5-1 victory. Scheifele and Wheeler set up Patrik Laine for the game's opening goal. In the third, Scheifele stole the puck from Vince Dunn in the neutral zone and sent Connor, who'd just stepped out of the penalty box, in on a two-on-one with Wheeler. Connor hit Wheeler with a precise pass and the latter tapped it past Jake Allen.
What a pass! What a goal!

🚨: @BiggieFunke
🍎: @KyleConnor18
🍏: @markscheifele55 #GoJetsGo | #WPGvsSTL pic.twitter.com/qJr4nwCyqh

— Winnipeg Jets (@NHLJets) October 5, 2018
In their 2-1 home-opening win against the Los Angeles Kings on Tuesday, they were back at it, producing both of the team's goals and tallying a point each. Scheifele opened the scoring in the first and in the second, Connor scored the eventual game-winner on an off-side tap-in off Wheeler's pass from the circle. They controlled the puck in the offensive zone effectively, especially on the power play: on their first, they had a full straight minute of zone time.
There's no reason to believe anyone will slow them down for any length of time: they work the puck into the "home plate" area almost effortlessly, are all accurate shooters, have a litany of options they can execute perfectly, and ooze chemistry.
2: Jets Can't Take Dumb Penalties
In their games against the Blues and Dallas Stars last Thursday and Saturday respectively, the Jets spent too much time in the sin bin, taking nine minor penalties in total. In their season opener, the Jets' penalty-kill escaped without allowing a power-play goal despite giving up 12 shots, many of which were high-quality chances, and looking particularly passive. This was only possible because Connor Hellebuyck bailed them out with a number of excellent saves.
On Saturday, however, they spent too much time down a man again and it cost them; the Stars' high-octane unit of Jamie Benn, Tyler Seguin, and Jason Spezza connected for three power-play goals on five chances and a combined seven special-teams points.
Benn continues to make the Jets pay as Winnipeg gives up another power play goal. 4-1 for Dallas.

— Illegal Curve Hockey (@IllegalCurve) October 7, 2018
The penalties in Dallas were mostly careless. Dustin Byfuglien and Tyler Myers were the worst offenders as Byfuglien crosschecked Mark Methot from behind in the first period and in the second, got nailed for pointlessly clutching Alexander Radulov's stick (Byfuglien had possession of the puck at the time). That penalty was a killer. Kyle Connor cut the Stars' 2-0 lead in half with an early second-period goal and the Jets appeared to have grabbed some momentum. However, the Stars capitalized on the man advantage and regained their two-goal cushion.
Myers took an interference penalty in the first after he slowed up Radek Faksa. In the third, he didn't keep tabs on his stick and caught Tyler Pitlick up high. For the latter infraction, Myers sat for just six seconds before the Stars put the game to bed by extending their lead to 4-1.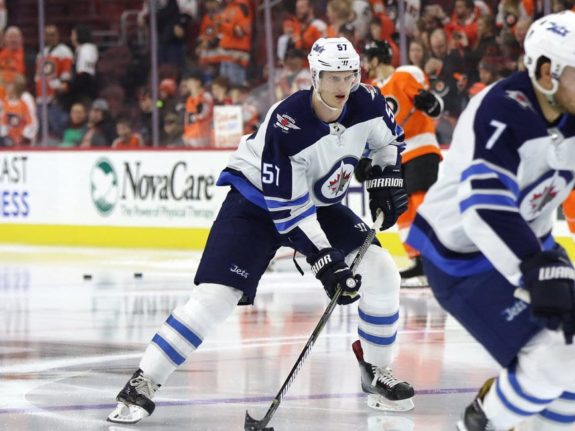 "Undisciplined play, a leaky penalty kill and far too many quality chances against added up to a fairly predictable and certainly justified 5-1 loss to the Stars at American Airlines Center," the Winnipeg Free Press' Mike McIntyre summarized in his game recap (from 'Jets go down 5-1 to Dallas Stars', Winnipeg Free Press, 10/06/18).
"It's just slow…" Paul Maurice said Monday of his squad's penalty kill. "Trying to get the routes right at the expense of getting them done quickly. A little too aware so we end up standing around an awful lot and not nearly enough pressure on the puck right from the entry. We'll look to get a little faster on that, a little quicker."
On Tuesday, the Jets mostly avoided any self-inflicted wounds and were much better on the penalty kill, surrendering only two chances. However, Myers was lackadaisical with his lumber again and took a high-sticking penalty in the dying minutes of the third, setting up a nail-biting finish.
3: Jets Need More from Ehlers
While the top line is firing on all cylinders, Nikolaj Ehlers is stuck in neutral.
The 22-year-old Dane is still mired in the slump that plagued him in the latter part of the 2017-18 season and has been held without a point this season. In fact, Ehlers has scored just four goals dating back to the beginning of March — a span of 34 games — and was held without a goal in the Jets' deep playoff run.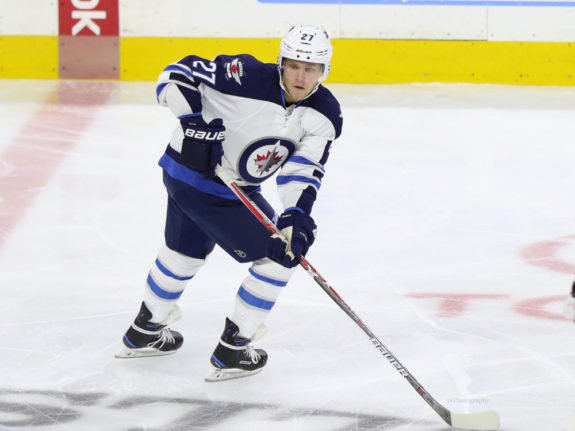 Ehlers was completely invisible in the Jets' season opener, playing only 10:24 on the fourth line with Jack Roslovic and Kristjan Vesalainen, that's very few minutes for a player being paid $6 million to help carry the offensive mail. In the second and third period on Saturday, Ehlers was reunited with Patrik Laine on a second line centred by Bryan Little, but they didn't generate much.
In the Jets' home opener, Ehlers was better; he had a few good chances and used his incredible speed to create space but still played a relatively low 11:25. He also spent time on the point with Myers on the second power-play unit.
Ehlers has had a tough go finding the scoresheet of late but for all his strengths, it's hard to believe the 29-goal scorer will remain pointless for long. He just needs a goal to get the monkey off his back.
Tough Games Coming Up
After starting the season against three strong opponents, the next two games won't be any easier. They'll head to Nashville for a battle of the NHL's best on Thursday against the Predators who will be looking for revenge after being knocked off by the Jets in last spring's exciting second-round series. Then, the Jets face the upstart Hurricanes on Sunday.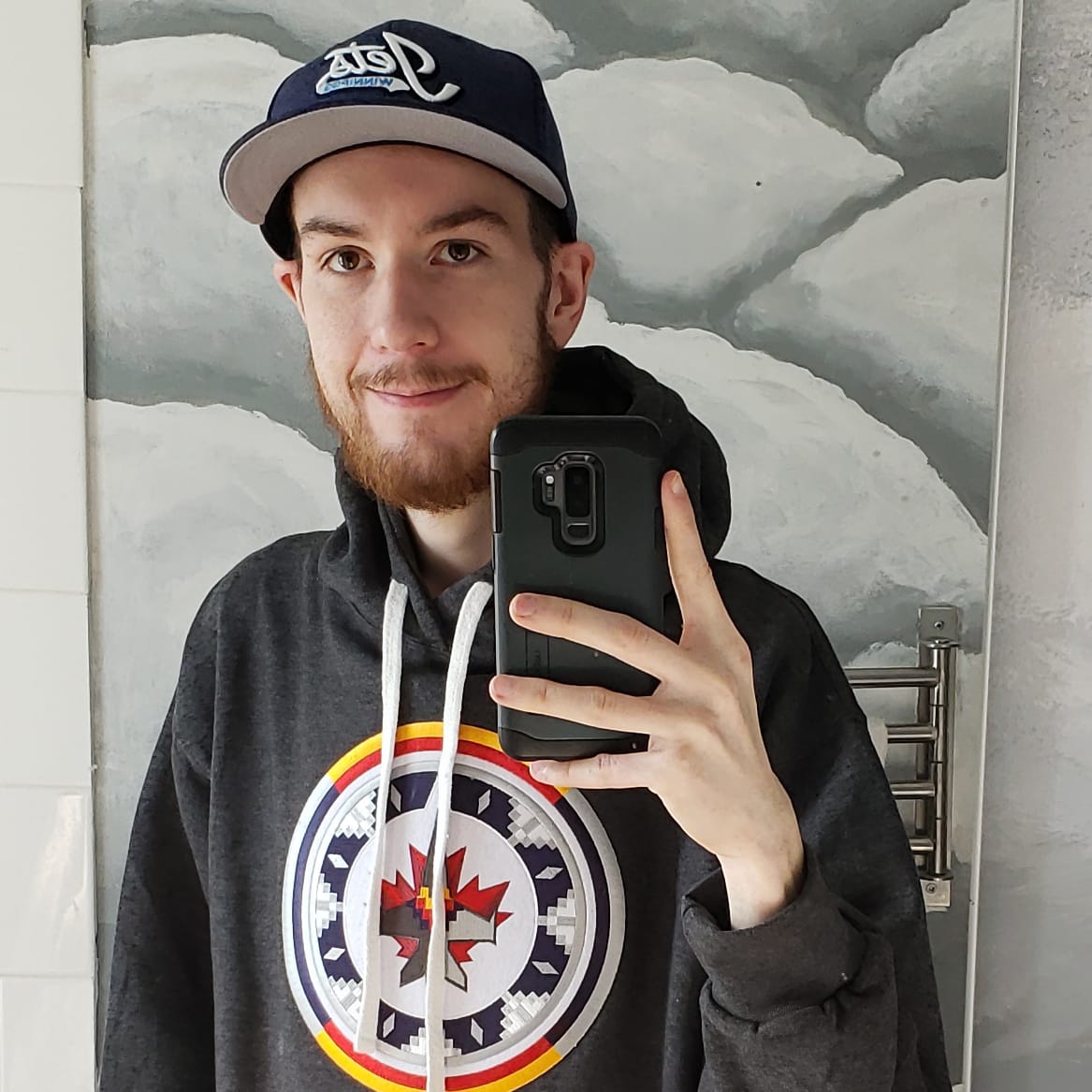 Declan Schroeder is a 27-year-old communications specialist and freelance journalist in Winnipeg, Manitoba. He holds a diploma in Creative Communications with a major in journalism from Red River College and a bachelors in Rhetoric and Communications from the University of Winnipeg.
Deeply rooted in the city's hockey culture, the original Jets skipped town when he was two and the 2.0 version came onto the scene when he was 17.