It's hard to believe Nikolaj Ehlers only has 154 NHL games to his name. His threatening rushes have become a trademark with the Winnipeg Jets and his confidence makes him look like an experienced player.
The dazzling Dane's breakaway speed, dynamite hands and tremendous vision are just a few assets he brings to the table. This shouldn't be surprising given the fact Ehlers was absolutely dominant at the junior level. In his 114 career Quebec Major Junior Hockey League games, he notched 86 goals and 119 assists for a total of 205 points. His elite play didn't drop off in the postseason either as he recorded 59 points in just 30 playoff games.
Ehlers quietly put together an impressive rookie campaign but his sophomore season was a work of art. He put up 64 points, 52 of which came at even strength, proving he is a horse 5-0n-5. I would, however, look for his power play numbers to bump up.
Since entering the league, Ehlers is 72nd in scoring. With just two seasons under his belt, a talent of his caliber is exciting and he's improving every day, using his breathtaking speed as his biggest weapon.
Is it just me or does Nikolaj Ehlers look even faster this year? #RocketSkates

— Ezra Ginsburg (@ICEzzyG) September 28, 2017
While he has produced at an impressive rate, the real battle came on the mental level. Bracing himself for every game through the gruesomely long season can be a challenge, especially when he first arrived in his new surroundings.
Understanding the Game
All NHL players were at one point their team's best player. Whether that team was in bantam or junior, they all had a season that put them over the top. The dynamic forward grew up being the best at his craft in all of Denmark. Internationally, he was unequivocally their best player.
Hockey wasn't natural for him as it isn't for most Danish people but he continued to progress, eventually landing with the Halifax Mooseheads of the QMJHL. Once again, he became the go-to player on the team. In his first season, Ehlers was one of three Mooseheads in the top-ten in league scoring. His second season didn't disappoint, as the speedster ranked third in points, this time without any teammates in the top-ten.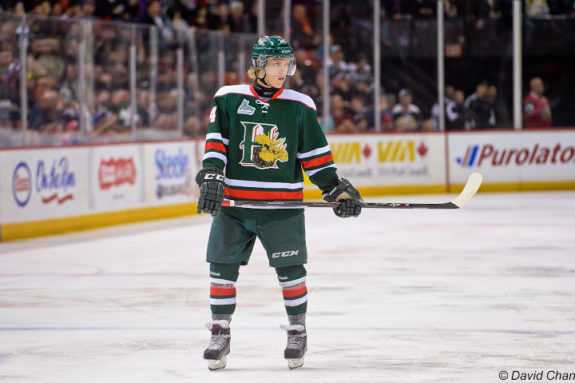 The 21-year-old is only scratching the surface of his potential but with big names like Mark Scheifele, Blake Wheeler and now, Patrik Laine prowling on the offensive attack, Ehlers may unintentionally take a backseat to them at times.This is something Ehlers wasn't familiar with. "Last year, I was thinking I have to go out there and make something happen every shift. If I don't do that, it's not good enough," said the Aalborg native. 
The Jets' solid leadership core guided the 6-foot, left winger through this difficult transition. "I learned how to play the game. I learned from Blake Wheeler [and] from the other guys. They teach me as much as they can and I try to listen as much as I can," he continued.
If the imaginative superstar's positive reception of criticism continues and he keeps working on his defensive play, there shouldn't be any doubt he can become a top-20 player.
Evaluating Ehlers
The Jets selected Ehlers 9th overall in 2014. As a top-ten draft pick, he was expected to be highly skilled and also make a relatively immediate impact with the club. Looking back at the 2014 draft now, one should not hesitate to say that Ehlers wouldn't look out of place getting drafted in the top-five. Aaron Ekblad, Leon Draisaitl and David Pastrnak are slamdunks in the top-five while Viktor Arvidsson and William Nylander are in the conversation.
Michael Dal Colle, Jake Virtanen, Haydn Fleury, Sam Reinhart and Sam Bennett were all drafted ahead of him and if the draft were redone today, none of them would be selected ahead of the spectacular Scandinavian.
Entering the third year of his entry-level contract, Ehlers should be preparing for a big payday. Of course, his performance this season will dictate his contract but if he continues on his current path, that should be no problem.
When considering his upcoming contract, a couple of former Mooseheads could be used as comparables, in Colorado Avalanche forward Nathan MacKinnon and the Montreal Canadiens' Jonathan Drouin. Both MacKinnon and Drouin are remarkable talents and have earned their respective deals. If the NHL was going to the Olympics, the two would merit serious consideration from Team Canada.
MacKinnon is a luminary on a dreadful Avalanche squad. His incredible drive and ability to see the play before it happens makes him among the league's best on the attack. A MacKinnon style contract is one  possibility.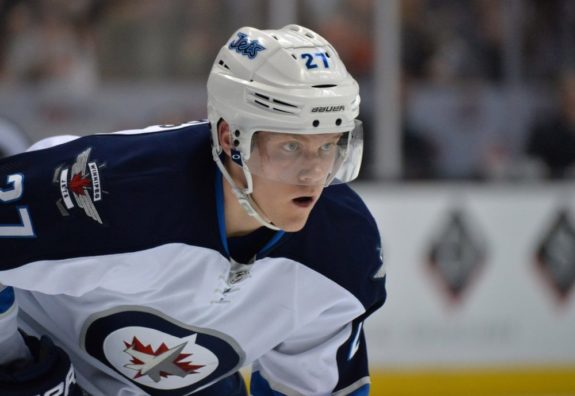 After his entry-level deal expired in 2016, the Avs inked him for seven years at $6.3 million per season. Ehlers statistics through two seasons suggest he is right in that ballpark.
The second possibility would be constructing a Drouin-type deal, preferably one without the nasty negotiation. His play took off with the Tampa Bay Lightning last season after the team and player mended their broken relationship.Lightning general manager, Steve Yzerman still had to ship out a forward and Drouin was sacrificed to the Canadiens for Mikhail Sergachev.
Ehlers has actually been dubbed by some as "The Danish Drouin" because of their mirroring speed, release and ridiculously silky mittens. Drouin's cashed in on a six-year deal worth $5.5 million per season. Though Ehlers is likely destined for a big cheque, what really matters is his competition level and desire to win every night. The Jets are always considered an up-and-coming team and Ehlers should be at the forefront.