Every team needs a player like Mathieu Perreault. He's a solid character, a veteran with good playmaking ability, and a depth scorer who, as advanced statistics prove, makes the players he skates with better. He's also valuable for his versatility and ability to step into any role on any line without missing a beat — usually. Lately, though, he's mired in a nasty slump and hasn't been drumming up much at all. It's been an up-and-down season for the 30-year-old forward and with the playoffs looming the Jets need him to level out.
Mathieu Perreault has been pretty awful for over a month. He needs to get going #NHLJets

— 🌴🌴Chris Fantini✊🏿✊🏾✊🏽✊🏼✊🏻✊ (@Fantiniastic) March 28, 2018
Slumping Down the Stretch
Perreault has been bogged down in a nasty slump for over a month now, as he's struggled to produce anything for his team. His wheels were stuck in the muck all March.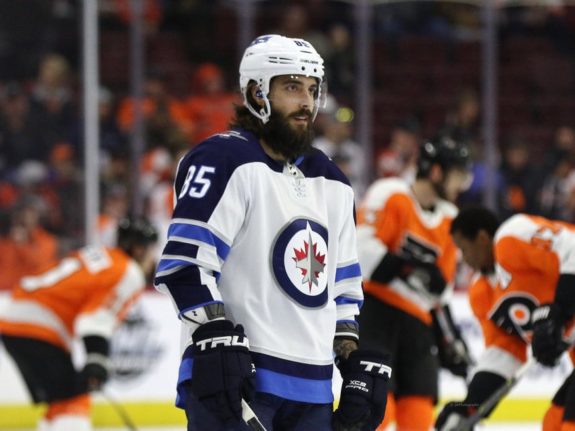 The last six weeks, really, have been a huge disappointment for the fantasy-league-sleeper-pick darling turned dud. He's been almost silent since mid-February, tallying a paltry two points in his last 20 games. Between Feb. 20 and Mar. 25 — a span of 15 games — he didn't record a single point. Perreault's recent cold wave is puzzling given his red-hot first half, in which he recorded 37 points in 47 games under some unusual circumstances.
#NHLJets' Mathieu Perreault has not scored since February 18th, and has two goals in his last 24 games.

— Carter Brooks (@CBrooksie84) March 21, 2018
Perreault is playing on the left wing on a line centred by Bryan Little and flanked on the right side by Joel Armia, but the three haven't found much chemistry. Combined, they had just 13 points in 15 March match ups. It's almost stupefying how little an impact the line has made given how much talent they have and that Perreault meshed well with both of his linemates at other times.
For a dependable depth scorer to falter to this degree, especially in a playoff push, is never ideal. Luckily, players such as Kyle Connor have picked up the slack and propelled the Jets into the playoffs.
A Tale of Two Seasons
While Perreault and Armia make up two-thirds of what's been arguably the Jets' worst line lately, earlier in the season, they were clicking on an unorthodox fourth line that began to become synonymous with the phrase "best in the NHL."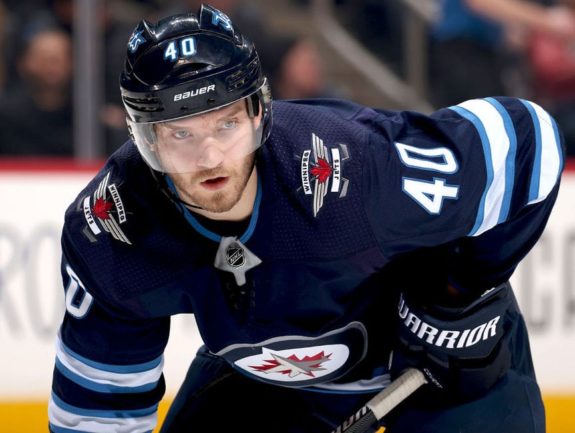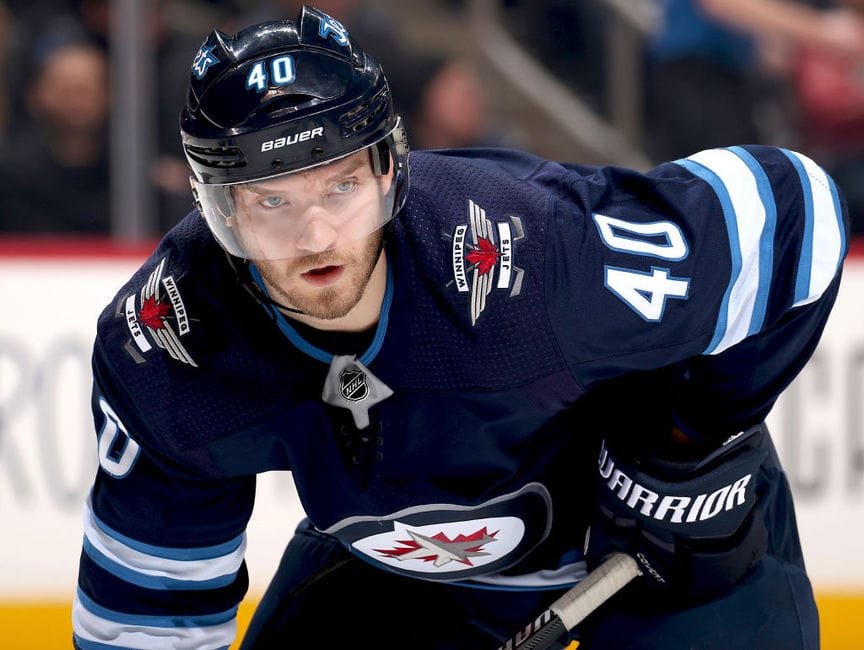 Perreault, with Armia and Matt Hendricks, proved a fourth line can be staffed by more than checkers and grinders. After Perreault returned from an injury, head coach Paul Maurice put him on the fourth line as not to break up the other lines.  It provided the Jets with scoring punch from the bottom-six they'd historically lacked. It wasn't supposed to be permanent but the line stuck around and Perreault picked up seven points in the same number of games.
"On the board we're a fourth line," he said in an interview with Mike McIntyre of the Winnipeg Free Press after a 7-2 drubbing of the Minnesota Wild. "But on the ice we certainly don't feel like a fourth line. We feel like we can produce every night and outplay every match we have on other team's fourth line. So I think it's a great matchup."
Perreault picked up top-six minutes after Mark Scheifele's late-December injury. He played with Bryan Little on the second line and did well there. (Brace Hemmelgarn-USA TODAY Sports)
The trio stayed together for much of December but after Mark Scheifele went down, Perreault jumped back up to the top six and played with Little and Nikolaj Ehlers on the second line. Times were heady for him; he posted 10 goals and 17 assists from December through February while regularly playing close to 20 minutes a game. However, near the tail end of February, the cold streak began.
What Will Jets Do with Perreault During Playoffs?
The Jets are 13-5-1 since Perreault's slump started, thanks in part to their outstanding play at Bell MTS Place all season. However, the Jets will need to jumpstart his engine and get his tires back on the road if they want playoff success. Over a long series, teams need all their lines clicking and all their players confident. After all, it's versatile, high-character guys like Perreault who often take the role of playoff heroes.
One option is to switch up the lines. Perreault played some of his best hockey this year at centre and has won a career-high 54.4 percent of his faceoffs. However, there's no opportunity for him to move to the middle right now. Scheifele and Adam Lowry, both healthy, are firmly entrenched in the middle, as is Paul Statsny, who the Jets acquired at the trade deadline. Little doesn't play left wing, so there's no room to do internal line swapping, either.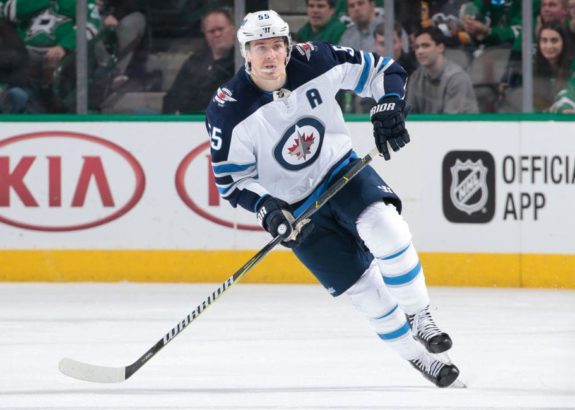 Another option is to scratch Perreault until playoff time. Giving him a chance to see the game from up top, rest, and reflect could help him refocus. When players slump they often try to force their way out of it by doing too much, rather than playing to their strengths and trusting success will follow if they do the right things. Perreault simply looks frustrated right now.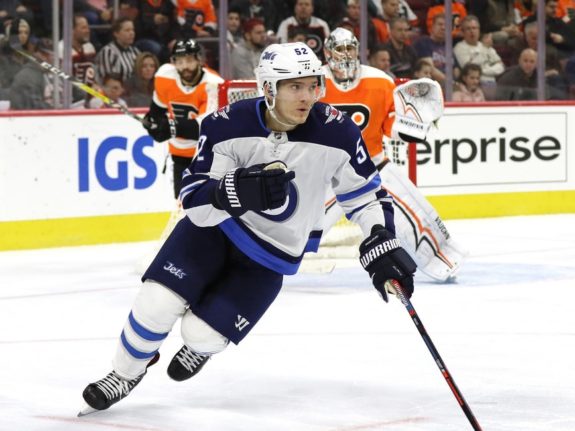 If there was ever a time to give Perreault a few games off, it's now. The Jets clinched home-ice advantage with a win over the Toronto Maple Leafs last Saturday, so they're basically playing to keep their momentum going into the playoffs. The Jets could rest Perreault and dress Jack Roslovic.
The 21-year-old rookie's role has fizzled in recent weeks; he hasn't played since Mar. 15. Getting him into the lineup would keep him fresh in case of a late-season or early-playoff injury. However, Maurice would have to break up the Ehlers-Statsny-Laine line to make it work; that line hasn't been putting the league on notice like they were a month ago, anyway.
The last option is to do nothing and hope Perreault has the mettle and maturity to pull himself out of this bad stretch by force of will. He did score the eventual game-winning goal against Ottawa on Monday, his first in 20 games. Perhaps that goal will get him back on track.
At the end of the day, the Jets desperately need Perreault to pick up the pace soon and return to his earlier-season form. When he's on, he gives their offence added dimension, dynamism and depth — something they'll need if they want to vie for a Stanley Cup.