Winnipeg Jets management has swung its knives over the past week and finalized the club's 23-man opening-night roster. For the first time since going pro full-time prior to the 2016-17 season, Brendan Lemieux survived Paul Maurice and Kevin Cheveldayoff's chopping block.
Although the 22-year-old has cracked an opening-night NHL roster for the first time in his career, it doesn't mean he's arrived. Even though he worked hard to grab a roster spot, his real work is only beginning.
Lemieux's Solid Preseason
The son of famed NHL agitator Claude Lemieux is a near embodiment of his dear old dad. Rougher than 40-grit sandpaper, Lemieux is tenacious, hard-nosed, and makes liberal use of his body and knuckles. Not afraid to get deep in the mire, he's usually the first guy into a donnybrook and the last guy out of one.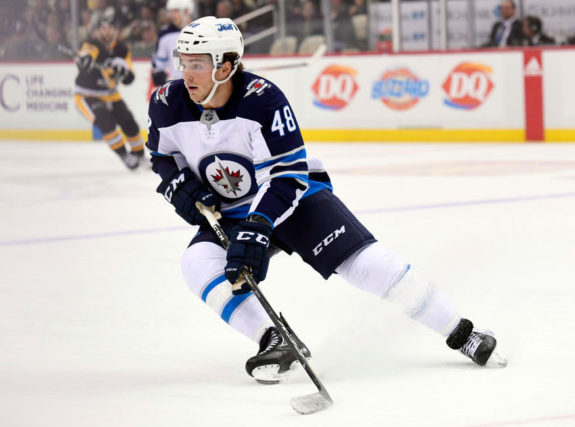 However, being a pest, in itself, is not an asset, nor is it enough to get you a spot in the bigs.
"Being an agitator alone doesn't keep you in the NHL," Paul Maurice told the Winnipeg Sun's Paul Friesen in the latter part of September's training camp. "It just makes you a pain in the ass for both teams. You've got to be able to do something. And he's got some game." (from 'After long journey, Jets' Lemieux almost home', The Winnipeg Sun – 26/9/19)
Indeed, Lemieux has game and put his more refined skills on display during preseason. While he only tallied one point, he used his improved speed — which used to be an issue — to generate good chances throughout his five preseason games. It was his speed through the neutral zone and shot that produced a rebound that led to Marko Dano's first-period goal against the Minnesota Wild on Sept. 17. That's not to say Lemieux didn't demonstrate his chippy side either — he crashed, banged, and got into a spirited scrap with Nick Seeler.
Lemieux has always been capable of producing points. His offensive upside became clear in his 2017-18 sophomore campaign with the Manitoba Moose, where he racked up 19 goals and 24 assists in 53 games — nearly a point per game. He possesses a sneaky shot and excels in front of the net, and as such, he frequently scores tip-in and rebound goals.
#MBMOOSE GOAL!! Aaaaand it's 6-1 just 12 seconds into the period! Brendan Lemieux with a slick backhand finish on a breakaway. #GoMooseGo pic.twitter.com/T8ajRWOi41

— Manitoba Moose (@ManitobaMoose) November 29, 2017
This preseason for the Jets, Lemieux also drew time on special teams. On the power play, he acted as an effective screen, and on the penalty kill, he used his good active stick to disrupt plays and break up passes.
Perhaps just as important as what he did is what he didn't do — namely, take needless, undisciplined penalties. Aside from the fighting major, he took just one minor. He's had a penchant for playing over the line rather than on it in his two seasons with the Moose, which, at times, put him in the doghouse with bench boss Pascal Vincent.
Lemieux a Unique Commodity In Jets' Organization
As The Hockey Writers' very own Rob Mahon opined in mid-August, Lemieux is the perfect candidate to fill a bottom-six sandpaper role and is a guy opponents hate to play against. The NHL has progressed to an age where enforcers — those who can chuck knuckles but are otherwise liabilities — are no longer gracing rosters. However, every team still needs a player like Lemieux, who can hold opponents accountable if necessary but also chip in offensively and not get burned.
"Right now, the Winnipeg Jets have a lot of skill up front," Mahon wrote. "They've managed to mix some sandpaper in, but are lacking players with both attributes. Lemieux has both in spades. If his footspeed is up to snuff, he could be just what Winnipeg needs in their bottom six."
Brendan Lemieux did score at most of a point per game for the Moose last season. He skates, he hits, he's killed penalties tonight… If Winnipeg wants a grit player / Hendricks replacement, he'd certainly be tempting one.

— Murat Ates (@WPGMurat) September 18, 2018
Lemieux is a compelling, unique player — and he knows it.
"There's not another player in this dressing room that plays the way I do," Lemieux said to Wiebe. "I'm not, per se, competing against another power forward, another guy who plays with an edge, another guy who just plays the way I do. There isn't one in this organization, really."
Press Box or Prime Time?
With the question of whether he's going to make the team out of the way, the question is now whether he'll be on the ice or watching from above.
The Jets have opted to go with 14 forwards and seven defensemen to begin the year, which means there's an extra guy vying for a bottom-six slot. Whether Lemieux is a spectator to begin the year depends on if the Jets feel his potential impact — and unique skills — outweighs Kristian Vesalainen's.
Line rushes from the Jets' Wednesday practice, which had Vesalainen skating on the fourth line with Jack Roslovic and Nikolaj Ehlers, and Lemieux and Dano rotating in, indicate Lemieux will be a scratch for Thursday night's season opener against the St. Louis Blues.
Lemieux's Real Work Starts Now
Nobody is going to be handing Lemieux anything — if he wants consistent playing time, he's going to have to earn it. One thing that's not in question is his work ethic. Both Maurice and his teammates have noted he never takes his foot off the gas.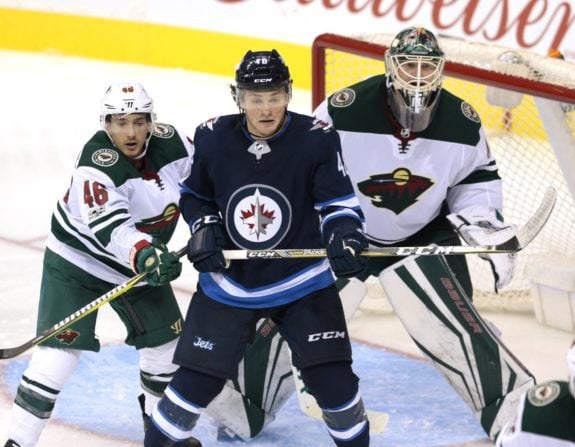 Even if it's not on opening night, Lemieux will eventually get his shot this season. Injuries are inevitable. Lines put together in preseason don't always pan out. In either case, Lemieux should be the first one given the opportunity to fill an open slot.
When he does get that opportunity, it will be up to him to prove his worth as someone who can bring something no other player on the roster can. It's at that point he will have truly arrived.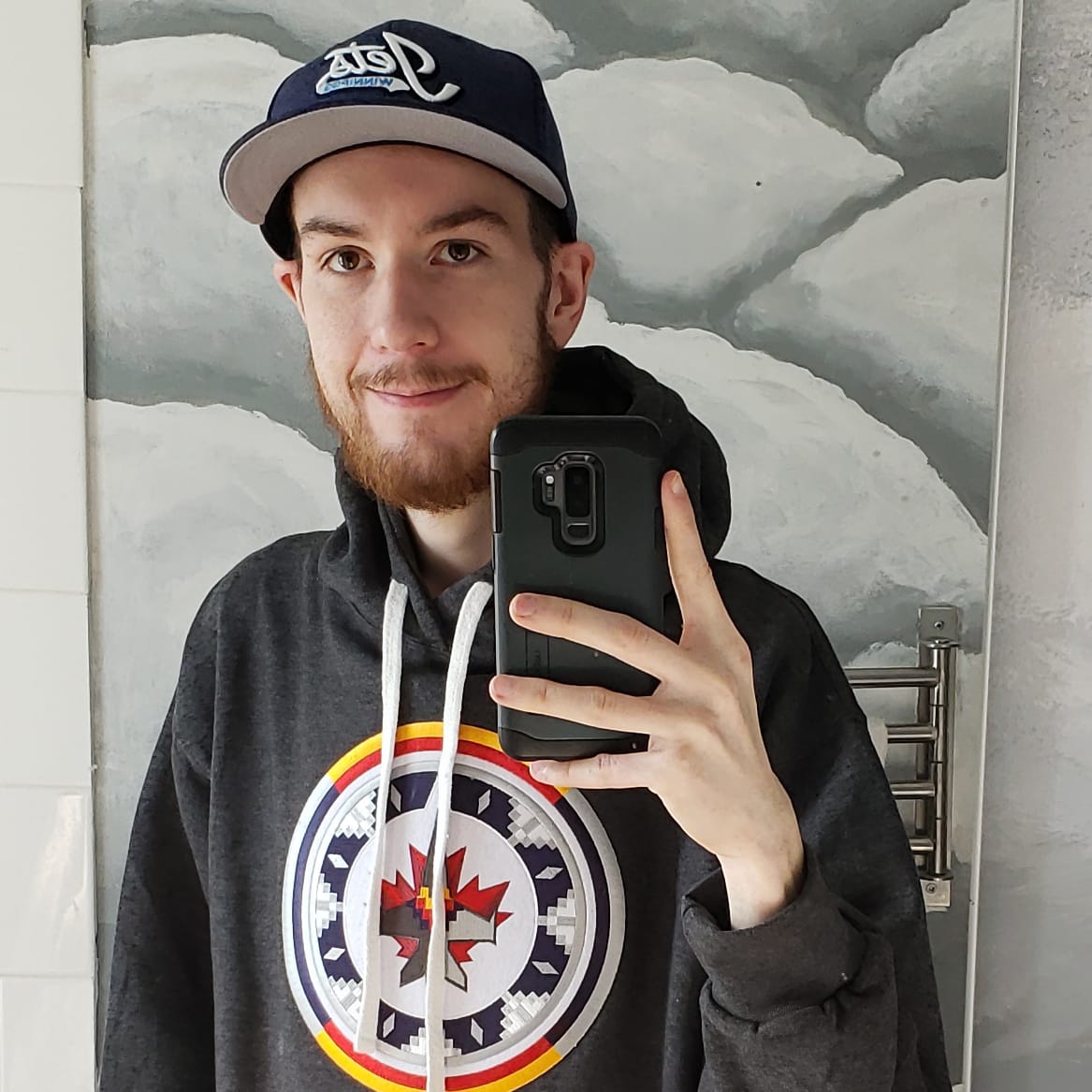 Declan Schroeder is a 27-year-old communications specialist and freelance journalist in Winnipeg, Manitoba. He holds a diploma in Creative Communications with a major in journalism from Red River College and a bachelors in Rhetoric and Communications from the University of Winnipeg.
Deeply rooted in the city's hockey culture, the original Jets skipped town when he was two and the 2.0 version came onto the scene when he was 17.