After Josh Morrissey scored the Winnipeg Jets' first goal in six periods, his instinct was not to truly celebrate, but instead to issue a rallying cry.
"Let's f——king go!" the defenseman shouted, his face the picture of intensity rather than jubilation from finally putting one past the St. Louis Blues' Jordan Binnington. The message was ostensibly to the crowd — a quiet and weary bunch enduring yet another frustrating night to that point — but also to his teammates.
It was a simple message, but one the Jets need to heed upon their return to action after the All-Star Break and mandated five-day break. Expletive aside, they need to go back to doing the things they know lead to success.
Difference Makers Must Step Up More Often
The scene was one befitting of a future captain. Morrissey — in the team's final contest before the All-Star Game, where he's headed — showed an example of what it means to be a "difference maker," as head coach Rick Bowness puts it.
The difference makers were missing in action through the second half of January. The team entered the matchup against the Blues in a free fall, losers of three in a row and five of their past seven.
---
Latest News & Highlights
---
The scoring across the board had evaporated, but more alarmingly, the compete level had as well. A pile of recent listless efforts — ones eerily similar to those of the Paul Maurice era — had many questioning whether the team's exceptionally strong first half of the season was a fluke.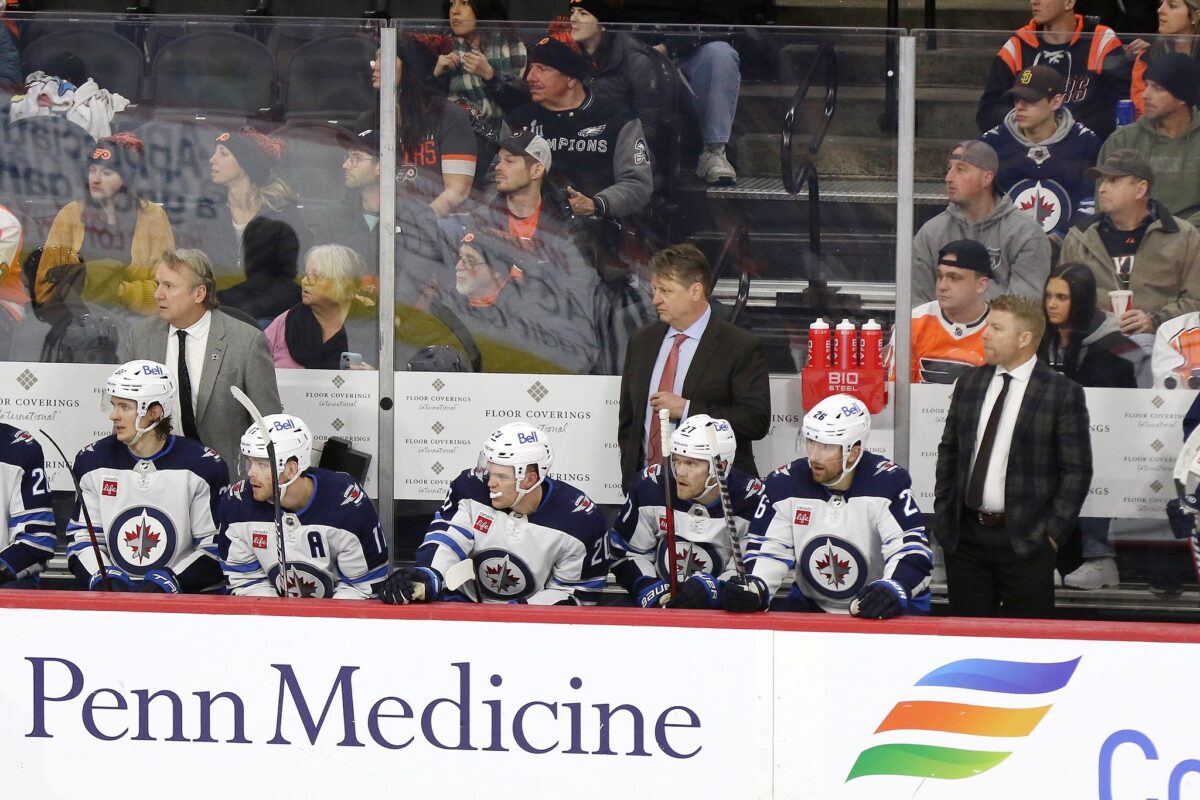 Bowness reached his boiling point after the Jan. 28 loss to the Flyers, where the Jets had an o.k. first period before taking the rest of the night off and losing 4-0. The lack of response after falling to the Buffalo Sabres 3-2 two nights before — the score in that game flattered the Jets, who fell behind 3-0 before snagging a couple late ones — had Bowness once again dropping some truth bombs.
Related: Jets Still Fighting the Negative Effects of Paul Maurice
"Right now, you're seeing what we're seeing, as soon as there is a little adversity – we handled it well early in the year – we're not handling it well right now. The difference makers, you can't even find them out there. Until we make that commitment again to play as a team and we want to win, this is what you get," he fumed.
Going into February, those paid handsomely to be difference makers have no excuse not to follow Morrissey's lead, as they' have 11 days off to recover from any fatigue. It's time for them to execute and produce in accordance with their paycheques.
Jets Salvaged January, But Can't Be Proud of Recent Stretch
Morrissey's tally came early in the third period, just 40 seconds after Nikita Alexandrov scored to make it 2-0 in favour of the visitors. That deficit, for a team as mentally fragile as the Jets have been, seemed insurmountable.
What ensued thereafter was a gutsy and unlikely comeback. Mark Scheifele, taking the cue from his fellow alternate, tied the game with his team-leading 30th goal at 9:32. Morrissey scored again 21 seconds later to give the team a 3-2 lead, and Scheifele iced the game with an empty-netter.
The win allowed the Jets to finish January 9-6-0, but nonetheless, they can not be proud of their performance since starting the month 6-1-0. In the 2-5-0 stretch following the 6-1-0 start, the Jets had just 15 goals, with 10 of them coming in the two wins. It wasn't a case of the process being right and getting unlucky, either.
They deserved every loss as they reverted to a group of individuals each doing his own thing from a unit pursuing a common goal. They abandoned the fast-paced forechecking and stout defensive structure that led to their rise to the top of the Western Conference standings, and struggled with puck management, breakouts, communication, and decision making.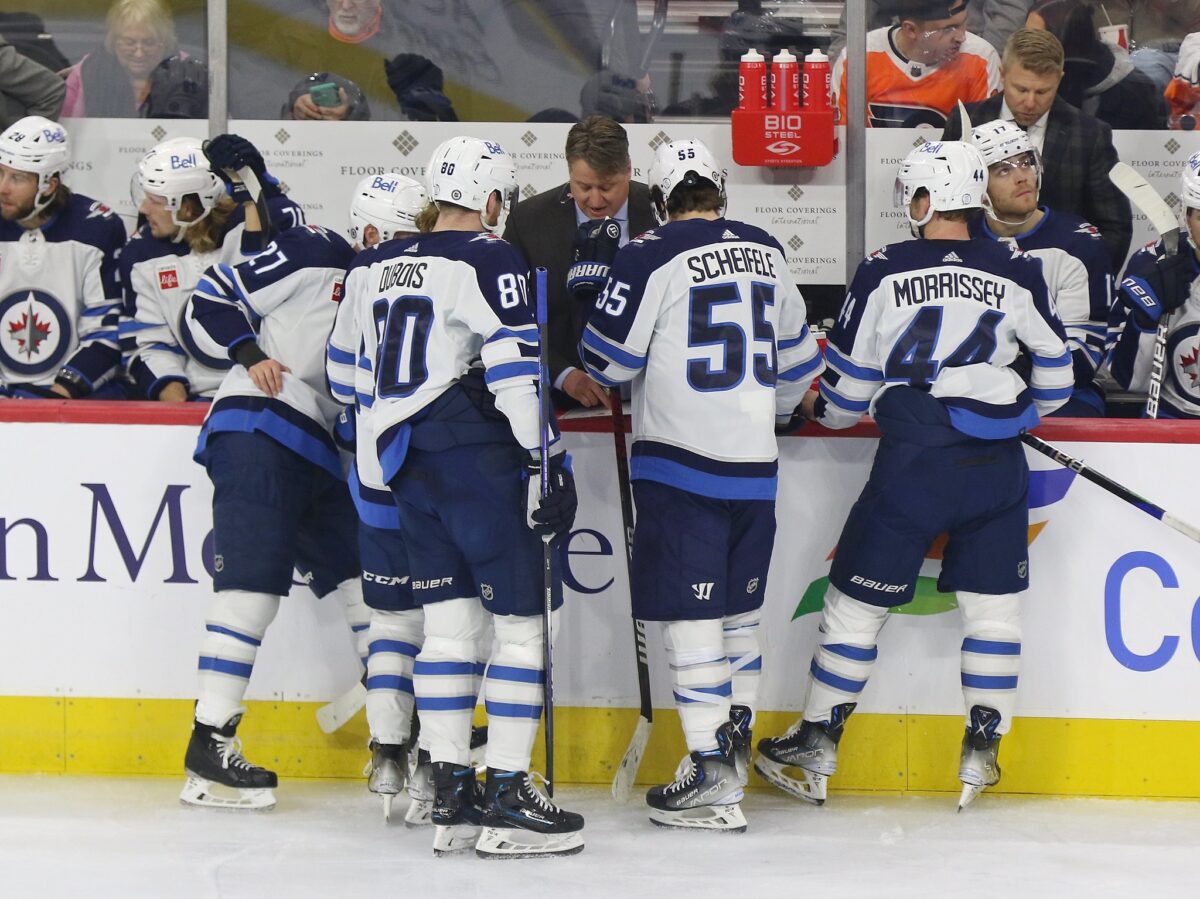 In an attempt to send a message — screaming, pounding his fist on the glass, and ripping them apart in pressers hadn't worked — Bowness deployed downright odd lines against the Blues. He promoted Morgan Barron, Karson Kuhlman, and Saku Maenalanen to the top six while dropping Blake Wheeler and Cole Perfetti down to the third line and Nikolaj Ehlers down to the fourth. Through 40 minutes, they had 31 shots, but nothing to show for it, compounding the frustration. Then, the four-goal third happened.
Related: Jets' Difference Makers Drive 4-2 Win vs Blues
"You go from being down 2-0 to winning that game in a pretty fun fashion. It changes everything," Scheifele said. "A little bit of a sigh of relief and you get to enjoy the break a little bit more."
Jets Have Things to Fix As Stretch Run, Trade Deadline, Loom
The Jets have every right to enjoy their break, which comes after playing the most games of any NHL team since Dec. 2. After, they have be ready to patch the cracks that have been exposed.
As Scheifele said: "The games are only going to ramp up again. We're going to have to have a few good practices and come back to work and use that third period template as this is the way that we play, that this is every night."
Indeed, the third period was closer to the desired form, and they'll need to play that way more consistently to avoid the stretch-run slumps they suffered in both 2019 and 2021 and led to first- and second-round playoff exits, respectively. In addition to following Bowness' blueprint for success, they'll need to get a lot more secondary scoring and sort out the power play, which is zero for 20 in the past five games.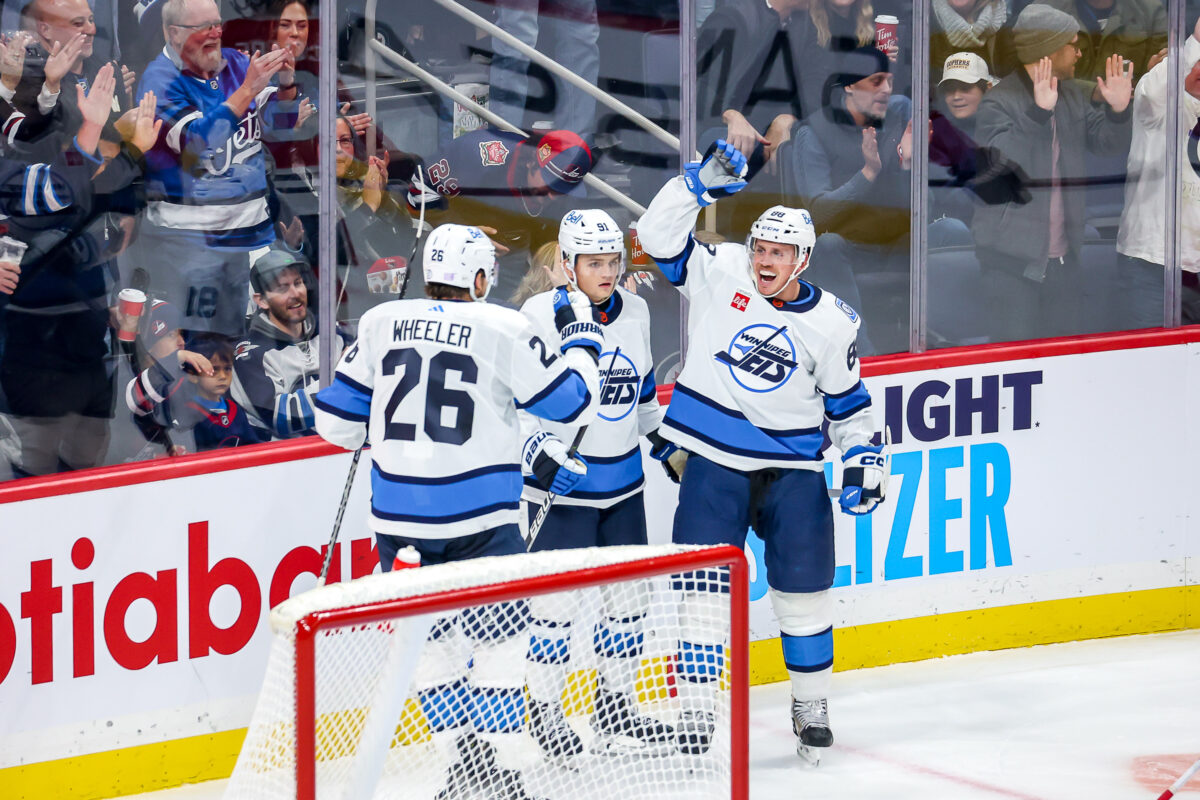 The Jets fought off the negative storylines by salvaging the home stand, and at 31-19-1, are still in a race with the Dallas Stars for first in the Central Division. They will soon face a decision of who — if anyone — to bolster their roster with at the Trade Deadline. How well they perform between Feb. 11 and the March 3 Deadline could dictate how big a swing General Manager Kevin Cheveldayoff takes.
There are two avenues of thought here: one is to believe a significant new player such as Timo Meier, Sam Reinhart, or Jonathan Toews could inject fresh energy into a struggling team and turn them around. The other is to believe a single player cannot turn around an already-fractured team and such, dealing away future assets for a rental is unwise.
This author believes the latter. When Cheveldayoff traded for Kevin Hayes in 2019 when the locker room was in disarray (remember Maurice's "ruffled feathers" comments?) Hayes was not a panacea and they lost in the first round to the Blues. Conversely, when Cheveldayoff traded for Paul Stastny the season prior when the team was tight-knit, Stastny's veteran presence got them to another level and the Jets made the Western Conference Final.
Even without a Trade Deadline addition, Jets have plenty of skill and used it to play Bowness' way successfully for the most part prior to the past few weeks. The Maurice-era bad habits are obviously with them, but they need to find the will to overcome those poor practices of the past.