The re-boot of the World Cup of Hockey starts today and many of us could not be happier that hockey is back. While hockey fans will have their respective nations to cheer for, the format of this tournament has created a lot of other interest.
With the inclusion of a team North America, composed of players 23 and under from the US and Canada, as well as a Team Europe, more NHL players than ever before will be taking part. This means fans will get an extra chance to see players from their hometown teams in action in an international setting. This is especially evident for fans of the Winnipeg Jets who will get to see eight members of their organization take part in the tournament. Here's a quick guide for Jets fans wondering who to watch.
#NHLJets at #WCH2016
Scheifele (NA)
Byfuglien (USA)
Wheeler (USA)
Laine (FIN)
Trouba (NA)
Pavelec (CZE)
Hellebuyck (NA)
Maurice (Europe)

— Tim Hiebert (@TimJHiebert) September 5, 2016
No Training Camp? No Problem!
Though there may be members of the Jets management team that will be upset that so many members of their opening night roster are missing a large chunk of training camp, fans will love the opportunity to see some important games early.
The World Cup provides meaningful hockey to fans around the world at a time of the year where they don't usually see it. If the pre-tournament games are any indication, the level of play will be very high, along with the level of intensity. It doesn't matter the situation, when Team Canada and the USA play each other at any level, the teams do not like each other. As long as these players stay healthy, the World Cup will be a better preparation for the regular season than anything they've had in the past.
World Cup Representation
The Jets are sending seven players to the tournament, as well as their head coach Paul Maurice. As a whole, they will represent five out of the eight teams, and many of these players are in prime positions to make a large impact. Here is a quick guide to watch your favorite Jets.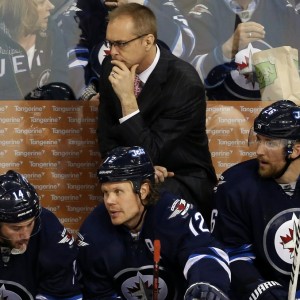 Paul Maurice
Maurice may be the least interesting member of the Jets to track, as watching a coach is not the most exciting thing in the world. His team, however, will be a very interesting one to watch. Maurice will be an assistant behind Team Europe's bench.
This is a team compromised of many different European nations including Germany, Slovakia, France, Switzerland, Norway, Austria, Slovenia, and Denmark. Though there are many notable names on this roster including Anze Kopitar, Zdeno Chara, and Marian Gaborik, not much is expected from the Europeans.
Europe opens their schedule on Saturday afternoon against the USA, and will also play the Czechs and the Canadians in the round robin portion of the tournament.
For a full breakdown of the roster Maurice will be working with and what is expected out of this super-team check out TSN's full preview of Team Europe. Otherwise catch them on the opening day of the tournament.
Ondrej Pavelec
After Maurice, Pavelec is likely to be the least interesting Jet at the World Cup of Hockey. Pavelec will once again be representing the Czech Republic which he has done many times, but this time he may be taking on a supporting role. After the pre-tournament, Pavelec was moved down the depth chart and likely will be the third string goaltender behind Peter Mrazek and Michael Neuvirth. We likely won't see Pavelec in action but any time you get the call to represent your country it should be an honor. The Czechs open up against the Canadians tonight and will be playing in Group A with the USA and Europe as well.
Blake Wheeler and Dustin Byfuglien
Wheeler, the new Jets captain, and fan-favorite Dustin Byfuglien will both represent the Americans at the World Cup and should play big roles. While Byfuglien is a one of a kind talent in the NHL today with his combination of size and speed, the Americans have still not decided how to use the big man. He played defense during the pre-tournament games but has seen time on forward at practice. Either way, Byfuglien is a force when he hits the ice and will create havoc for opponents.
Wheeler, on the other, hand is taking front stage on Team USA. He will be leaned on as one of the top-six forwards and will likely see a fair amount of time on special teams. Wheeler is getting more attention league-wide and he deserves every bit of it. Size, speed and strong hands, Wheeler has it all.
You can see the two American Jets open the tournament on day one against Europe and also taking on the Canadians and Czechs in the round robin. With USA as one of the tournament favorites, you may get to see a lot of Wheeler and Byfuglien.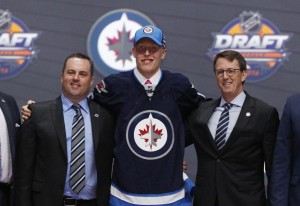 Patrik Laine
Laine may be the player Winnipeg is most interested in watching. As the Jets' number-two pick overall in this year's draft, much is expected out of the young Finn. Laine has been one of the most fun players to watch since gaining world-wide attention at the World Junior Championships last Christmas.
Laine is one of the best players in the world not in the NHL right now and has proven it multiple times. He was MVP in the Finnish Elite League playoffs, and top forward in the 2016 World Hockey Championships, a tournament played with and against many NHLers. This will be another chance for Laine to prove how good he is on a world stage before the NHL season starts.
The Finns have been a powerhouse in international hockey over the last few years, so you may get many chances to see Laine over the course of this tournament.  The Finnish team opens up the tournament Sunday against Team North America and will also meet Russia and, their biggest rival, Sweden.
Mark Scheifele, Jacob Trouba, and Connor Hellebuyck
Team North America may be the most interesting team in the tournament, and I believe will be the team that many jump on the bandwagon for. Made up of players 23 years and under from Canada and the United States, Team North America is one of the most interesting parts of this newly-formatted World Cup, and will be a team Jets fans watch with interest.
First, you have Mark Scheifele, new Jets assistant captain and the guy who Winnipeg will be counting on for many years as one of their top players. He will likely be leaned on heavily as well playing on the top line.
McDavid centring Scheifele and Matthews at Team North America practice. We'll see.

— Scott Laughlin (@LaughlinSXM) September 16, 2016
Hellebuyck, is another interesting case for Jets fans, and may be playing for an NHL job. Competing with Matt Murray and John Gibson to start, this competition will be a precursor for Hellebuyck's battle with Pavelec and Michael Hutchinson for a spot with the Jets this season.
Trouba will be the third Jet on this team and, interestingly, he will be playing without an NHL contract. The Jets' final remaining restricted free agent will take up a spot on the North American blue line and will look to show how much money he is worth. This is a big tournament for him and may make a big difference in contract negotiations.
North America will play Sunday, opening up their tournament against Laine and Team Finland. They will also meet Russia and Sweden in the round robin. North America is a dark horse in this tournament and could be a surprise to many going in.
View the full World Cup schedule here.
---
The Hockey Writers coverage of the World Cup of Hockey 2016 is being brought to you by PrimeSport, the official Fan Travel & Hospitality Package Partner of the World Cup of Hockey 2016.