Dallas Stars management got a glimpse of the future Friday, as a mix of their draft picks and free agent invitees kicked off the annual NHL Prospect Tournament with a 3-1 win over the Minnesota Wild prospects.
And the season is underway pic.twitter.com/GWk6hTkgu3

— Sean Shapiro (@seanshapiro) September 16, 2016
Winger Cole Ully, a 2013 Dallas draft pick who spent most of last season in the AHL, put the Stars on the board in the middle frame and added an empty-net goal to secure the victory. His line was centered by 2012 second-round selection Devin Shore, who had an assist and looked very much like a player on the cusp of the NHL. And Denis Gurianov, the Stars' top pick in 2015, looked quite comfortable in his first game in North America, generating several scoring chances.
These future Stars, though impressive, are playing a waiting game. For them, the future is not now. Though talented, these youngsters are victims of Dallas' embarrassment of riches at forward.
The Stars' Formidable Forward Depth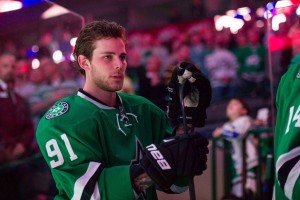 After the St. Louis Blues eliminated Dallas from the playoffs last spring, Blues bench boss Ken Hitchcock said of the Stars, "They're the future of the NHL…They're where the game is going." In the Stanley Cup Final, the Pittsburgh Penguins showed the entire league that the future had arrived, in the form of four speedy, possession-driving, scoring chance-generating forward lines. With a healthy Tyler Seguin and improved goaltending, that could've been the Stars.
No more "checking" or "energy" lines. As Dallas head coach Lindy Ruff likes to say, "everybody ropes, everybody rides." Last season, the Stars were the highest-scoring club in the NHL. Last month, they signed free agent winger Jiri Hudler, who is just two years removed from a 31-goal, 76-point campaign, to a one-year deal. Going into the 2016-17 season, Dallas' bottom six forwards could look like this:
Antoine Roussel – Radek Faksa – Ales Hemsky
Mattias Janmark – Cody Eakin – Brett Ritchie
Roussel and Hemsky each scored 13 goals last season, while Faksa produced at a 19-goal rate during the playoffs. Janmark and Eakin combined to light the lamp 31 times. Meanwhile, veteran Patrick Eaves, who averaged a 20-goal pace over the last two seasons, stands ready to fill in for any injured wing. Look up "forward depth" in the dictionary, and you'll find a picture of the Stars logo.
What if Ully, Shore, Gurianov or another young forward has the training camp of his life? Could he force his way onto the big club?
The Waiver Wire: A Glass Ceiling for Prospects
Because Dallas will likely carry eight defensemen again this season, they'll be limited to 13 forwards on the roster. Signing Valeri Nichushkin to a new contract in a timely manner and sending off-season acquisition Adam Cracknell down to the AHL will put the Stars at 13. Of that group, only Faksa can be sent down without having to pass through waivers, and he's not going anywhere.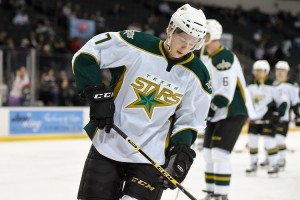 Any of the remaining 12 would almost certainly be claimed by another club if the Stars exposed them to waivers. General manager Jim Nill won't let that happen. Barring injuries, that means a prospect would need to have a training camp so outstanding as to force Nill to trade one of the top 12 forwards. Is that possible? Yes. It's also possible to roll a 12 at the craps table, but it's a long shot.
Perhaps more than in years past, this is a season for Dallas Stars prospects to take the long view, focus on improving as players, be patient and wait for an opportunity. Injuries always happen; that's why Shore and Curtis McKenzie each played three games with Dallas last season and Jason Dickinson scored a goal in his first and only NHL game to date. They – and others – will return to Big D on a more permanent basis; if not this season, then soon.