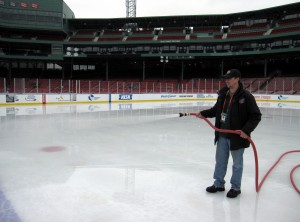 PITTSBURGH – With Saturday's Winter Classic now firmly within the Pittsburgh 5-day weather forecast, nervousness is beginning to set in amongst fans concerned over the possibility of rain and warm temperatures.
As of last night, Dan Rosen at NHL.com was reporting that the ice crew at Heinz Field was about five hours ahead of schedule and NHL facilities operations manager Dan Craig wasn't showing any signs of concern at a media briefing Monday afternoon.
"I'm pretty sure anything within the forecast right now, it's going to freeze [as it falls down to the ice] and we're going to be in good shape," Craig said.  "Player and patron safety would be at the forefront of the league's concerns should it rain heavily January 1. The decision-making process will rely heavily on the feedback from the players involved in the game."
Don Renzulli, NHL Senior VP of Events, said the crew in Pittsburgh is deciding on their ultimate gameplan, but he sees salvation on the way in the form of a higher power. "We're getting updates twice a day right now and any changes we'll get them immediately," Renzulli said. "I've been watching the weather for the last two weeks and I've got a feeling the hockey gods will be in our favor."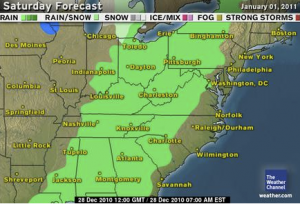 The Weather Channel's latest update as of Tuesday at 9am has New Year's Day in Pittsburgh with a high of 47 degrees and a 50% chance of precipitation.  Craig has stressed from the beginning that temperatures in the 40's and 50's are not a concern for the outdoor rink and it's substantial refrigeration unit.  The ice impact of unpredictable rains and their effect on player visibility will be the ultimate determining factor on when, or even if, the game is played.
"The idea is yes, we could go until about 8:00pm [January 1], so we plan to stay here to get this game in," Renzulli said.  If the game can't be played on New Year's Day it will be moved to Sunday at noon, but the NHL will go to great lengths to have the game played on Saturday.  Sunday's forecast has improved to a high of 32 degrees and only a 20% chance of rain, but the network broadcasters (NBC and CBC) and the league want to avoid competition with a full slate of NFL football games.
In a worst-case scenario where the entire weekend is a rainout, the NHL would reschedule the game as a normal Pittsburgh home game at the CONSOL Energy Center later in the season and ticket money would be refunded.  No further details regarding this scenario are available and I was told the league is not focusing on that option at this time.
When or if the most-hyped regular season game in league history goes off without a hitch is a total unknown to even those intimately involved, but it also represents an inevitable risk factor that accompanies the annual outdoor game.  At some point, weather will deem the Winter Classic an uncontrollable disaster.  Whether this year's event is the first suffer is anyone's best guess.
________________________________________
The league also hosted a conference call with Sidney Crosby, the NHL's Third Star of the Week, on Monday.  TheHockeyWriters.com's Angie Lewis was able to ask Crosby a handful of questions on the call and below is a full transcript of the conversation:
Q. With how busy you are and everything that's going on, do you get a chance to talk to your sister much who is here at Minnesota at Shattuck, and what do you think of her playing at Shattuck St. Mary's?
[editor's note: Sidney attended Shattuck St. Mary's as did Jonathan Toews – here is our profile of the school.]
SIDNEY CROSBY: Yeah, I do get the chance to talk to her a lot. I just saw her a couple days ago at home for Christmas. So she's really enjoying her time there, and I'm happy to hear that.
Obviously, being away from home at a young age, the most important thing is that she's comfortable and having fun there, and she is, so I'm really happy to hear that.
Q. You weren't even born when Wayne Gretzky was chasing Joe DiMaggio's streaks and things like that. I mean it was a long time ago for everybody. But it took the league to a place it seldom gets to, "Sports Illustrated" covers and Johnny Carson and all of that. As you approach, you're on a streak now, and 50 and 50 is was within some distance for you, are you aware of the big picture on this thing, and how a whole world of sports fans might tune into a game when a streak like the kind you're working on can really take hold of a continent of sports fans?
SIDNEY CROSBY: Oh, maybe. I mean — the streak I think you're talking about, are you talking about 51 games?
Q. That's what I'm talking about. I know it's a long ways away.
SIDNEY CROSBY: That feels like it's a whole other world away, to be honest with you. But I think at this point for me I definitely, especially the last week or two, I feel like there has been a little more attention to it and things like that. So, yeah, I definitely felt it. But to that level, I don't think maybe I realized it, and probably don't feel like it's at that point. But probably getting a little bit of that feeling as far as realizing that people are following a little bit more.
Q. What would it — can you extrapolate at all? When Gretzky was doing these things, I bet you there were 20 Oilers games that were even on TV a season back then.
SIDNEY CROSBY: Yeah, it's hard for me to even imagine. I was saying yesterday too, it's hard to imagine somebody watching a game, they're watching Wayne Gretzky play every night and kind of expecting that after 40 games, to expect the 41st and 42nd and so on. It's incredible to think that he did that over the course of 51 games. I can't even imagine it, really.
People are in for quite a treat when they witness that. Like I said, the last couple of weeks I probably realized or felt a little bit more attention towards it. But I can't imagine what that was like.
Q. I wanted to ask you about the 24/7 show and if you've had an opportunity to see it, and what your thoughts are?
SIDNEY CROSBY: I have had an opportunity to see it. The full first episode and a bit of the second one, but I think they've done a great job. I think people are getting a look at things they've probably never seen before. The meetings, on the bench, the things going on on the ice, the travel, all that stuff, I mean, you're getting a pretty unique perspective on what it's like with our teams. It's pretty neat, so I think it's been really great. I think people have enjoyed it.
Q. If I may follow-up, in your mind is it something that only enhances hockey's image?
SIDNEY CROSBY: Yeah, I think so. I think that there's probably people who might not follow hockey a ton, but the fact that they're getting the opportunity to see what players go through, probably getting to know players a little better from both teams. I think it's something that's going to help for sure.
Q. There are forecasts of warm temperatures and rain on Saturday. Thinking back to three years ago on Buffalo when the game had to be stopped multiple times for ice repairs, will that experience help you to prepare for this year's game as well as the advice you'll give to your teammates who haven't played in an outdoor game before?
SIDNEY CROSBY: Yeah, I think whether you've played in one before or not, I think that's something that you have to expect to kind of deal with. To be honest, I think both teams will be the first to tell you that no matter what the conditions or the stoppages, that we're both happy to be in that game. It's something that is a possibility, but it's not something that is unusual for a game like that. That's to be expected.
I don't think you're going to hear any complaints. We expect to deal with that. If anything, we just cross our fingers and hope that all conditions are well just more for the crew working on the ice too, because they're not going to have an easy job.
I think whatever happens, whatever the forecast is, whatever the weather is, we just have to be on our game. Everyone will be fine. I don't think you'll hear any complaints.
Q. Talking about the Winter Classic, having played in the one in Buffalo, talk about what the feeling is in your mind having played in one before and now coming up on a second one, is the novelty still there? Is it still a fun experience?
SIDNEY CROSBY: Oh, yeah, for sure. I mean, I don't think the feeling of playing a National Hockey League game against a big rival, I don't think that wears off. I think we all feel pretty lucky to be in the game. For some of us who have played in one already, it's another opportunity to be part of a pretty unique event. The fact that we have it here in Pittsburgh against a rival and that it's become such a big event, I think we all just feel lucky to be a part of it.
Q. Do you feel like you and the guys in the room have gone through it a couple years ago in Buffalo have a little advantage going into the game, at least knowing what the conditions could be?
SIDNEY CROSBY: I don't know. Maybe a bit, but I think, like I said earlier, I think everyone has an idea that there may be stoppages or there may be times when the ice is slower, whatever the case is I think that's to be expected. Whether or not you've played in one before, I don't know if it's an advantage. I think for everything around it, it may be a bit of an advantage just because we've been through it. But as far as dealing with conditions and things like that, I think both teams probably expect the same thing.
Q. I was wondering how has the team prepared for the possible weather situations, and if the game does have to be moved to Sunday?
SIDNEY CROSBY: I'm sure there are plans in place. I think for us that's something luckily for us we don't have to worry about that a whole lot. We'll be told what we have to do and where we have to go. But other than that, we'll prepare as if we're playing at the time and whatever the start time is. That's how we'll prepare.
I don't think anyone wants to get caught up thinking about the different scenarios and situations. If it's the case that has to be pushed or delayed or anything like that, then we'll react and plan accordingly. But that's something that other people will take care of.
Q. Obviously the two teams will play about eight times in the playoffs and once in the same division, do you believe these rivalries continue to linger the present day and how you guys handle it, do you think you play better, does it bring more out of the two teams? Just talk about the rivalry between the teams beyond you and Ovechkin's mutual respect?
SIDNEY CROSBY: I think it's certainly grown. You look at, like you said, the playoffs and you look at the games that we've played against in the last few years, it's pretty easy to build a rivalry that's very intense. They're physical and they've been really close games, so I think that's a pretty natural progression as far as the two teams are concerned. I think that's good for everyone. Like you said, I think both teams bring out the best in one another. That seemed to be common throughout the match-ups in the last few years.
Q. Do you think Thursday was a pretty good preview of what's going to happen this week?
SIDNEY CROSBY: Yeah, definitely. It's been a game that we've seen a number of times the last few years, exactly that. Really close, chances at both ends, physical, intense, an emotional game. That's what you get when these two teams play. So I would expect much of the same.
Q. Do you have any thoughts on the alumni game? Are there any thoughts on that?
SIDNEY CROSBY: I think we're planning on going, so it will be pretty neat for us. We have all different alumni events here in Pittsburgh. Usually it's at least one a year. So it's always fun to meet former players, and probably the most fun is seeing them get together. A lot of the guys who played together, to see them interact and hear stories from when they played, it's pretty neat to see. So it's always fun, and I'm happy that we're able to be a part of it.
To read more of TheHockeyWriters.com exclusive coverage of the
2011 Winter Classic in Pittsburgh, click here.