There's an old saying that close only counts in horseshoes and hand grenades.  Add losing in overtime and shootouts to that list as well.  Hence there are two ways of looking at the Los Angeles Kings, under the guidance of Head Coach Darryl Sutter.  L.A. is 8-1-6 under Sutter.  Good in that they have points in every game but one.  Yet it also equates to a mark that is only one game over .500.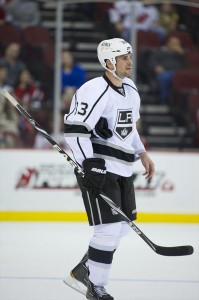 One could also argue that the main prerogative of a coach, is to get his team to play hard for all 60 minutes, every night.  As evidenced of late, the Kings have done just that.  Only the Florida Panthers (10) have as many points by virtue of OT/shootout losses as the Kings.  Depending on one's perspective, it's either a case of a team not being able to finish or a team that has earned those points by doing just enough.
Currently the Kings are sitting at seventh in the Western Conference, with 56 points.  They're just one point behind the San Jose Sharks for the Pacific Division lead.  When one looks at the respective shootout record of each club, San Jose is 6-2, while Los Angeles is 4-6.  So which is more deceiving in overall point total?  A team losing after regulation and gaining a point or a team winning in a glorified skills competition and earning an extra point?
Looking deeper within the numbers under Sutter, the club boasts victories against four teams currently in the playoffs.  In less than a month under Sutter, they have seven three-goal games.  Prior to that in nearly 2 1/2 months, the Kings had ten such games.  As most folks will acknowledge, it's a "3-2 league."  Meaning you gotta score and be able to win the tight one's.  Another improvement in the Kings, going 4-1-6 in one goal contests.
Before Sutter came on the scene, L.A. had six one-goal losses in regulation, in which they scored less than three-goals.
Again depending on your perspective, the OT/shootout losses could mean the difference between seventh and third in the West.  Yet if we're looking at what the Kings did prior to Sutter's arrival, playing the full 60 could mean the difference between seventh and in the playoffs, to 12th and out altogether.