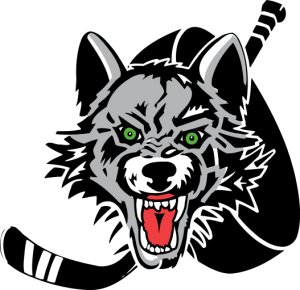 ROSEMONT, IL-
The Chicago Wolves evened up their first round Calder Cup Playoff series with the Utica Comets at one game a piece on Friday night after their 2-1 victory. Both teams played a very physical and hard hitting game. There wasn't a ton of offense, but there were a lot of penalty minutes dished out, and defense ultimately decided this contest. Both teams split the two games at Allstate Arena.
First Period
The physicality began right from the opening faceoff. The Wolves didn't take their first shot on goal until 9:30 into the opening frame, and were outshot 11-3 for the period. There was plenty of pushing, shoving, hits, knockdowns and takedowns. Seven of the game's 12 penalties were issued in the first period alone.
By the end of the night, a total of 24 penalty minutes had been handed down. In regards to the physical play Wolves head coach John Anderson said, "It's the playoffs (and) you're struggling for every inch out there." Both teams went into the first intermission scoreless.
Second Period
This was the only part of the game where offense played it's part. Wolves forward Brent Regner scored on a power play just 1:10 into the second to put Chicago up 1-0. 10 minutes and 42 seconds later, Wolves center Jeremy Welsh scored his first goal of this postseason. The Comets only goal came from winger Hunter Shinkaruk, his 2nd of these playoffs, at the 10:10 mark.
Third Period
The final period is where the Wolves shut the door and secured the win in game two. Wolves goalie Jordan Binnington had 12 of his 30 saves in period number three, and eventually Utica got desperate and began shooting wildly. They outshot the Wolves 31-22 on the night, but some of their shots towards the end of the night were high and wide. After the game coach Anderson praised his man between the pipes.
"I thought our goalie (Binnington) was the best player on the ice tonight", Anderson said, "we're playing strong defensively and (not giving) a lot of chances out there" he added.
Game Three
The series now shifts to Upstate New York for game three on Wednesday night. Follow me on Twitter @GabeSalgado82
Gabe has worked in sports media for over decade and has been heard on the radio, and seen on television in addition to writing.