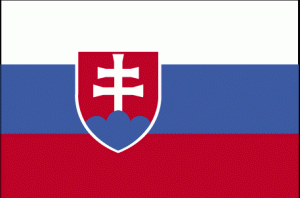 Slovakia in their 2012 World Juniors medal quest may feel like they are skating uphill on a Red Bull Crashed Ice track with perennial powerful hockey nations Canada, Russia, Sweden, USA and Finland obstructing their path. While their likelihood of seeing semi-final action in Calgary's Saddledome is highly improbable, with talented players like Tomas Jurco, Marek Tverdon, Martin Marincin and Martin Gernat, they could prove anything but a pushover should a team take them too lightly.
http://www.youtube.com/watch?v=zvQyAhECjcM
As I stated in preview Team Latvia:
On any given ice time, in any one particular game – any team is capable of great and even improbable feats.
***
Slovakia Final Roster (via HFBoards.com)
G:
Juraj Šimboch (HC Nitra)
Dominik Riečický (HK VSR SR 20)
Richard Sabol (HC ´05 Banská Bystrica)
D:
Mário Kurali (HK VSR SR 20)
Peter Trška (HK VSR SR 20)
Michal Čajkovský (Ottawa 67´- OHL)
Peter Čerešňák (Peterborough-OHL)
Martin Gernát (Edmonton Oil Kings – WHL)
Adam Jánošík (Gatineau Olympiques – QMJHL)
Martin Marinčin (Prince George Cougar – WHL)
F:
Matej Bene (HK VSR SR 20)
Miloš Bubela (HK VSR SR 20)
Marko Daňo (HK VSR SR 20 / Dukla Trenčín)
Martin Ďaloga (HK VSR SR 20)
Matej Hinďoš (HK VSR SR 20)
Matúš Chovan (HK VSR SR 20 / HC Košice)
Richard Mráz (HK VSR SR 20 / Tatranskí Vlci – MHL)
Tomáš Matoušek (HK VSR SR 20)
Lukáš Cingel (Baie-Comeau Drakkar – QMJHL)
Vladimír Dolník (Everett Silvertips – WHL)
Tomáš Jurčo (Saint John Sea Dogs – QMJHL)
Michal Toman (Traverse City North Stars – NAHL)
Marek Tvrdoň (Vancouver Giants – WHL)
Filip Vaško (Kelowna Rockets, WHL) was the final cut.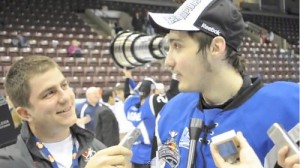 *
 (via Elite Prospects)
Average Age: 18.52 years
Average Ht: 185.26 cm
Average Wt: 83.52 kg
Defense
Big blueliner Martin Marincin should be the anchor of the Slovakian this year. I had him as a player to watch for the 2011 World Juniors, but a four-game suspension put an end to both Marincin's and my hopes. It definitely didn't help Slovakia's hopes in last year's tournament either. After notching 56 points in 67 games last season for the WHL Prince George Cougars, the Edmonton Oilers 2010 2nd round 6'4″ defenseman has 16 points in 28 this season and should be counted upon in all situations for the Slovakian squad.
The Oilers seemingly have struck gold again in June at the 2011 draft when they went back to Slovakia to draft another towering blueliner; this time in the 5th round. Martin Gernat, like Martin Marincin the year before him, made yet another smooth transition to the Dub. He has registered 25 points in 31 games for the Edmonton Oil Kings this season thus far from the blueline. He did get injured along with defenseman and New York Rangers draft pick Peter Ceresnak in World Juniors exhibition play. Slovakia need both to come back and contribute to have any measure of success in this tournament.
***
Neate Sager of Yahoo Sports reported:
Typically, Slovakia boasts some highly skilled forwards — think a 16-year-old Marian Gaborik leading them to an improbable bronze medal in 1999 or Tomas Tatar and Richard Panik indulging Canada's sense of schadenfreude by bouncing Team USA in the 2009 quarter-finals in Ottawa — but might be spotty in other areas. This edition boasts four drafted blueliners who play major junior in Canada: Edmonton Oilers draft picks Martin Marincin and Martin Gernat from the WHL, OHLer and New York Rangers choice Peter Ceresnakand Tampa Bay Lighting pick Adam Janosik from the QMJHL. Michal Cajkovsky of the Ottawa 67's also had a long look from the Philadelphia Flyers this fall.

"Mostly I think we have a better defence this year than offence, so it's going to be more defensive play," said returning forward Tomas Jurco, a Detroit Red Wings second-round pick who plays for the reigning Memorial Cup-champion Saint John Sea Dogs. "We can still do some things in the offensive zone … but on defence we have a lot of drafted guys. If we play together, I hope we can go farther than last year, to quarter-finals."
***
Dean Millard of The Pipeline Blog reported the following in discussing the Slovkian blueline:
Marty's Party on the blue line – Slovakia's blue line could be anchored by a couple of Oiler prospects in Martin Gernat and Martin Marincin. The pair who measure up at 6.05 and 6.04 respectively, are from the same home town of Kosice. Gernat (below) started the year on fire but ran into the wall that Europeans usually hit at some point in their first junior season. They simply tire out, but if it happens earlier enough the player can bounce back. Marincin did the same last year, but it seems has yet to bounce back. He had more points in the month of October last year then his 16 he has this season. Slovakia needs the two towers of power to be charged up if they are going to be able to shut down the opposition.
Forwards
As highlighted below, though the depth is not there amongst their forward ranks, they will have some exciting and potential clutch performers that must be given their due respect. Tomas Jurco is an absolute puck magician. He is lighting up the QMJHL this season with 45 points in 30 games for the Memerial Cup defending champions Saint John Sea Dogs. Although this has been said time and time again, yes ladies and gentlemen the Detroit Red Wings may yet have another draft steal on their hands. I had Jurco ranked 23rd in my 2011 draft rankings. He slipped out of the 1st round and fell to the Wings at 35th overall. His talent was never in question. His drive was. He's definitely out to prove naysayers wrong.
In Marek Tverdon, Slovakia has another skilled, good-sized forward. He currently sits tied for 22nd in WHL scoring after an injury-riddled draft eligible season last year. Yes – he's a Detroit Red Wings draft pick. Yes – he's yet another potential steal of a pick. The Wings nabbed in the 4th round this past June. I had him ranked 57th (i.e. a 2nd rounder) in my 2011 Top 210 Draft Rankings.
2013 NHL Draft Eligible forward Marko Dano will be an intriguing player to keep an eye this tournament, but maybe simply to young to have a major impact at this point.
***
Bruce Peters of Puck Worlds broke down their forwards:
There isn't a lot of depth in this group, but there's also some pretty strong high-end talent here. Both Jurco and Tvrdon are top point producers in major junior, with Tvrdon being a bit under the radar having lost most of his draft year to major knee operation. Tomas Matousek might be the best of the HK Orange crew and sneak into the team's top 6 forwards, but for the most part that group will be on the bottom two lines. Expect the young Marko Dano to centre one of the top two lines. Dano is a rarity amongst Slovakian prospects: an exciting player succeeding at a young age in Slovakia's Extraliga. For an early preview of what to expect from this budding star, here's what O'Brien had to say about him:

"His hockey sense is what impresses everybody. He seems to think at a level that is uncommon for players that age. He's skilled, but nothing that really stands out above other players in that regard. But he has the ability to find open ice and make smart plays. That's what's given him the ability to compete in a pro league at such a young age (17). The reason scouts are excited about him is they figure he will still mature physically and if he can improve the skills he has, he could turn out to be a great player."

– Derek O'Brien on Marko Dano
***
Goaltending
From Yahoo Sports Buzzing The Net blog:
Slovakia has the relative luxury of being able to go to the hot hand among two 19-year-old goalies who play pro in the Extraliga, Dominik Riecickyand Juraj Simboch. The former was on last year's team, but Simboch might have supplanted him in the pecking order.

 
***