The 2016 NHL Trade Deadline is almost upon us. The Toronto Maple Leafs have already made a few deals as Dion Phaneuf, Roman Polak, Shawn Matthias and Nick Spaling have been shipped out of town. More deals seem on the way.
One thing we probably won't see is a bad deal. With most of the trades they will make, they will probably make deals for prospects and picks. Hard to make a bad deal in that situation. However, the Leafs have made a lot of bad deals in their history, and by history, I mean recent history. Don't know what it was in the Leafs early years, but there just wasn't trades that created as many problems as more recent trades do.
The Worst Of The Worst
To Leafs: Jonathan Bernier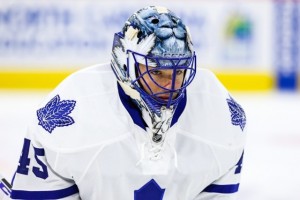 To Kings: Matt Frattin, Ben Scrivens, 2015 2nd Round Pick (Travis Dermott) & Cash
While not as bad when it comes to what the Leafs sent away, this trade just has not worked out. Bernier was supposed to become the Leafs undisputed starting goalie. In his three seasons with the team, that has not happened. He has been given every chance to take it, but it just hasn't worked. He has reached a new low this season, being near the bottom of the league in both goals against average and save percentage. It's no secret that the Leafs have looked into trading Bernier before the deadline.
Oddly enough, the Leafs reacquired Frattin before trading him to the Ottawa Senators in the Phaneuf deal. They also reacquired the second round pick after it had switched teams more than a few times.
To Leafs: Lee Stempniak
To Blues: Carlo Colaiacovo & Alex Steen
After Ferguson left, Cliff Fletcher took over as general manager. He was just a stopgap before the Leafs signed Brian Burke. However, he made one damaging deal during his time. If it was just Colaiacovo for Stempniak, it might have been considered an okay deal. With Steen involved, it is an absolute travesty. Steen never really got a big chance in Toronto, while he has been one of the best players in St. Louis since his acquisition.
To Leafs: Andrew Raycroft
To Bruins: Rights to Tuukka Rask
Oh, John Ferguson Jr., you screwed this one up big time. Choosing Justin Pogge as the goalie of the future over Rask, JFJ sent the young Finn's rights to the Bruins for more immediate goaltending help. While Raycroft does hold the record for wins in a season (37, tied with Ed Belfour), he didn't last long in Toronto. Playing only two seasons for the Leafs, he most recently played in Europe. He retired in April of 2014. Rask remains the starter in Boston.
To Leafs: Owen Nolan
To Sharks: Brad Boyes, Alyn McCauley & 2003 1st Round Pick (Mark Stuart)
To say that Nolan was disappointing in Toronto would be an understatement. After being acquired at the 2003 Trade Deadline, he would play the rest of the season and only one full season with the team before the 2004-05 NHL Lockout. He would only play 79 games for the Leafs, scoring only 26 goals.
McCauley had become a pretty good two-way player for the Leafs, filling in admirably when Mats Sundin was injured at one point during his time with the Leafs. Mark Stuart has been a pretty good defensive defenseman for his entire career and represented the US in international competition on five occasions. In Boyes' case, he has finally joined the Leafs and achieved a few NHL milestones with the team he was drafted by. If the Leafs could have had him during his more productive years, it would have been a bit better though.
To Leafs: Wendel Clark, Mathieu Schneider & D.J. Smith
To Islanders: Sean Haggerty, Darby Hendrickson, Kenny Jonsson & 1997 1st Round Pick (Roberto Luongo)
Leafs fans love Clark. However, his second stint with the Leafs didn't really go that well. Acquired at the Trade Deadline, the Leafs made the playoffs in 1996. That was all the success the team would have with Clark as they missed the playoffs the next two years. Schneider is a great defenseman but he only played 115 games with the team over three seasons before being traded to the New York Rangers. D.J. Smith spent most of his seven years with the Leafs organization playing for the AHL's St. John's Maple Leafs. He played only 11 games for the Leafs during that time. He is currently an assistant coach with the Leafs.
While not bad players, let's skip over Haggerty and Hendrickson. Jonsson would become the Islanders captain for a season and would play for them for eight pretty good seasons. When it comes to the pick, with all the trouble the Leafs have had with goaltending since Ed Belfour left, it might have been nice to have Luongo. The Leafs might not have needed to bring Belfour after Curtis Joseph left in that case.
To Leafs: Tom Kurvers
To Devils: 1991 1st Round Pick (Scott Niedermayer)
Kurvers played only 89 games with the Leafs over two seasons. Niedermayer went on to win the Stanley Cup three times, as well as the Norris Trophy and the Conn Smythe Trophy. He was inducted into the Hockey Hall of Fame in 2013. To paraphrase Comic Book Guy from The Simpsons, "Worst Trade Ever".