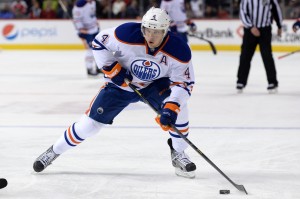 First reaction to reading this headline: "WHAT??" The possibility of moving Nail Yakupov was already explored, now it's time to focus on another first overall pick playing in Edmonton, Taylor Hall. Hall led the Oilers in scoring this season, and he finished ninth overall in league scoring with 16 goals and 50 points in 45 games. That's pretty impressive. It seems as though Hall is a star in the making. He recently signed a manageable  reasonable contract with the Oilers, and his stock is certainly on the rise. Therefore the best time to move him would be now, right?
Why in the world would a team, who is essentially terrible, trade away their leading scorer, one of the best players in the league? That makes no sense. But we're talking about the results based business of the salary cap NHL. We're talking about a team who boasts the likes of Nail Yakupov, Jordan Eberle, Ryan Nugent-Hopkins and Justin Schultz on the roster. We're talking about a team who was expected to take a step forward in a shortened season but their only accomplishment was not finishing last or second to last.
The Oilers have a lot of the same type of player. Small, skilled, fast, not much grit. And in the Western Conference especially, that's not working. Skill is important, but so is toughness. Ideally you want both. The Oilers desperately need the latter. So why in the world would the Oilers trade away the only top six forward they have who actually has a bit of jam? Hall likes to hit, he tries to play with an edge. Why in the world would the Oilers consider trading him?
Edmonton probably wouldn't be wrong to stay the course, let the young core evolve, and keep adding some pieces here and there to improve the line-up. Making some kind of ground-shaking move may not end up benefiting the team in the long-run. But Craig MacTavish recognizes the shortcomings of his team. He knows they need some goaltending depth. He knows they have holes to fill.
Taylor Hall plays with reckless abandon. When you watch him barreling into the offensive zone it looks like he's going to crash into the boards and break his ankle on every play. He has no problem mixing it up, or trying to make a game changing hit. But here's the question about Hall: is his style of play conducive to injury? Now, obviously labeling a player injury prone is tough because so many times there are freak accidents. So many times there's just bad luck involved. Hall shouldn't be labelled injury prone. But he puts himself in a position to be hurt on many occasions. And that's concerning.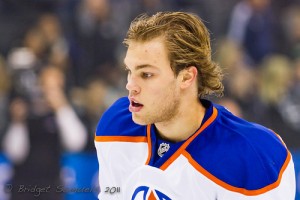 In his rookie season, Hall suffered a high ankle sprain that would end his season because of a fight. He suffered from concussion symptoms the following season, and eventually saw his season end because he required major shoulder surgery. He was also suspended this year for a questionable hit on Cal Clutterbuck. It's a small sample size. It's not necessarily a pattern for the rest of his career. He's just 21 years old.
Let's play arm-chair GM for a moment. If you absolutely had to trade one of the Oilers big four forwards, who would it be? Many feel someone like Jordan Eberle should be traded way before Taylor Hall. Though Eberle may not fetch as big of a return.
Trading away a player like Hall would a tough sell in Edmonton, a city who once watched Wayne Gretkzy be moved to another team. But how many young stars with big contracts can you have on one team? How much will the depth suffer if there's no salary cap space to pay other players? It's not fun to think about. But it's the reality of today's NHL. Someone may need to go in Edmonton. Granted it may end up being a Sam Gagner or Ales Hemsky. It could possibly end up being be a Hall. And it's not as crazy as people think.
Marcy, a former hockey player, is a hockey correspondent on CTV News and TSN radio. She began her career as a Sports Journalist in 2009 and has been part of The Hockey Writers since 2010, where she is currently a senior writer and editor.