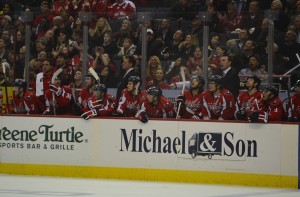 WASHINGTON, DC- When the Washington Capitals hit the ice for game one of the Eastern Conference Quarter-Finals last night at the Verizon Center in Downtown, DC, it was business as usual for the Red Shirts.
A more meaningful flavor perhaps, but another night that the Caps needed to stick to their game plan and execute for Head Coach Adam Oates, as they prepared to battle the New York Rangers in front of 18,506 fans.
Quickly to the ice we go, with just over three minutes into the game, the Rangers grabbed a 1-0 lead off the blade of forward Carl Hagelin. Forward Ryan Callahan and Defensemen Ryan McDonagh with the helpers on the tally.
It was all the Rangers would contribute to the official score sheet though, as the Washington Capitals shifted the momentum of the game by scoring three unanswered goals in the second period, good enough to secure a 3-1 victory.
Forwards Alex Ovechkin, Marcus Johansson and Jason Chimera added their first goals of the 2013 post-season. Ovechkin's goal came on the power play at 6:59 of the second frame, which is all the Capitals needed to take a 1-0 lead in the series. It was the Captain's 31st career playoff goal.
"It's one game," Head Coach Adam Oates said following the 3-1 playoff victory. "Obviously you want to win them all, but it's one game. We are still holding serve at home and we've just got to get ready tomorrow for Saturday."
The Red Shirts were not only successful on the score sheet, but on special teams as well. Killing off 5 on 3 penalties. With forwards Eric Fehr and Martin Erat in the penalty box, the Capitals kept it simple and were successful on the kill, completely shifting the tone of the game.
"It's a momentum thing," Forward Martin Erat said. "The momentum is going to change so many times in a series. But they came up strong and we played 60 minutes of hockey. That's what we needed to do if we want to move on.
The Capitals need to move past this victory and be prepared for game two which is scheduled for Saturday afternoon at 12:30pm.
"It's important," Ovechkin said of his team winning game one. "We get the lead and right now we have to forget it and get ready for the next game."
Capitals Notebook
Happy Birthday to forward Jason Chimera. The Veteran turned 34 yesterday. A great way to celebrate a birthday.
Follow me on Twitter @DarrenCoslov
Darren is the Washington Capitals correspondent. He spent the 2010-11 season covering the Atlanta Thrashers and the 2011-12 season covering the Columbus Blue Jackets. Feel free to contact him @ DKoz256@yahoo.com. You can also follow him on Twitter. DarrenCoslov