Robby Fabbri is the exact player the St. Louis Blues need in their lineup.
While he didn't make the Blues out of training camp for the 2014-2015 campaign, it gave him a chance to prove that he could be successful on a variety of stages.
Before main camp Fabbri dominated the prospects development camp in Traverse City scoring four goals in four games earning himself an invite to main camp in St. Louis.
From there he played in four pre-season games with the Blues scoring one goal on three shots while playing an average of 8:52 per game. He turned a lot of heads but suffered a late-camp injury that knocked him out of consideration.
The Mississauga, ON native was eventually sent back to the Guelph Storm. He picked up where he left off in the 2013-2014 season lighting up opposing teams with 38 points in 22 games before heading to the Canadian World Junior team to represent his country at the Under-20 tournament in early December.
With no surprise he made an immediate impact on the international stage, scoring two goals and posting six points in five games before suffering an ankle injury in a game against Denmark.
Unfortunately, the injury forced him to sit out the rest of the tournament. Regardless, the team turned to him to lead them off the ice, something that's desperately needed the in the Blues locker room. Canada went onto win the gold medal in honour of Fabbri.
The first person Curtis Lazar passed the trophy to? Robby Fabbri, who watched from the press box, with an air cast and crutches. #Canada

— Megan Robinson (@RobinsonMegan) January 6, 2015
This classy move from Lazar showed how important Fabbri was to this team that only played two weeks together.
Fabbri Bounced Back After Injury
Following the tournament, the 2014 first round pick would spend the majority of his rehab in St. Louis to ensure the had the best possible medical attention throughout the process. He even got to go on a road trip with the team to get a taste of the NHL lifestyle.
He would make his return to his OHL club on March, 1st and posted 13 points in eight games to end the season. He finished the year with 25 goals and 51 points in 30 games. That pace translated into a 100 point season as it was his best points-per-game season with 1.7 ranking sixth overall in the OHL.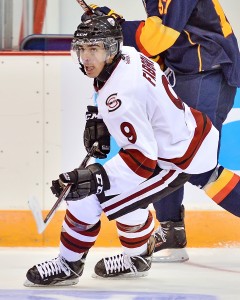 The Storm would make the playoffs but Fabbri would only add a measly four points in nine games, a far cry from his 28 in 16 games during last years playoffs that earned him the Wayne Gretzky trophy as MVP of the OHL playoffs.
However, the day came when Fabbri most likely played his last junior hockey game when he got called up to the Chicago Wolves on April 15th.
Once again, he would make an immediate impact registering two assists in his first game in the AHL.
The 19-year-old would score his first AHL goal in his third game as a pro. He posted four points in three games to round out the regular season. It takes a special player to be able to contribute right away in the AHL making the jump from junior.
Although, he failed to post any points in three playoff games with Chicago he proved he can be effective at the pro level.
Future Impact Player for the Blues
While everyone will be talking about the hiring of Ken Hitchcock for another year, everyone should be talking about what the Blues brass will do with Robby Fabbri next year. Hitchcock liked what he saw in camp last year and stated multiple times that he "just won't go away."
Fabbri has all the tools to be successful at the NHL level if he can remain healthy.
His foot speed is incredible as he has the acceleration to separate himself from defenders within a few strides. While most people may knock on him for his size as he only stands at 5'10 he obtains the skill to roll off checks down low allowing him to create opportunities for his teammates. 
Not only can Fabbri create plays down low his offensive instincts on the rush are world-class, he has an exceptional shot and remarkable vision in the offensive zone. His game fits the Blues top six perfectly and has the ability to play every position.
Robby Fabbri can play any forward position. Tonight at LW. Tremendous hockey sense and calmness. @StLouisBlues

— Darren R Pang (@Panger40) September 30, 2014
He would be a great addition to the lineup if coaching staff and management are ready to give him an opportunity.
It is important to note that he has one more year left in eligibility of junior hockey meaning he could go back to the Storm but he has nothing to prove at the junior level. Odds are that he will continue to impress at training camp like he did this past season. If all goes to plan he should start the year in St. Louis and play nine games until they have to make a decision on his future. He will have to go back to junior if he they don't decide to keep him after that.
There is no ceiling for Fabbri as he is ready to make the jump to being a full-time pro, if not next year.
Blues fan's should get used to watching this to prepare themselves for next year: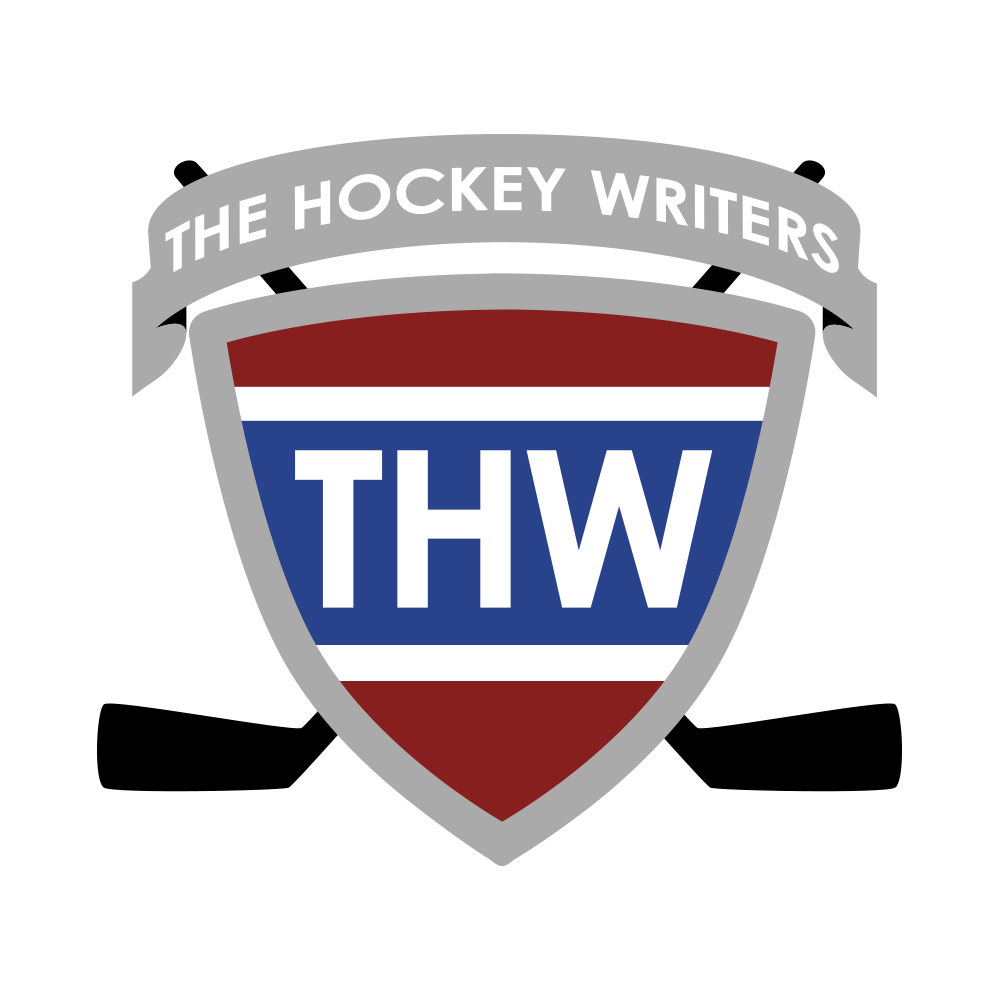 The Hockey Writers is:
1) A top-tier hockey media company delivering a top-notch, in-depth look at the NHL
2) A collective of some of the best hockey writers anywhere
3) A multimedia provider with daily podcasts and YouTube shows
4) Well-respected and widely-cited NHL prospect and draft resource