The National Hockey League playoffs are a funny thing. Some applaud the maverick, "let them play" attitude of the referees, while others decry the fact you're suddenly allowed to murder people and get away with it. Some enjoy the grueling two-month grind to the finish that brings us to the summer solstice, while others can't understand why the league just doesn't start the season in September and hold the Stanley Cup Final at a reasonable time.
This polarisation is no different amongst the competing teams themselves, particularly those who find themselves eliminated in the first round. For some, the mere act of making the playoffs comes as a pleasant surprise (see: Maple Leafs, Toronto). Other teams consider a playoff loss, even in the first round, to be an important stepping stone in developing a team that will, one day, compete for a Stanley Cup.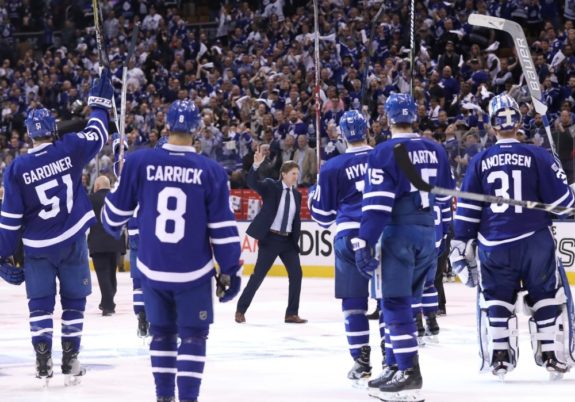 On the other hand, there are teams that expect nothing less than a long, fruitful Cup run, sweeping into the playoffs full of confidence and vigour, before finding themselves on the golf course not three weeks later. Needless to say, there are some awkward offseasons ahead.
Calgary Cage Conundrum
Flaming Out
Following a disappointing season last year and a slow start to the 2016-17 campaign, the Calgary Flames roared back, after a now-infamous sudsy road trip, to qualify for the postseason in the first wild card position. Though they were undoubtedly the underdogs against the Anaheim Ducks – who finished 11 points in front of the Flames at the head of the Pacific Division, Calgary finished with just one fewer win. The Flames scored more goals than the Ducks and had a better road record, as well. All in all, not a bad matchup for Cowtown.
Fast forward to four games later, and the Flames find themselves on the outside looking in. Though they played well, Flames dug themselves an early hole by dropping the first two games in Anaheim, where they have now lost 29 straight games dating back to the 2006 postseason. Calgary then proceeded to make a hash of both of their home games, which included a blown 4-1 lead in Game 3.
A Poisoned Well
A large part of said implosion was the goaltending struggles of Brian Elliott. Hot down the stretch – winning 18 of his final 24 starts, Elliott gave up four bad goals in just over three games. In Game 4, a bad-angle shot – just the third of the game – found its way to the back of the net, prompting Flames coach Glen Gulutzan to pull Elliott after one goal and just over five minutes of ice time.
The Flames entered this playoff series with two rock-steady, veteran goaltenders that could very well carry the team until prospect Jon Gillies is ready for prime time. They came out the other side having potentially alienated both; Brian Elliott, on account of the early hook, and Chad Johnson as a result of being unexpectedly thrown, ice-cold, into a playoff game already in full swing – a game in which he proceeded to give up what turned out to be the series-winning goal just over a minute later.
Will their two unrestricted free-agent goaltenders really want to come back? Even if they forgive their coach, the mishandling of the Flames' netminding will no doubt be a constantly recycled story whenever the team hits a rough patch. Not to mention that they would have to agree to more time playing behind a team that is already put at a disadvantage by NHL officials, on account of the Dennis Wideman incident.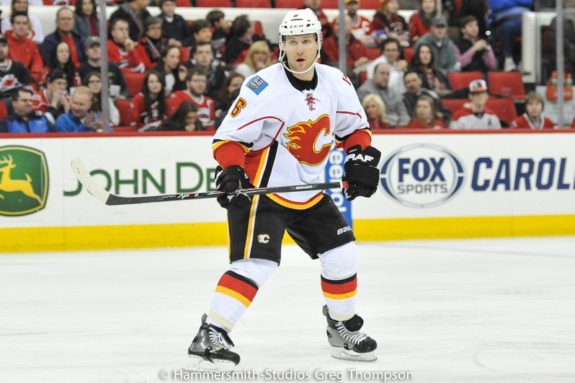 Come to think of it, the reasons stated above are also good reasons why the Flames might find it hard to find other goalies to fill the holes potentially left by Elliott and Johnson. Those are gonna be some fun contract negotiations, let me tell you.
Chicago Deep Dish Doo-Doo
Great Expectations
Many prognosticators had the Blackhawks making a deep playoff run this spring – perhaps even winning their fourth Stanley Cup in eight seasons. Certainly, most had them disposing of the Nashville Predators, their oft-tormented Central Division rival. There was certainly a lot to like; 109 points and the first seed in the Western Conference – not to mention repeated proof of concept – versus a team with more question marks than the SATs.
Turns out most of the questions about the Preds were answered in a hurry, by way of Nashville's four-game sweep. Goaltender Pekka Rinne gave up a paltry two goals. Secondary scoring was abundant. And head coach Peter Laviolette found a way to balance his offensive bent with a neutral zone system that stopped the Blackhawks before they got started.
At a Crossroads
Nashville made Chicago look like a slow, ageing team. So what's next for the Blackhawks, lest they become the new Detroit Red Wings – a good team that slowly declines into irrelevance? They have two options: make the best of it with the core they have, trying to replicate the successful retooling that characterised their dynasty in order to take another run or two at the Cup. Or blow the whole thing up and start a rebuild in earnest.
To the former point, Artem Anisimov (2021), Brent Seabrook (2024), Corey Crawford (2020), Duncan Keith (2023), Jonathan Toews (2023), Marian Hossa (2021) and Patrick Kane (2023) are all locked up long-term. All have some sort of no-move clause. Like the Blackhawks of old – or the modern-day Pittsburgh Penguins, the team could try and fill holes around these star players, hoping and praying the right combination comes out of the Yahtzee cup and brings them a championship.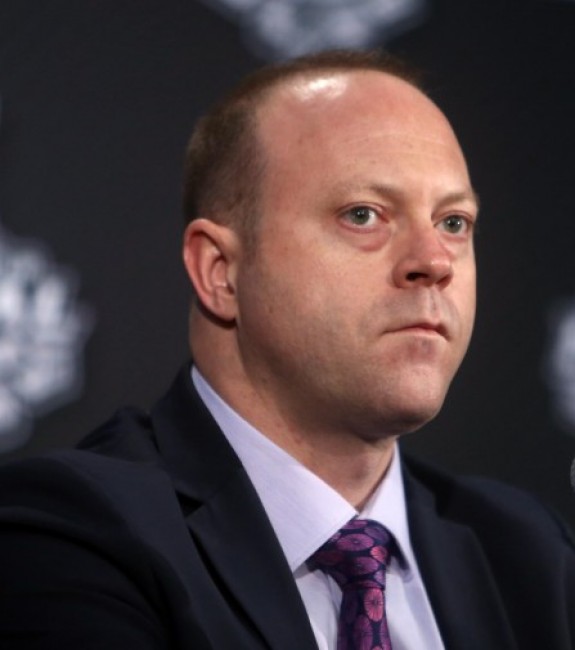 On the latter point, given that all these players cannot be moved – though Anisimov's NMC does not activate until 2018-19, Stan Bowman and company will likely have to convince one of them to accept a deal elsewhere. What a great thank-you present for years of loyal service. Sure to be popular with the fans, too.
After Stanley Cups in 2010, 2013 and 2015, the Chicago Blackhawks, as an organisation and as a fanbase, really can't complain. That said, they will soon have to have some uncomfortable conversations, as the bill for all that success is coming due.
Montreal Mismanagement
A Beneficial Blockbuster?
The biggest Canadiens-related storyline this season was the aftermath of the P.K. Subban-Shea Weber trade with the Nashville Predators last summer. Weber and the Habs rocketed out of the gate, while Subban – like many of the Predators – struggled early on, and then missed significant time due to injury. All signs pointed to the ever-mysterious Marc Bergevin actually knowing what he's doing.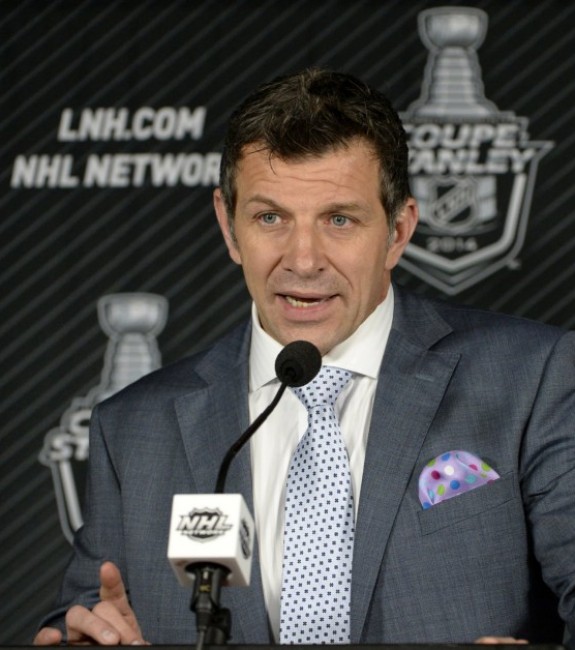 But now, P.K.is off to the second round, while the Canadiens are packing up for the summer after a six-game defeat at the hands of the New York Rangers. On paper, the Habs were simply a better version of the Rangers. Superstar goalie? Check. Mediocre defense? Check. A forward corps that can play a variety of ways? Check.
A Closing Window
But paper doth not a Stanley Cup champion make. The Canadiens loaded up at the trade deadline with depth and sandpaper, rather than addressing their glaring skill deficiencies. And now, they enter an offseason with some tough decisions to make, as their championship window to win is closing – fast.
Shea Weber will be 32 this summer; how many years of elite defense does he have left? Carey Price is a UFA after next season; will the team be able to sell him on a plan? Will puck-mover Andrei Markov be back on defense? If not, who will replace him? And what on Earth are they going to do with Alex Galchenyuk?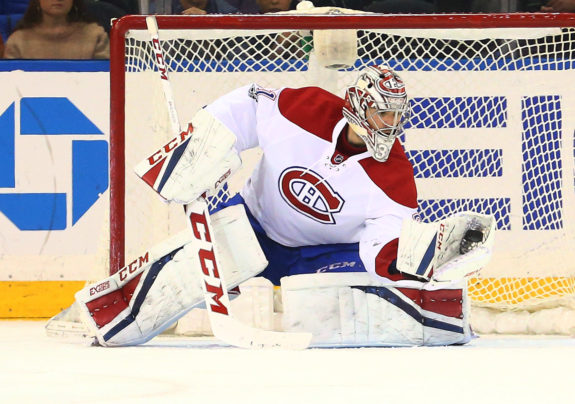 Oh, to be a fly on the wall when Bergevin's chickens come home to roost. And we're just talking about this after Round One. What if P.K. wins the Stanley Cup?
San Jose Sayonara
Something Fishy
After a valiant thrust towards the Stanley Cup in 2015-16, losing in six games to the Pittsburgh Penguins, expectations were justifiably high for the Sharks this time around. The team was middling down the stretch – at one point losing six in a row, but drew a somewhat favourable first-round matchup with the unproven Edmonton Oilers. A comeback victory for the Sharks in Game 1 – including a thorough domination in the second and third periods – only intensified this confidence.
They then proceeded to lose four of the next five games and be bounced from the playoffs by a younger, faster, deeper Oilers team. Part of this defeat can be chalked up to the litany of injuries to San Jose's star players. The Oilers also employ Connor McDavid, one of the two best hockey players on Planet Earth. But make no mistake, this Sharks team was already on the downslope.
California Screaming
Long-time juggernaut forwards Joe Thornton and Patrick Marleau will both be 38 come next season. Both are also UFAs this summer, and both have clearly lost a step, though still remaining productive. Will one or both of them retire? Even if they don't, will they, without a Stanley Cup between them, really want to come back to a San Jose team that should be set to retool? Does San Jose even want them back?
Meanwhile, young players like Joonas Donskoi and Tomas Hertl have not quite developed into the offensive talents many had hoped. Logan Couture and Joe Pavelski are still great, but are 28 and 32, respectively, so who knows if they'll want to hang around for some development years that are sure to be less than pleasant. Even if they did, do the Sharks even have enough assets to be able to keep them around, or will they need to ship them out for picks and prospects?
Marleau has been with the Sharks for his entire career (which started in 1997-98), while Thornton arrived way back in 2005-06. Pavelski and Couture are both lifetime Sharks, as well. Something's gotta give in San Jose. But having to tell one or more players who've given their heart and soul – not to mention their careers, to the franchise that they won't be coming back? An awkward summer awaits.
Perfect Storms
No NHL team is perfect, but those discussed above have harder decisions to make than most. I wish these teams no ill will. But, like in any organisation, if you're not performing – or no longer performing, you have to answer for it.
(All contract information is courtesy CapFriendly.)
Peter Ferrell covers the Florida Panthers and Toronto Maple Leafs, with a side of jersey and logo (over)analysis, for The Hockey Writers.