Sometimes it's the smaller, less definitive trades in sports that can alter a team's direction. Names of players who, to some, might be more tertiary type role players on some franchises end up becoming main cogs in the development of other teams.
Related: Alexei Yashin Trade Revisited
In the case of Zach Hyman, it was a trade that flew under the radar in a way for the Toronto Maple Leafs. A player that was not seen as a major asset, flip flopped for another player that had yet to have an impact on the Maple Leafs' lineup.
But before we delve too far into the eventual move that would see Hyman sporting the blue and white, let's discuss his becoming an NHL draft pick in the first place.
Hyman Headed to Florida
A Toronto-born winger, Hyman made his way through the ranks in Ontario. From the GTHL U16 to the OJHL's Hamilton Red Wings – a team he captained for two seasons – to getting the call to play for the University of Michigan Wolverines in the NCAA from 2011 to 2015.
In his draft year, Hyman piled up 42 goals and 102 points in 43 games for the Hamilton Red Wings before having his name called by the Florida Panthers in the fifth round, 123rd overall, in 2010.
He joined the Wolverines following that season and compiled 89 points in 151 regular season games, including 54 points in 37 games in his final year at Michigan. It wasn't until 2015 – five years after he was drafted – that the Maple Leafs finally gave him an opportunity to jump into an NHL lineup.
But let's rewind it back to June 2015 for a minute.
The Hyman Trade
On June 19, 2015, the Panthers traded Hyman and a 2017 conditional seventh-round pick to the Maple Leafs in exchange for forward Greg McKegg. The pick was never given to Toronto as it was on the condition that Hyman doesn't sign with the Maple Leafs, which he ultimately did.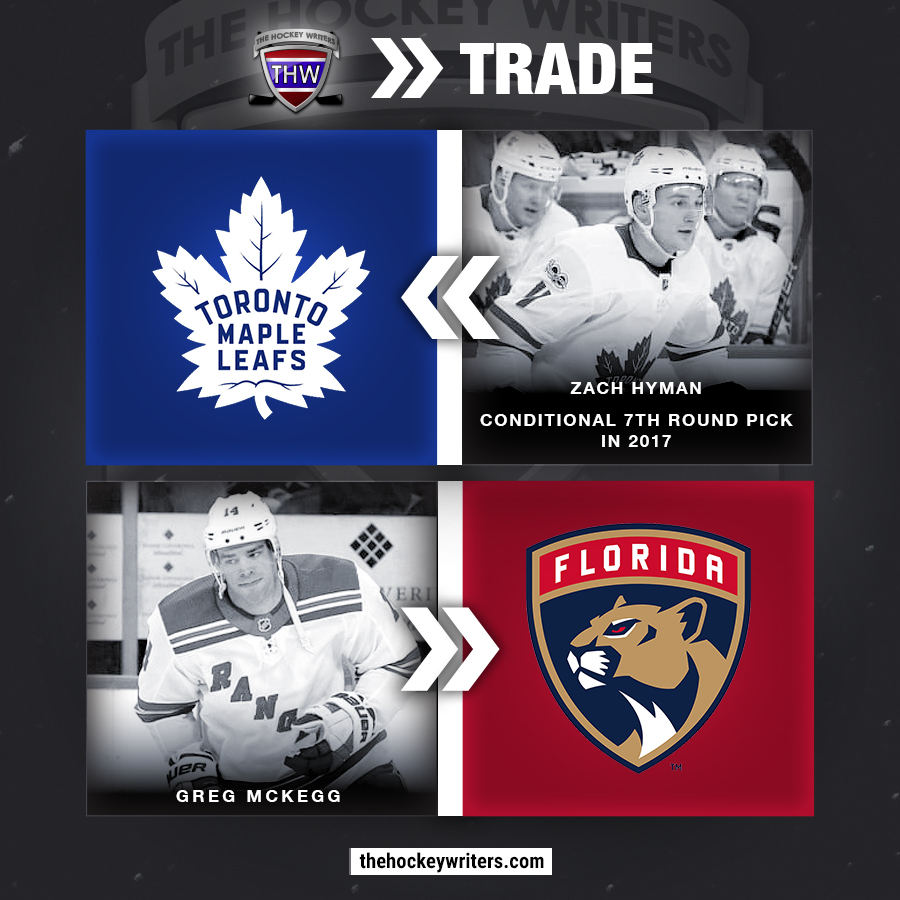 McKegg was originally been drafted by the Maple Leafs in the third round – 62nd overall – in 2010. He finished his promising junior career with the OHL's Erie Otters and London Knights in 2011-12 and jumped into the AHL in 2012-13, spending two seasons with the Marlies. Finally, he was called up in 2013-14 for one game with the Maple Leafs before playing another year with the Marlies again in 2014-15.
After just three games with the Maple Leafs in 2014-15, with nothing to show for it, McKegg was shipped out to the Panthers and joined their affiliate Portland Pirates in 2015-16.
As for Hyman, he waited until after his collegiate career before he debuted with the Maple Leafs at the NHL level.
One Side Paying Dividends
While McKegg was offered more opportunity with the move to Florida, his time there was short-lived as well. He played 46 regular season games for the Panthers over parts of two seasons and tallied a total of five goals and eight points over that span.
He was later picked up on waivers by the Tampa Bay Lightning on Feb. 27, 2017, and has bounced around the NHL since then playing for the Pittsburgh Penguins, Carolina Hurricanes, New York Rangers and, most recently, the Boston Bruins.
In all, over parts of eight seasons, he's recorded 18 goals and 33 points in 186 regular season games – adding two goals in 18 postseason games for the Panthers, Hurricanes and Rangers.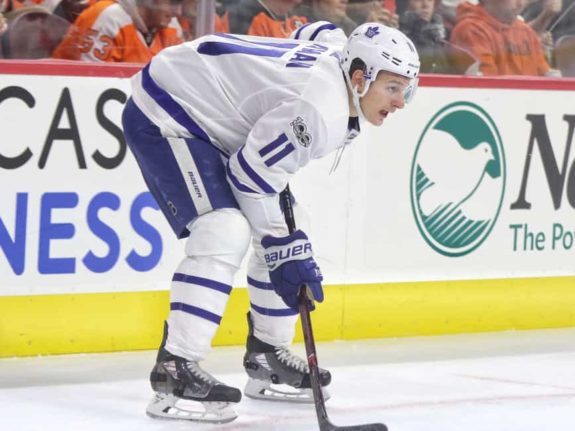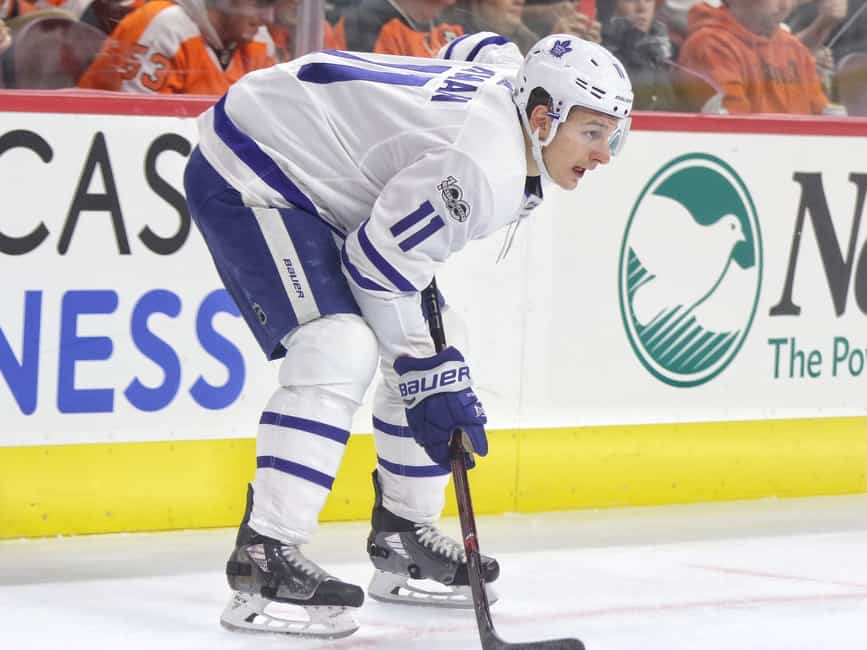 As for Hyman, he's become a mainstay in the Maple Leafs lineup. Since joining the team in 2015, where he tallied four goals and six points in 16 games during the regular season, Hyman hasn't dropped off the main roster aside from injuries.
Unlike McKegg, he's found success in Toronto with 75 goals and 163 points in 321 regular season games and he continues to progress. He finished with a career-high 41 points in 2018-19 and has hit the 20-goal plateau on two separate occasions. He's added another 12 points in 25 playoff games with the Maple Leafs which will also surely climb before his career is done.
Hyman, Maple Leafs Winners in this Deal
Simply put, there are two winners in this deal. After all, Hyman has been given the opportunity to play with guys like Auston Matthews, Mitch Marner and William Nylander in Toronto. He's become a net-front presence on their power play unit and continues to develop as a player. Would he have had that opportunity in Florida? That's a question we can't quite answer. But it's safe to say that the Maple Leafs and Hyman came out on the winning side of this deal.
Related: Tyler Seguin Trade Revisited
The Maple Leafs got arguably one of the hardest working players league-wide. He has consistently played through injuries and continues to play night in and night out, barring major setbacks.
While he hasn't been the top offensive guy in Toronto, his ability to play the 200-foot game makes him much more valuable than a one-dimensional player and a key piece to the Maple Leafs core – hence the nomination as an assistant captain in 2020-21.
As for the Panthers, with McKegg being claimed on waivers, they were essentially left with nothing from the deal and got on 33 points out of the forward who just has never found his footing at the NHL level.
---
---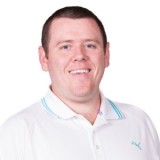 Andrew is in his 8th year reporting for The Hockey Writers covering the Toronto Maple Leafs. He began his broadcasting with CBC's Hockey Night in Canada team as well as being part of their coverage of the 2014 Winter Olympic Games in Sochi. He's the former play-by-play voice of the London Jr. Knights for Rogers TV and currently hosts the Sticks in the 6ix podcast. You can follow him on Twitter at @AndrewGForbes.