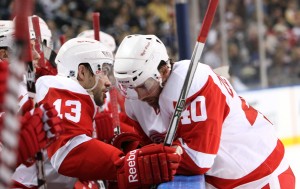 The Red Wings have faced several obstacles in this young season. One of those troubling difficulties, the lack of production from elite forwards Henrik Zetterberg and Pavel Datsyuk, was at least temporarily silenced this weekend as both players lit the lamp in Southern California.
"Your best players have to be your best players." The words Red Wings' coach Mike Babcock were echoed repeatedly through the first quarter of the season in response to the struggles of the Euro Twins. Combining for just 5 goals in Detroit's first 17 games, Datsyuk and Zetterberg were notably lacking from the score sheet.
However, the failure to produce on the scoreboard wasn't from a lack of trying. Both players have averaged more than 3 shots on goal per game this season, and combined for 13 assists before the weekend's games
Under mounting pressure to perform, Datsyuk ended his scoring slump at 12 games Saturday in Los Angeles, beating Kings' goalie Jonathan Quick twice for his 3rd and 4th goals of the season. Just a day later in Anaheim, Zetterberg snapped out of his own 7 game drought netting one on the backhand for Detroit's first goal of the game.
Goals from their stars may have been the ingredient the Red Wings were missing, going on to win both games in regulation, doubling their road win total to 4 games, and improving their regular season record to 11-7-1, good enough for 6th place in the West.
When their top players are scoring Detroit has been nearly unstoppable this season, but when those same players are absent the picture looks a little more bleak. 2 victories with the help of 4 goals and 6 assists from their big 3 (Zetterberg, Datsyuk, and Franzen) is hopefully a sign of things to come for the 'Wings. With their stars heating up, Detroit's streaky behaviour may soon be a thing of the past, and a return to consistent winning form may well be imminent.