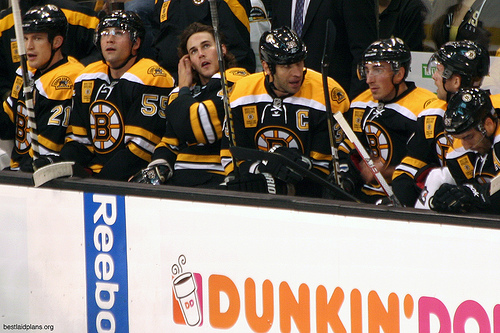 The Boston Bruins are finally who we thought they were. After four opening weeks filled with uncertainty and ineptitude unbecoming of a defending Cup champ, the Bruins are back where they belong, challenging for a position among the NHL's elite.
Recently, I've imagined some high-strung opponent's coach's fiery response to a question about the Bruins much like the infamous tirade of former NFL Head Coach, Dennis Green. But for a long time, the rest of us weren't so certain.
The Black and Gold, winners of eight straight games, didn't just beat their October slump, they knocked it out, tossed it in a ditch, stole its keys then asked it for directions to the nearest Dunkin' Donuts. In defeating all their opponents since the start of November, the B's have put up forty goals (at a rate of five per game) and tallied at least five in six of those contests.
While it's hard to believe that this sort of torrid offensive pace will continue for long (the B's had more goals in the first four games of November than in all of October), it's becoming equally difficult to imagine that these B's aren't more in line with the team's capabilities.
The Bruins have returned to the style of bruising, bullying hockey that made them the darlings of New England and the antagonist of the rest of the hockey world. Milan Lucic's unapologetic freight-training of Buffalo goaltender Ryan Miller may have not been accidental (at least not likely entirely…) but it served notice to the League that the Big Bad Bruins were back in town.
That said, entering November, many analysts (myself included) were at a loss trying to explain the their god-awful first month: For a defending champ to struggle isn't uncommon, but their start was historically terrible for a team coming up a Cup-winning campaign.
Of course scoring was down and they weren't coming through in the clutch; of course Zdeno Chara had an utterly forgettable first few weeks; of course the first line of David Krejci, Lucic and Nathan Horton were stumbling mightily out of the blocks, but the reasons behind the situation were puzzling. Was it the emotional letdown after the highs of their 25-game Cup run? Was it a collective exhaustion from a summer spent celebrating? Was it the absence of a leader (Mark Recchi) or secondary scoring (Michael Ryder)?
In any case, there were many of us at a loss trying to grasp the nature of this team. As October wore on, the Bruins seemed to wander further and further from who we thought they were. Arriving at a low of 3-7-0 on October 29th on the road end of a home-and-home sweeping via their hated archrival Habs, one was left wondering if this Bruins team was the same that had lifted that hallowed silver hardware in June.
Since then, the Bruins have jumped back into the equation. Their performance in the past three weeks is more in-line with what many had anticipated leading up to 2011-12: They're seventh in the East with a game in hand on all but one of the teams in front of them and just three points back of the conference-leading Flyers. Their goal differential of +25 leads the NHL and is miles ahead of all but their closest competitors.
The Bruins' November recovery has quieted many doubts. With a win against the Canadiens Monday night, the Bruins could extend their league-best winning streak to nine games and take over first place in the Northeast Division. They are who we thought they were.
Bob is a Boston Bruins Correspondent for The Hockey Writers. He lives in the Boston Metro Area with his wife, Amanda and their five-year-old son, Cormac.