The New York Rangers' strong start to the 2016-17 season has come largely on the strength of their deep and potent offensive attack. Now, with the injury bug delivering a crushing blow to center Mika Zibanejad, that heralded depth will truly be put to the test.
Zibanejad Breaks Fibula
While there is never a good time to suffer a painful, long-term injury, Zibanejad's has occurred just as the 23-year-old was beginning to rediscover his offensive game. He had already scored earlier in Sunday night's contest against the Florida Panthers (albeit in fluky fashion), the second straight game in which he had lit the lamp. Then in overtime, his fortunes took a turn for the worse.
In the extra session, while preventing Florida's Reilly Smith from getting to the front of the net, Zibanejad got tangled up with Smith and lost his balance as he was speeding toward the end boards. His left foot slammed hard into the boards, leaving him writhing on the ice in obvious pain.
It was initially unclear whether Zibanejad had injured his ankle, knee, or another part of his leg. After the game though – one which saw the Rangers lose 3-2 in a shootout to add insult to injury – the diagnosis came out rather quickly.
AV said Zibanejad has a broken fibula. He's expected to be out 6-8 weeks.

— New York Rangers (@NYRangers) November 21, 2016
Moving Forward
In the grand scheme of things, Zibanejad and the Rangers are lucky that there is apparently no ligament-related damage that could have led to a longer and more difficult recovery period. Given how the injury looked when it happened, the idea that Zibanejad could be out for the entire season seemed plausible, so this prognosis is not all bad.
Nevertheless, the Rangers will have to press on without Zibanejad for awhile – likely until sometime in mid-late January. Zibanejad, acquired from the Ottawa Senators in the offseason for the well-liked Derick Brassard, had been a productive player for the Blueshirts despite experiencing a bit of a goal-scoring slump, tallying 15 points in 19 games. Besides just his offense, his complete game at the center position and strength in the faceoff circle (he had been winning faceoffs at a 54% clip this season) will be difficult to replace.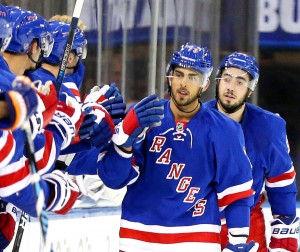 Center Derek Stepan will have to shoulder more of the load, and Kevin Hayes, who has had a great season for the Rangers to this point, will have to continue his evolution into a player who Vigneault can confidently deploy in all situations. He is sure to see even more ice time. The Rangers must also hope that Pavel Buchnevich's mysterious back spasms do not turn out to be related to a larger issue, so that he can get back in the lineup soon and contribute offensively.
In the bottom six, Brandon Pirri, Oscar Lindberg, and Josh Jooris (who returned Sunday after an 11-game absence caused by a separated shoulder) are all candidates to see more time at center.
It will take a team effort to replace Zibanejad, but now more than ever is a time when the Rangers' depth will need to pay off. Head coach Alain Vigneault expressed confidence that his group can get the job done during Zibanejad's extended absence (via the Rangers' official website).
[miptheme_quote author="Alain Vigneault" style="text-center"]Every team has got injuries. We don't expect to be any different than anybody else. Every coach says it in these moments: this is an opportunity for somebody else to get more ice time. I'm confident that whoever we decide to put in that spot will do the job for us.[/miptheme_quote]
Losing a major contributor like Zibanejad will not be easy to overcome, but the Rangers are about as well-equipped to deal with it as any team in the NHL. The next couple of months will be very telling with respect to which players best seize their opportunities.