'Crashing the Crease' is a new feature here on The Hockey Writers that will take a run through the major happenings in the NHL. Have an interesting article to share?  Want us to feature your blog?  Send us an email here.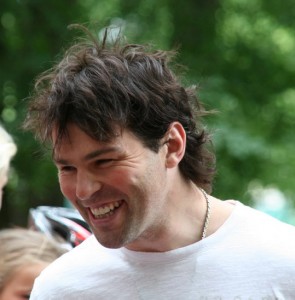 EASTERN CONFERENCE:
~ Disgruntled AHL-lifer or an indication of bigger issues?  Jamie Johnson, a forward on the Rochester Americans (Florida Panthers AHL affiliate) speaks out on his frustration with the organization: "They haven't made the playoffs in 10 years," Jamie Johnson said.  "They had no interest in me all year, I don't think I should give them the time of day for another season."
~ Jordan Staal skated today as he works to recover from a damaged tendon suffered in Game 1 against Montreal.  Despite (incorrect?) reports that the tendon was severed, I found it hard to believe a skate could do that much damage to a tendon through the tough, reinforced tongue on today's hockey skates.
~ HBO will air a new documentary on the Broad Street Bullies tonight at 10pm that could be worth checking out. "The one thing that HBO had to do was, and if they didn't do it, it wouldn't be legitimate, was also show the naysayers," [Ed] Snider said. "They said we were ruining hockey and all that stuff. But we were selling out every building we went into. That's how we were ruining hockey."
WESTERN CONFERENCE:
~ Record rainfall in Nashville has created quite a mess throughout the city.  One can only imagine how that would have affected the NHL playoffs had the Predators advanced past the first round.  Reports indicate Bridgestone Arena, home of the Predators, is facing "two to four inches of standing water throughout the event level, which includes where the ice would be."
~ The Phoenix Coyotes were the feel-good story in the NHL this season, but after pulling back the curtain a bit, there are still major hurdles facing the team as they head into the offseason: "The Coyotes surprised a lot of people by making the playoffs this year. They had four sellouts at the end of the season and four in the playoffs. But they still ranked dead last in attendance and still have an awful lot to prove if they want to turn Phoenix into a hockey town."
~ Home ice advantage hasn't been all it's cracked up to be in this year's playoffs, but Detroit has to be excited heading home to 'The Joe' for Game 3 tonight: "San Jose has won three of nine playoff games in Detroit, losing the last two in the 2007 Western Conference semifinals, and just five of 35 matchups during the regular season."
~ Adam Burish hopes his presence can bring continued success for the Blackhawks now that their series with Vancouver is tied at one apiece: "I hope when I am in there, at the end of the day [the Canucks] all say 'I hate playing against this guy. He [ticks] me off every time he's in the lineup,' " Burish said before Game 2. "I think I can provide that and bring that."
OTHER NEWS:
~ The speculation is over as Jaromir Jagr has decided to stay in the KHL next season instead of making a return to the NHL.  The move makes sense as Jagr would have been hard-pressed to make anywhere close to what he makes with Omsk: "Jagr, 38, will probably earn about $7 million US, including bonuses, next season — a slight drop from the $8 million he earned in the recently-concluded campaign."
~ Puck Daddy takes a fun look at the 10 most fascinating playoff beards: "Think of a beard as a construction project. Sometimes you're building something completely new, like The Dupuis. Other times, you're adding on to or renovating an existing structure. Such is Dan Boyle's playoff beard for the San Jose Sharks. It takes a foundation of stubble and turns it into shrubbery."
~ David Staples makes an interesting argument for the benefits of the couch seat instead of the press box for hockey journalists and bloggers: "Did Dustin Penner effectively screen the goalie on that goal? Did Ethan Moreau cover the wrong guy in the slot or was the goal against Jason Strudwick's fault? I can guess at the answers if I attend a game, but repeated viewings by slow-motion and high-definition are a much more fair and accurate way to find answer."
~ More reasons the Washington Capitals first-round upset loss could have a lingering effect on everyone involved…Bruce Boudreau just bought that new Mercedes with the customized cup holder:
http://www.youtube.com/watch?v=skrRyKXbSKY